Red Tide Beaches In Florida: What you need to know.
This article may contain affiliate links. Whenever you buy something through one of these links, I may earn a small commission without any cost to you. I really appreciate it as it supports this site and my family. Thank you!
Planning a trip to the Gulf Coast of Florida? Here's what you need to know about Red Tide Beaches in Florida.
What is red tide?
The first thing we need to understand is what exactly is Red Tide? Red Tide is a naturally-occurring marine phenomenon that occurs when red tide organism algae bloom in large numbers.
It is a discoloration of the water caused by large concentrations of aquatic microorganisms. These harmful algal blooms can cause serious harm to marine mammals, and even lead to the death of marine life such as fish, dolphins, sea turtles and other marine animals.
When these blooms occur in saltwater areas near beaches, they can often be seen as a red or brownish discoloration in the water. In Florida, most of the red tide is caused by Karenia Brevis which is a microscopic, single-celled, photosynthetic organism.
Thank you for reading this post. Don't forget to subscribe! This way you never miss an update, travel deals, discounts and more!! Subscribe to the right------>
This organism is found in the Gulf but also has been found all around the state of Florida up to South Carolina on the east coast.
Often a public health announcement will be issued late summer to early fall. That is also when current information is updated as to the health effects of water samples taken by the Florida Department of Agriculture.
What causes Red Tide?
There are a number of different factors that can contribute to the formation of Red Tide blooms. One of the most important is the presence of certain types of algae in the water. These algae are known as dinoflagellates, and they are found in most oceans and seas around the world.
When conditions are right, they can reproduce rapidly, leading to a Red Tide bloom which often occurs in Florida. It is not uncommon to see Florida fish on the shoreline in red tide areas when red tide events occur.
What beaches in Florida have Red Tide?
While red tide can occur at any beach in Florida, there are certain areas that are more prone to it especially the Florida Gulf Coast. The Gulf in particular over the Atlantic is vulnerable to red tide blooms, specifically the coasts of Lee and Collier Counties.
Early fall last month, Red Tide was detected at several Sarasota County Beaches and the Florida southern Gulf of Mexico. The Florida Wildlife Conservation Commission has also detected it in Northwest Florida in Bay County but have not noted fish kills in the area.
In Northwest Florida over the past week, K. brevis was observed in concentrations in Bay County. It is important to be extra diligent if you take your dog or other pet to the beach during an outbreak as red tide impacts dogs much harder than many humans.
Dogs can experience neurological symptoms such as seizures, loss of balance and diarrhea. If your dog experiences any of these conditions, after being in an area with higher-than-normal concentration of a microscopic alga during red tide, contact your vet immediately.
In recent years, red tide has also been a problem at some beaches on the Atlantic Coast of Florida as it moves along the coastline. Many blame climate change as the ocean and Gulf coastal area waters warm and red tide follows ocean currents.
We will dig deeper into specific beaches with high concentrations of red tide later in this article.
Is red tide bad for humans?
Yes, red tide can be harmful to humans. When red tide blooms occur near shore, the toxins they produce can cause skin irritation and respiratory irritation and problems in people who come into contact with the water.
In severe cases, red tide blooms can also cause neurological problems and even death. For this reason, the Florida Department of Health recommends people to avoid swimming in water that is discolored or has a foul odor.
Using common sense when there are red tide conditions will go a long way toward keeping you healthy. A red tide event can release allergens caused when waves hit the shore.
If you suffer from any respiratory illness such as chronic lung disease or severe symptoms from allergies, it is best you do not enter the water until you check the status of red tide for the area you are at. Current beach conditions will also update the status of red tide algae.
What to do if you come in contact with Red Tide?
If you do come into contact with red tide water, be sure to wash off thoroughly as soon as possible. If you suffer from respiratory issues such as asthma, you can get relief from chronic respiratory conditions by being in a room with an air conditioner.
For people without asthma or chronic respiratory problems, over-the-counter antihistamines can help for other symptoms such as throat irritation or itchy throat. Be aware also of harmful bacteria that may be in restaurant-served shellfish or if you purchase shellfish at a seafood market.
Red Tide Beaches In Florida. What you need to know.
As red tide continues to affect beaches in Florida, here's what you need to know about this phenomenon and how it can impact your visit to the beach.
For information, check beaches along coastal areas often affected. In addition, the University of South Florida College of Marine Science monitors ocean currents, species of algae as well as offshore winds and wind speed.
Be sure to check water quality and bloom concentrations before entering the water. Also, it is a good idea to check the Florida Poison Control Centers as they often update for folks with symptoms from individual beaches.
Tampa Bay Region
The Tampa Bay Region and Pinellas County beaches as well as St. Petersburg beaches are often one of the hardest hit as far as red tide blooms. The coastal waters continue to warm along with drought conditions. This contributes to lower than normal freshwater levels which leaves the water salinity level higher than usual.
Add to the equation the spill at Piney Point in Tampa Bay last year that "feeds" red tide. A report released with additional details advised that 1 year of nutrient pollution was released into the water in 10 days. This created the perfect storm for red tide levels to grow faster than ever.
At one point, it was reported tons of dead fish were on the beaches which resulted in a state of emergency. Unfortunately, some manatees were also found dead on these beaches.
Southwest Florida Beaches
Lee County beaches on the southwest portion of the Florida's Gulf Coast are experiencing high outbreaks of red tide right now as I write this article. This area took a direct hit from Hurricane Ian last month and red tide often shows up after a hurricane.
In Manatee County, the FWC (Florida Wildlife Commission) has reported an increase in red tide and red tide symptoms. Although many simply deal with short-lived respiratory symptoms, others are affected more severely and require additional medical care.
Planning a Florida Beach Trip
This is my latest post: Beaches in Florida without Red Tide
So what should you do if you are planning or have planned a trip to an area that may have red bloom? The first thing I always recommend is to visit Mote Marine Laboratory website.
Mote Marine Laboratory studies Karenia brevis, the organism that causes Red Tides in Florida. The research and laboratory located at Mote Marine provides updates as far as current status of red blooms.
From their red tide research page, enter your email address, so you can receive updates as they occur. There are also several mobile apps that can provide information on specific locations throughout Florida and the current status.
Arming yourself with current information BEFORE you travel will go a long way toward saving your Florida Beach Vacation.
Tampa Bay on your list to visit? Read this next: Best rooftop restaurants in Tampa.
Upcoming Trip?
I like to use Booking for booking not only my hotels, but my tickets and rental cars as well. Makes life so much easier with only having to log into one location for my information.
Be sure to grab my travel tips to save you time and money. You'll also be entered into the weekly drawings.
Register here: Get 100 Travel Tips EVERY traveler should know PLUS entered into the weekly drawing.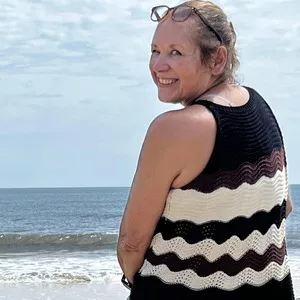 About Denise
Denise Sanger lives a life split between her love for fitness and her passion for travel particularly to the BEACH. Denise also has a love of marketing and lives in beautiful Suwannee County, Florida. You can find out more about Denise here: About Denise