How to make a Beach Pina Colada Cocktail Piña Colada
This article may contain affiliate links. Whenever you buy something through one of these links, I may earn a small commission without any cost to you. I really appreciate it as it supports this site and my family. Thank you!
If you like Piña coladas. And getting stuck in the rain. There is something about that song isn't there?
The lyrics instantly transports you to your happy place. A nice sunny day on a sugar sand beach with turquoise waters.
You know my number one beach cocktail is a Bushwacker (recipe here: How to make a frozen Bushwacker drink), but a good piña colada is not far behind. But what can you do when you're not at the beach? The next best thing is to make your cocktail at home!
How hard is it to make a piña colada at home? A few ingredients and RUM and wham, you are instantly transported to your last vacation right.
Thank you for reading this post. Don't forget to subscribe! This way you never miss an update, travel deals, discounts and more!! Subscribe to the right------>
Whether you are on the beach or on a cruise, Piña colada's always put you in a great vacation frame of mind.
But you cannot bring the bartender home with you so that means that when you are craving a beach Piña colada cocktail, you need to be able to make one at home.
Denise to the rescue! One of my favorite cocktails to make way back in the day as a bartender was a piña colada.
I still make it the same way today with very few but fresh ingredients.
Ready to learn how to make your next beach pina colada cocktail at home? Ingredients and recipe below. Don't forget the kids and anyone else who would like a pina colada mocktail by leaving out the rum.
Pina Colada Cocktail Ingredients
3 ingredients is all you need and they are:
Rum (light or dark but I use light)
Pineapple juice
Coconut cream (I prefer to use Coco Real Cream of Coconut as I can keep it on hand in the refrigerator, but you can also use Coco Lopez)
Into a blender, I put in a full shot of rum (1.5 oz), 6 ounces pineapple juice and 3 ounces coconut cream and ice.
Blend to desired consistency, pour into a large cocktail glass and garnish with a slice of pineapple and cherry.
Slip your straw into the glass and enjoy! That's all it takes.
And as mentioned above, kids and others that prefer no cocktail, leave out the rum for a delicious Pina Colada Mocktail.
Salute!
Upcoming Trip?
I like to use Booking for booking not only my hotels, but my tickets and rental cars as well. Makes life so much easier with only having to log into one location for my information.
Be sure to grab my travel tips to save you time and money. You'll also be entered into the weekly drawings.
Register here: Get 100 Travel Tips EVERY traveler should know PLUS entered into the weekly drawing.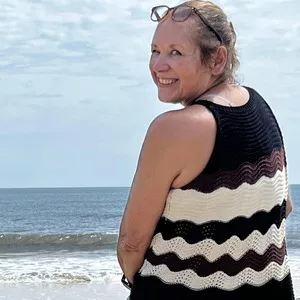 About Denise
Denise Sanger lives a life split between her love for fitness and her passion for travel particularly to the BEACH. Denise also has a love of marketing and lives in beautiful Suwannee County, Florida. You can find out more about Denise here: About Denise