Best Vacation Rentals In Steinhatchee Florida Beaches
This article may contain affiliate links. Whenever you buy something through one of these links, I may earn a small commission without any cost to you. I really appreciate it as it supports this site and my family. Thank you!
Steinhatchee Florida Beaches Where To Go
UPDATED: August 2023. Steinhatchee, Florida. One of my favorite places on the Gulf Coast of Florida. But are there beaches? The answer is yes but not like you may think of when you think beach.
Steinhatchee has several beaches plus many fantastic places to visit and fun things to do. It is a cute little town and a great place you will find yourself wanting to visit over and over. At least I do.
Don't have time to read the whole article now? You can check current rates and availability for rentals here: Steinhatchee Vacation Rentals
The first time I visited Steinhatchee was after we moved to North Florida from Miami. I told my husband I was going to take a ride to the beach if he wanted to join me.
Thank you for reading this post. Don't forget to subscribe! This way you never miss an update, travel deals, discounts and more!! Subscribe to the right------>
It is not easy to get my husband to travel. Unlike me, he's a homebody. So I told him I was taking his car, and it was up to him whether I was driving or he was. Needless to say he drove.
I bribed him by finding an amazing BBQ food truck/trailer, Skullyz, located right in the heart of Steinhatchee. But I'll come back to that later.
As I was not familiar with the area, I literally pulled up a map of the Gulf Coast I could reach in about an hour. Steinhatchee it was.
Steinhatchee is the perfect picture of Old Florida vibes located in Taylor County. The Gulf of Mexico has several beaches with that wonderful old Florida beach town vibe including Cedar Key, Keaton Beach and Bird Creek Beach a bit farther south.
Let's take a look at the best Steinhatchee Florida beaches to visit as well as other fun things to do in the area.
Best Steinhatchee Florida beaches
Steinhatchee Beach.
To be honest? There really is not a swimming beach located right in the town of Steinhatchee. But don't let that stop you.
There are several fantastic piers to fish from as well as a huge marina that you can launch your boat into the Steinhatchee River. The river then feeds into the Gulf of Mexico.
One thing Steinhatchee is very well known for is scalloping. Folks return year after year to snorkel and dive for Bay scallops.
Sea Hag Marina, located downtown is quite convenient for those that bring their own boat as well as a great place to stay while you're in town. Full service marina, boat rentals, accommodations in one of the cute bungalows, as well as a dive and gift shop.
Check current rates and availability for rentals here: Steinhatchee Vacation Rentals
You can also book a fishing charter for saltwater fishing here. Likewise, you may want to book ahead as during the busy months, boat rentals or a guided fishing trip are booked well in advance.
Deadman's Bay.
This bay is quite interesting. It is a mix of freshwater and salt water. Not really much for a beach or swimming but definitely one of the best places for fishing.
Deadman's Bay received its name after Native Americans found several white men floating in the bay in the 1500s. Most likely these men were part of the Narvaez expedition, who arrived in 1528 near modern day St. Petersburg.
Don't let the name stop you from visiting. The Suwannee River, Wacissa River, Econfina River, Steinhatchee River, Fenholloway River, and St. Marks River all feed mineral-rich soils into the Apalachee Bay and over to Deadman's Bay for out of this world fishing.
Hagen's Cove.
This is by far one of my favorite places on the Gulf to kayak. There is also a small beach to enjoy, but size will depend on whether the tide is in or out. I have visited when there is a nice small beach as well as when there was no beach.
There is a small launch for kayaks or canoes, vault toilet, pavilion and picnic area as well as an observation tower. In addition to the beach and water sports, you can enjoy hiking in this beautiful park.
Hagen's Cove is one of the best places for bay scallops. Scallop season opens mid-June and continues until mid-September.
Check current rates and availability for rentals here: Steinhatchee Vacation Rentals
Be sure to look for the walking trail and hike while you are there. You will enjoy the natural beauty of this portion of Florida – wildlife viewing at its best!
Keaton Beach.
As you continue a short distance north on FL51, you will find Keaton Beach. This is another Old Florida beach, small town vibe.
Keaton Beach is one of the better and most popular beaches in this area of the State of Florida. You can swim, boat, fish, sunbathe on the beach or enjoy a picnic with the family. There are bathrooms, pavilion, playground and more for a full day of family fun.
Dekle Beach.
The beach may be small but don't let that stop you making a quick stop. The sunsets off Dekle Beach will make your jaw drop.
There is a boat launch, but it is private for the homes on this portion of Florida's Big Bend. This is the perfect spot for fishing, swimming, kayaking, and exploring nature – all popular activities
Steinhatchee Falls.
Steinhatchee Falls is not known as being a beach destination, but it is one you should make time to visit. This river and the falls are beautiful.
Waterfalls are not common in Florida. The state is fairly flat. But you will find Steinhatchee Falls as well as Falling Creek Falls a bit northeast in Lake City.
The Steinhatchee Falls is probably the best kept secret for this area. Driving from Steinhatchee north, keep your eyes peeled for the Steinhatchee Falls sign. From there, continue on the dirt road to the falls.
There is no fee to enter this park and there is a canoe/kayak launch for those that want to kayak the Steinhatchee River. The river will take you directly into Steinhatchee where you will find a few options to take out.
Enjoy the natural beauty of this area with a 3.5-mile hike. The trail meanders through native vegetation and Spanish moss hanging from majestic oak and cedar trees throughout the trail.
If you are not sure if you are on the trail or not, turn back. There are areas that are not clearly marked. Also remember bug spray and sun block especially during the summer months.
Love horseback riding? You can also do it here.
Cedar Keys National Wildlife Refuge.
Venturing a bit out from the town of Steinhatchee, you will want to visit Cedar Keys National Wildlife Refuge. There are 13 barrier islands located off Florida's Gulf Coast in this area. These islands were originally fish camps for the first people to live in this area.
Check current rates and availability for rentals here: Steinhatchee Vacation Rentals
To get to these offshore islands, you will need to paddle to them, have or rent a boat or book a charter.
Originally part of the trail of tears where the government forced tens of thousands of Cherokee, Choctaw, Chickasaw, Seminole and Muskogee tribes people to move hundreds of miles west from their ancestral homes to what is now Oklahoma. 
Today, 20,000 birds nest in this area. Watch for egrets, night herons, brown pelicans, white ibis, cormorants and roseate spoonbills.
Seahorse Key Lighthouse is also located in the refuge on Florida's west coast and was built in 1854. Today is it home for the University of Florida's Seahorse Key Marine Laboratory.
Be sure to check before hiking in the refuge during cooler months. There are areas designated for hunting only.
Fish Creek
I am going to mention Fish Creek, but honestly? There is not much here. Very quiet area outside Steinhatchee that wildlife enthusiasts enjoy.
If you like to fish or kayak, you'll enjoy this short river. Nearby, you will find outfitters which offer kayak and canoe rentals as well as shuttle service.
Manatee Springs State Park
If you have time, be sure to mosey over to Manatee Springs State Park. This is one of my favorite spots in the area.
Manatee Springs is a first magnitude spring that releases 100 million gallons of water daily into the Suwannee River. Last time I visited, I caught a glimpse of a manatee as it made its way back to the Suwannee.
Also, nearby is Fanning Springs State Park. Fanning Springs produces 65 million gallons of water daily, making it a second-magnitude spring.
Both Fanning and Manatee Springs have hiking trails, paved parking area, and beautiful live oaks over picnic tables for an enjoyable outdoors lunch.
Where to stay
Most of the accommodations are located in downtown Steinhatchee. You can use this map to check current rates and availability:
As mentioned above, we love Skullyz. It's a little food trailer right off the road with the best BBQ in the area. Super nice folks.
Also, nearby are Roy's Restaurant and Kathi's Krab Shack. Both American Seafood Restaurants.
Check current rates and availability for rentals here: Steinhatchee Vacation Rentals
This area of Florida with its quiet towns may be a popular spot for those that like to fish but don't let that stop you from visiting. There truly is something for everyone on this part of Florida's beautiful Panhandle.
These links will help you plan your Steinhatchee vacation:
Upcoming Trip?
I like to use Booking for booking not only my hotels, but my tickets and rental cars as well. Makes life so much easier with only having to log into one location for my information.
Be sure to grab my travel tips to save you time and money. You'll also be entered into the weekly drawings.
Register here: Get 100 Travel Tips EVERY traveler should know PLUS entered into the weekly drawing.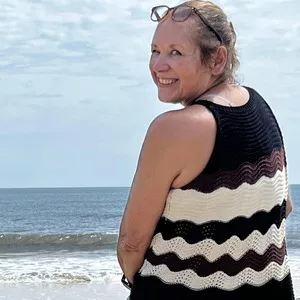 About Denise
Denise Sanger lives a life split between her love for fitness and her passion for travel particularly to the BEACH. Denise also has a love of marketing and lives in beautiful Suwannee County, Florida. You can find out more about Denise here: About Denise