Hagens Cove Florida Best Things To Do
This article may contain affiliate links. Whenever you buy something through one of these links, I may earn a small commission without any cost to you. I really appreciate it as it supports this site and my family. Thank you!
Where is Hagens Cove Florida? What do you need to know before you visit?
A visit to Hagens Cove located in Taylor County on Florida's Gulf of Mexico is like literally stepping back in time. A simpler time not only in Florida, but in the world.
This little gem is one of several unique natural beaches that remain in the sunshine state. To be transparent, our goal was Steinhatchee, Florida. You will not exactly find a beach in Steinhatchee, but you can bet you will find plenty of other things to keep you busy.
Steinhatchee is well known for good fishing and even better scalloping during scallop season. My husband and I decided to take a last minute drive and picked Steinhatchee as the destination.
Where is Hagens Cove?
We actually found Hagen's Cove by accident. While in Steinhatchee, we topped and chatted with a fellow that was directing folks launching their boats. Let me tell you the line to launch your boat at the public boat ramp was quite long.
Thank you for reading this post. Don't forget to subscribe! This way you never miss an update, travel deals, discounts and more!! Subscribe to the right------>
After he was able to take a break to chat with us, he recommended we head north to Keaton Beach. From Steinhatchee, to get to Keaton Beach you continue to follow Beach Road up the Panhandle.
As we were enjoying the drive, we caught the sign for Hagens Cove and made a split second decision to see where the road would end. What a beautiful site when we got to the end of the road.
Beautiful panoramic views of the pine islands into the Gulf of Mexico. The water was quite calm, but there were very few people. We literally almost had the beach to ourselves.
Looking around, we spotted an observation tower. Of course, we had to climb it. From that tower, you enjoy great views of the surrounding area from the cove north and south.
And the sunsets! Some of the most beautiful sunsets I have ever seen. There is something to be said about getting away from crowded beaches. The view was completely unspoiled.
Picnic tables as well as pavilions are available for those that pack a lunch or a snack. One downside? The restroom is a pit toilet.
There is no running water, flush toilets or showers. Simply a vault toilet for any restroom needs.
There is a public ramp is at the end of the road near the parking area for launching a canoe or kayak. I have kayaked this beautiful cove multiple times and every time I go back, I see something new.
Wildlife viewing not only in the cove but in the surrounding parks with nature trails. The grass flats surround the cove and pine islands making this a fantastic spot for fishing. Be sure to check the charts for high and low tide.
Saltwater fish, horseshoe crabs, sting rays and more in the water and shore birds and even an eagle can be glimpsed in the surrounding woods. I have seen them all both from my kayak and from the nature trail.
Unfortunately every so often, the water quality limits swimming both at Hagens Cove and Keaton Beach. These areas are not in the Gulf where the currents keep the water moving. This area is patrolled by fish and wildlife who monitors the water quality.
There are no accommodations other than private residences through VRBO or Airbnb. If you plan to visit this area, get your trip planner out and search for accommodations in Steinhatchee or Perry. (Perry does have a few hotels to choose from here: Perry Florida hotels)
Ditto restaurants. Again you will need to go to Steinhatchee or Perry to find a restaurant. There are a few great restaurants in Steinhatchee near the marina to choose from.
One side note to mention. I have read that Hagens Cove is a clothing optional beach. I have never witnessed anyone Au Natural either in the water or on the beach. Not quite sure if that is something that used to be or simply once in a while someone takes off their clothes to swim.
Whenever you plan to visit this beautiful portion of the Florida Gulf Coast, be sure to make time to stop at Hagens Cove.
Read more about the Keaton and Steinhatchee:
Click here: Steinhatchee Florida Beaches
Click here: Keaton Beach Florida
Upcoming Trip?
I like to use Booking for booking not only my hotels, but my tickets and rental cars as well. Makes life so much easier with only having to log into one location for my information.
Be sure to grab my travel tips to save you time and money. You'll also be entered into the weekly drawings.
Register here: Get 100 Travel Tips EVERY traveler should know PLUS entered into the weekly drawing.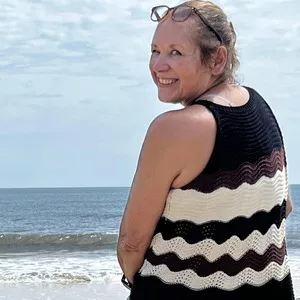 About Denise
Denise Sanger lives a life split between her love for fitness and her passion for travel particularly to the BEACH. Denise also has a love of marketing and lives in beautiful Suwannee County, Florida. You can find out more about Denise here: About Denise