Santa Rosa Beach Florida: Your Ultimate Getaway Guide
This article may contain affiliate links. Whenever you buy something through one of these links, I may earn a small commission without any cost to you. I really appreciate it as it supports this site and my family. Thank you!
Santa Rosa Beach Florida, is a beautiful seaside community along the Florida Panhandle on the Gulf of Mexico.
Known for its pristine sugar-white sand beaches and sparkling turquoise waters, this coastal beach town attracts visitors from all over the world and is one of my favorite places.
In addition to its stunning beaches, Santa Rosa Beach FL offers a variety of outdoor activities for the whole family to enjoy.
From miles of trails for hiking and biking trails to exploring the unique coastal dune lakes, there are plenty of activities to keep you busy.
Thank you for reading this post. Don't forget to subscribe! This way you never miss an update, travel deals, discounts and more!! Subscribe to the right------>
Apart from its natural wonders, there are also great restaurants, shops, and art galleries that give the town of Santa Rosa Beach a vibrant, yet relaxed atmosphere.
With its warm and friendly vibe, the distinct beach neighborhoods make this a great place not only to visit but to live as well.
At the bottom of this article, I have provided information for where to stay and things to do in the nearby beach towns.
Santa Rosa Beach as well as Destin and nearby Panama City Beach are my favorite towns to visit while on vacation.
Where is Santa Rosa Beach Florida and How To Get To It
Santa Rosa Beach is a picturesque small town located along the Florida Panhandle in South Walton County. This is the northwest region of the state.
This breathtaking beach community is part of Walton County and is nestled between Destin and Panama City Beach, which are two popular tourist destinations.
Travelers seeking to explore Santa Rosa Beach are presented with multiple options for transportation.
Visitors often opt for flying into one of the nearby airports, such as Northwest Florida Beaches International Airport (ECP) in Panama City Beach or Destin-Fort Walton Beach Airport (VPS) in Valparaiso.
Both airports are within a 45 to 60-minute drive to Santa Rosa Beach, making them the most convenient choices for air travel.
Road trip! Another popular method of reaching Santa Rosa Beach is by driving. The town sits quite close to Highway 98, also known as Emerald Coast Parkway, which is a major road that connects the beach communities in the area.
City Driving Distances:
Atlanta, GA 333 miles
Orlando, FL 436 miles
New Orleans, LA 267 miles
Birmingham, AL 255 miles
Best Beaches Near Santa Rosa Beach
Santa Rosa Beach is a beautiful destination, but the surrounding area also offers several stunning beaches worth exploring. Here are a few of the best beaches near Santa Rosa Beach:
Santa Rosa Beach. Starting with Santa Rosa Beach, it is the best place for a beach vacation. The sand is white, and the water is crystal clear.
There are plenty of activities to keep you busy, including swimming, fishing, and kayaking.
The sunsets are absolutely stunning, and you can find a great spot to watch them from one of the many bridges that cross the Choctawhatchee Bay.
Love to fish? Be sure to check out nearby Hogtown Bayou. One of the major fishing destinations in the area.
Blue Mountain Beach. If you have not visited this beach, make sure you add it to your vacation list. Blue Mountain Beach is one of the highest coastal dune systems in the US.
This unique ecosystem provides a home for many rare plant and animal species. The white sand and clear blue waters make it a popular destination.
This beach gets its name from the blue lupine flowers. Tip: Before you leave this beach, stop at Blue Mountain Creamery for some out of this world handmade ice cream.
Grayton Beach State Park: To the east of Santa Rosa Beach, this idyllic spot features sugar-white sand and emerald waters, perfect for a relaxing day at the beach.
Beach goers can enjoy swimming, sunbathing, and stunning sunsets. The park also offers a nature trail for those seeking a bit of adventure and other outdoor fun.
Seagrove Beach: Just a few miles away from Santa Rosa Beach, Seagrove Beach offers a serene and peaceful atmosphere.
The beach has a vast shoreline, ideal for beachcombing, and is surrounded by lush greenery. Visitors can enjoy swimming, fishing, or simply relaxing on the sand.
Seaside: Further east, Seaside is a charming beach town with a welcoming atmosphere.
The beach itself has soft sand, crystal-clear waters, and recreational activities such as stand-up paddleboarding and volleyball.
Seaside also offers an array of boutique shops and dining options nearby.
Miramar Beach: To the west of Santa Rosa Beach, Miramar Beach is known for its vibrant atmosphere and plethora of activities.
Apart from its beautiful shoreline, beach goers can participate in water sports, explore local shops, and savor delicious cuisine at nearby restaurants.
Dune Allen Beach. Dune Allen Beach is a picture-perfect, old-fashioned beach community located on the beautiful Santa Rosa Beach in South Walton County, Florida.
It offers sprawling pristine beaches and five coastal dune lakes you cannot wait to explore. The dune lakes are Allen, Campbell, Morris, Oyster (shaped like an oyster shell) and Stallworth.
Enjoy hiking or biking miles of trails because Dune Allen is a nature lover's paradise.
Gulf Place Beach. This is a wonderful beach community that is not only absolutely beautiful, it brings together a fun vacation destination with art galleries, fine dining, and entertainment with live music. Very fun beach town.
These nearby beaches provide a variety of options for visitors to experience the beauty and charm of Florida's Gulf Coast.
Whether one prefers a tranquil environment or a lively atmosphere, each beach offers something unique for everyone to enjoy.
Florida State Parks Near Santa Rosa Beach
Santa Rosa Beach, Florida, is a fantastic destination for outdoor enthusiasts, with several state parks in the vicinity.
Visitors can explore and experience the natural beauty of Florida's Emerald Coast at their own pace. The following are a few popular state parks near Santa Rosa Beach.
1. Topsail Hill Preserve State Park
Topsail Hill Preserve State Park, located just west of Santa Rosa Beach, features more than three miles of pristine white-sand beaches and dunes.
This state park is an excellent destination for bird-watching, hiking, and wildlife observation. Visitors can also enjoy the coastal dune lakes and freshwater fishing opportunities.
2. Grayton Beach State Park
Grayton Beach State Park is a favorite among beach goers and nature lovers. With over 2,000 acres of land, the park includes sugar-white sandy beaches, coastal dune lakes, and a pine forest.
Outdoor enthusiasts can participate in various activities such as hiking, cycling, kayaking, and fishing.
The permanent underwater sculpture garden Underwater Museum of Art is located roughly a mile offshore from Grayton Beach.
Each year, a selection of sculptural works from artists around the world, is installed in the underwater garden. Wonderful attraction for certified divers but also plays an important role in creating artificial reefs in the Gulf of Mexico.
Also in Grayton Beach State Park, you will find a pedestrian path called the Canopy Path. This hiking area is located at 357 Main Park Rd, Santa Rosa Beach.
3. Deer Lake State Park
Deer Lake State Park, famous for its rare coastal dune lakes, is a serene spot for visitors who appreciate the tranquility of nature.
The park showcases a diverse ecosystem consisting of sand dunes, salt marshes, and various wildlife habitats.
Visitors can enjoy activities like bird-watching, picnicking, and strolling along the boardwalk overlooking Deer Lake.
4. Point Washington State Forest
Point Washington State Forest, covering 15,000 acres, is a great destination for outdoor adventurers seeking to discover diverse ecosystems, fascinating wildlife that make their homes in the scrub oaks, and picturesque landscapes.
Hikers and cyclists can enjoy several miles of marked trails through this vast forest full of long leaf pines, flat woods, and cypress swamps.
The historic community of Point Washington gives you a glimpse into the rich history of this area. Literally only a few minutes from the beach but you feel as if you are in another world.
Located between the bay and the Gulf, this is an area where you will see dolphins and alligators sharing the same water.
5 Eden Gardens State Park
Edens Gardens State Park is the highlight of Point Washington. Enjoy walking through botanical gardens, sprawling lawns and breathtaking views of Tucker Bayou and the bay.
Then take a guided tour of the Wesley house. It's wide porches and tall columns are framed by moss-draped oaks and fronted by a fountain and reflecting pond.
Other Santa Rosa Beach Attractions
One of the best things to do in this area? Shopping. If you are a shopper, you will want to stop at these locations:
Grand Boulevard Shopping Center. This shopping center is located in nearby Destin, and offers fun shops, dining and more.
One of my favorite places to stop is at Ginger Leigh Designs. This funky shop always puts a smile on my face.
Love to golf? There are several golf courses in the area including Santa Rosa Golf & Beach Club. It is open for public play.
Traveling with kids? Stop at the Shard Shop, The: Glass Mosaic Artwork. This studio located near Grayton Beach lets kids create their own memory to take home with them.
Santa Rosa Beach Accommodations
From luxury beach houses to condos with a private balcony to affordable vacation rentals on the beach to hotels, you have plenty of options to choose from.
If you prefer resort-style amenities, you might consider Santa Rosa Golf & Beach Club mentioned above. There are also several smaller inns and BNB's with friendly staff as other options.
Are you a camper? You have several options including Eastern Lake Campground as well as the State Parks nearby that also offer camping.
My favorite pick? VRBO with a fully-equipped kitchen. If it has a private pool, that's even better.
Upcoming Trip?
I like to use Booking for booking not only my hotels, but my tickets and rental cars as well. Makes life so much easier with only having to log into one location for my information.
Be sure to grab my travel tips to save you time and money. You'll also be entered into the weekly drawings.
Register here: Get 100 Travel Tips EVERY traveler should know PLUS entered into the weekly drawing.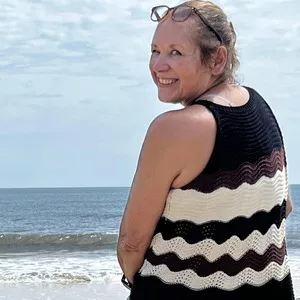 About Denise
Denise Sanger lives a life split between her love for fitness and her passion for travel particularly to the BEACH. Denise also has a love of marketing and lives in beautiful Suwannee County, Florida. You can find out more about Denise here: About Denise