The Best Bus Trips From Miami To Key West
This article may contain affiliate links. Whenever you buy something through one of these links, I may earn a small commission without any cost to you. I really appreciate it as it supports this site and my family. Thank you!
Are you ready to enjoy a getaway that promises a sun-soaked tropical paradise, turquoise blue waters, and fun memories are made of? Look no further than these best bus trips from Miami to Key West!
The journey through the Florida Keys is known as one of the most scenic routes in the United States. This journey begins in Miami or Miami Beach and takes you through picturesque tropical islands and historic landmarks.
From the moment you catch your first glimpse of the open water in Key Largo before finally arriving in the heart of Old Town Key West, you will be in heaven. The Florida Keys are truly heaven on earth.
Enjoy not only the easy access to the Keys but also escape to the slower island life that Key West is well known for.
Thank you for reading this post. Don't forget to subscribe! This way you never miss an update, travel deals, discounts and more!! Subscribe to the right------>
Buckle up, my fellow traveler, as we explore the best Key West bus tours from Miami to Key West and the Southernmost Point that promise a truly unforgettable getaway.
Not enough time to read the whole article? Get current availability and rates here: Best Bus Trips From Miami To Key West
Why book a Key West bus tour?
Why should you book a Key West bus tour? So many reasons.
In my opinion, the best way to really enjoy Key West is by foot. Yes, there is parking, but it can be on the expensive side as well as not very convenient.
On my last trip there, the cost for a day of parking was $40 and that was out of season. If you plan to spend a week in Key West, that adds up quickly.
Bus tickets for a Key West tour for the day from either Miami or Fort Lauderdale can be as low as $70 round trip. There are links below to help you check out the best options for you.
A bus tour is convenient. Many times the service includes complimentary hotel pick-up in Miami or Fort Lauderdale. The bus stop in Key West is centrally located making it easy to see everything this island city has to offer.
Bus tours are also fantastic for those with visual impairments, motor impairments, and other wide array of disabilities as many of the buses are designed to serve the widest possible audience.
Can you book a day trip to Key West?
Absolutely! If you are on a vacation to South Florida in downtown Miami, South Beach, or anywhere in South Florida but want to catch a glimpse of Key West, a day trip is one of the best ways to include this beautiful island in your trip.
A quick day trip itinerary may include pick-up from your hotel or access to daily ground transportation in Miami or Fort Lauderdale. While on the bus, you are treated to a guided tour of the 34 islands and 42 bridges you will see or travel over on your way to Key West.
The bus trips give you about 6 hours of free time to decompress and enjoy the views. You can use this time to really kick back or to plan for your day in Key West including the things you want to see.
You can check out my article where I list the top must-do things in Key West. I have placed the link for you at the bottom of this article.
A quick list includes the Southernmost Point, Fort Zachary Taylor, Duval Street including the bars, restaurants, and street artists, the Shipwreck Museum, Mel Fisher Museum, Ernest Hemingway's House, Mallory Square, and Key West Aquarium.
What Are The Best Bus Trips From Miami To Key West Options?
Here are the top rate bus trips for a relaxing, fun day trip to Key West.
Miami to Key West Day Trip with Activity Options
My top pick for a Miami to Key West Day Trip is Travel To Key West. This tour is on a comfortable motor coach with an experienced professional driver who will pick you up from The Claremont Hotel on Collins Avenue and depart promptly at 6:45 a.m.
It is recommended to be on site by 6:30 a.m. the tour arrives in Key West at 11:30 a.m. and departs at 5:30 p.m. The driver will provide information including the history of the Florida Keys And Key West.
They may also provide recommendations of where to go and what to see. Tip: The best seat is a window seat. Also, be sure to make a note of those attractions the driver mentions.
If you want to see as much of Key West as possible, I really recommend the hop-on and hop-off trolley. You can get availability and booking information here: Travel To Key West Bus Tour
Be sure to keep your camera or phone ready! You will want to snap pics of the beautiful views of the Atlantic Ocean on one side and the Gulf of Mexico on the other as well as mangrove forests, and the famed Seven-Mile Bridge.
This tour has the badge of excellence label with an average review rating of 4.5 stars. You can get information here for availability and pricing: Travel To Key West
Key West Day Trip from Miami for fun in the sun, and snorkel with an open bar.
Next on the list for those who love water sports including snorkeling is also operated by Big Dave Tours. This tour will pick you up at a central location area around 6 a.m., travel south over the Overseas Highway arriving in Key West around 11:30 a.m.
Once you arrive in Key West, you will find a boat waiting for you to the coral reefs where you can enjoy the day snorkeling.
The tour includes snorkel equipment, soda, water, and all fees and taxes. There is also an open bar if you'd like to indulge in a cocktail or two.
Snorkeling is approximately three hours leaving two hours to enjoy the sights of Key West  restaurants.
Love history? Be sure to stop at the Ernest Hemingway House and see the six-toed Hemingway cats, the Truman Little White House, the Key West Light House Museum, and Mel Fisher's Treasure Hunting Museum.
The story of Mel Fisher and his treasure is pretty wild. He did get to keep his treasure. The tour will depart Key West at 5:30 p.m. arriving back in Miami.
This tour has average review ratings of 4 stars. You can get information here for current availability and pricing: Big Dave Tours
Round Trip Motorcoach Transfer to Key West from Miami
Want to stay in Key West a little longer? This is the bus tour for you!
Pick-up is from any hotel in Miami Beach or near the Miami International Airport. Your experienced driver is bilingual and provides history during your drive to beautiful Key West.
Departs at 6 a.m. This is a private tour for only your group and a fantastic option for families. The total travel time is 15 hours round trip. You can get current availability and pricing here: Miami Beach Tours and Transportation Inc. DBA/ Miami Tours LLC.
Small-group Private Key West Tour With Expert Guide
My final top pick is Banana Joe and the small group private Key West Tour. This tour includes an expert guide that highlights the history and must-see attractions in Key West.
Pick-up is available from hotels in a limited area in the Miami downtown area. Be sure to ask if your hotel is included. If it is not, be sure to select the special requirements box.
You will have your own private guide that will provide you with information and everything you need to see and do in Key West.
Definitely one of the best options for a special occasion or for those wanting to enjoy Key West within their own travel group.
You can get current availability and pricing here: Banana Joe Tours
In the world of bus tours, the journey from Miami to Key West is definitely at the top of the list. Relax as you enjoy the natural beauty, history, culture, and culinary delights of Key West.
Whether you prefer adventure, relaxation, or both, the above top bus tours offer something for everyone. Pack your bag and sunscreen, and get ready for a trip you'll talk about for years to come.
Below is additional information to help you plan your Miami to Key West Day Trip
Upcoming Trip?
I like to use Booking for booking not only my hotels, but my tickets and rental cars as well. Makes life so much easier with only having to log into one location for my information.
Be sure to grab my travel tips to save you time and money. You'll also be entered into the weekly drawings.
Register here: Get 100 Travel Tips EVERY traveler should know PLUS entered into the weekly drawing.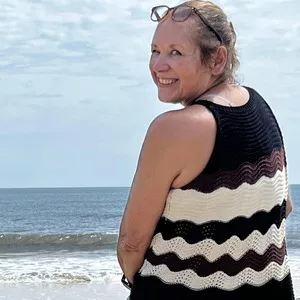 About Denise
Denise Sanger lives a life split between her love for fitness and her passion for travel particularly to the BEACH. Denise also has a love of marketing and lives in beautiful Suwannee County, Florida. You can find out more about Denise here: About Denise