Eat Where The Locals Eat In Key West: Best Restaurants And More
This article may contain affiliate links. Whenever you buy something through one of these links, I may earn a small commission without any cost to you. I really appreciate it as it supports this site and my family. Thank you!
Ready for a getaway to the Florida Keys including Key West? The local cuisine, cocktails, live music, happy hour, and of course Jimmy Buffett-inspired lifestyle. Ramp up your experience even more by finding out where the locals eat in Key West.
The best restaurants are known to the locals. This includes the best places for fresh fish like fish tacos, the best food including Cuban Food, and absolutely where to find the best key lime pie!
So how do I know where the locals eat? Luckily for me, I live in Florida, just visited Key West, and know folks that live on this beautiful island.
There really are so many options to choose from as far as great food including fresh seafood, roast pork or a Cuban sandwich, conch fritters, and spiny lobster rolls.
Thank you for reading this post. Don't forget to subscribe! This way you never miss an update, travel deals, discounts and more!! Subscribe to the right------>
The thing though is that there were friendly locals in pretty much all the restaurants and bars we hit on our last trip. Key West is probably one of the friendliest places in the United States. Everyone was so helpful.
Are you ready to dive in and find out where the locals eat and where the best Key West restaurants are? Word of warning. You will probably be hungry by the time you finish reading about all the good food you can eat!
Don't have time to read the entire article or planning a short visit? I recommend taking a look at these food tours here: Top Key West Street Food Tours
Duval Street Or Nearby
Duval Street is such a fun place to explore in Key West and that includes food. And for good reason too. It is a great spot to hit not only a great local restaurant but cocktails and coffee too.
Hot Tin Roof
Hot Tin Roof located at 0 Duval Street is the perfect place for breakfast to start out your day or dinner and cocktails at the end of your day. Delicious fresh local seafood, as well as pork, beef, and vegetarian options.
Located near the heart of everything happening in Key West with a killer view! You will find Hot Tin Roof in the Ocean Key Resort.
Amigos Tortilla Bar
This is not directly Duval Street but very close and worth the walk even if it was not so convenient. The best things on the menu if you ask me are the quesadillas. So good!
Then include a margarita or two, great service, and a choice of indoor or outdoor seating and this place hits all the targets.
Flight Island Restaurant & Brewery
We loved this place! The food we had was amazing including the drinks and appetizers.
Just a little ways off the beaten path. This is a fun outdoor dining space close to Mallory Square.
Blue Heaven
Also, not directly on Duval Street but right off the main road. It is called Blue Heaven on Thomas Street. If this is your first time visiting Key West, be sure to put this one on your list.
Blue Heaven, located on Thomas Street, is a top pick for breakfast, lunch, and dinner. Enjoy eating outdoors as you watch the chickens and roosters walk by.
Less busy as it is off Duval. It is a great place for delicious banana pancakes for breakfast and great drinks and Key Lime Pie later in the day.
Planning a short visit? I recommend taking a look at these food tours here: Top Key West Street Food Tours
Sloppy Joes
Of course, Sloppy Joes must be on the list. Located directly on Duval, this is one fun stop and one of my favorite things in Key West.
Believe it or not, this last trip was the first time I actually tried the signature dish, Sloppy Joe sandwich. Live music and great service.
This Key West landmark is located in a historic building and is a popular spot. I grabbed a t-shirt for my husband before we left.
Hog's Breath Saloon
Following right after Sloppy Joes is another favorite place of mine. Hog's Breath Saloon.
Enjoy live music, good food and drinks as well as people-watching in this classic Key West bar and grill. A good place to kick back.
Southernmost Beach Cafe
90 miles from Cuba located on Duval Street and near the Southernmost Point buoy you will find the Southernmost Beach Cafe. This is where you can enjoy breakfast, lunch, or dinner with a view.
Breakfast with a mimosa and delicious food puts this on my list of the best breakfast in Key West restaurants.
Thirsty Mermaid
Again not directly on Duval but a very short walk away you will find Thirsty Mermaid. Fresh seafood, outstanding service as well as great prices. Definitely add this one to your list. We liked it for lunch.
Top Picks For Where The Locals Eat In Key West Off Duval
Even though a few of the above were not directly on Duval Street, they were very close. The following top picks are off Duval Street:
El Siboney Restaurant
El Siboney Restaurant is one of the best Cuban restaurants I have ever eaten in. A bit off the beaten pack in Stock Island, everything we tried from ropa vieja with rice and plantains to the Cuban sandwich were scrumptious!
It is off the main strip but if you want authentic Cuban cuisine where the locals definitely eat, add this one to your list.
Planning a short visit? I recommend taking a look at these food tours here: Top Key West Street Food Tours
Garbo's Grill
Hands down the best fish taco on the island! This is a great little food truck and a local favorite.
Happy Hour specials as well as fantastic Korean beef tacos and burgers. You will find Garbo's Grill on Caroline Street.
Pepe's Cafe
Pepe's Cafe is located on Caroline Street and first opened in 1909. It is the oldest eatery in the Florida Keys.
This fun place serves breakfast, lunch, and dinner. A true Key West dining experience!
Half Shell Raw Bar
A top pick for sure for seafood, you will find Half Shell Raw Bar on Margaret Street. Enjoy a water view as you eat delicious food located in the historic seaport part of Key West.
This restaurant also has its own seafood market. Literally seafood on your plate directly from the water. In addition to the oysters, be sure to try the mahi mahi.
El Meson De Pepe
El Meson De Pepe is another outstanding Cuban restaurant. It is located in the Old Town neighborhood and Mallory Square on Wall Street.
Outstanding food and one of my favorite Key West restaurants. Enjoy the Mallory Square sunset celebration then stop to eat dinner and enjoy a cocktail or two.
Alonzo's Oyster Bar
Another fantastic place for fresh oysters! Alonzo's Oyster Bar is located on Front Street with an amazing view on the water. Be sure to stop in for Happy Hour.
Conch Republic Seafood Company
Conch Republic Seafood Company is located on Greene Street about one-half mile off Duval Street. Great seafood, great service, and a kick-butt margarita.
Be sure to try the pink shrimp as well as the blackened shrimp. So good!
Santiago's Bodega
If you love tapas, this is the spot for you. But it is a good idea to make a dinner reservation to be sure your taste buds get to enjoy them all.
Small plates, fantastic service, and out-of-this-world food. There may be other fine dining options on the island, but this little gem does not disappoint. You will find it on Petronia Street.
Cuban Coffee Queen
This fantastic little spot is open for breakfast, brunch, and lunch and is located on Margaret Street. The best Cafe Con Leche in Key West!
I love strong coffee and always look for a Cuban café. You can also buy the coffee beans to take home with you.
​Kermit's Key Lime Shoppe
Rounding out this list is Kermit's Key Lime Shoppe. You will find this must-visit spot on Elizabeth Street.
Be sure to try their chocolate-coated frozen key lime pie. So good and so refreshing. If I had not had an eight-hour drive home, I would have bought out the store.
And there you have it! The top picks for the restaurants and more where the locals eat in Key West.
I will be adding lists for breakfast, lunch, and dinner, breweries, coffee shops, desserts, and more. Key West has so many places to try. Be sure to bookmark this page as I am determined to add even more top picks to this list.
The links below will help you plan your Key West vacation. Be sure to click through to my Ultimate Key West Travel Guide also below.
Upcoming Trip?
I like to use Booking for booking not only my hotels, but my tickets and rental cars as well. Makes life so much easier with only having to log into one location for my information.
Be sure to grab my travel tips to save you time and money. You'll also be entered into the weekly drawings.
Register here: Get 100 Travel Tips EVERY traveler should know PLUS entered into the weekly drawing.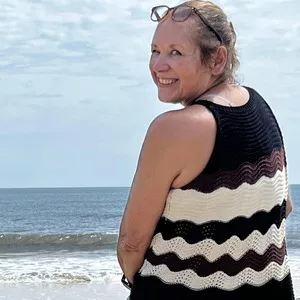 About Denise
Denise Sanger lives a life split between her love for fitness and her passion for travel particularly to the BEACH. Denise also has a love of marketing and lives in beautiful Suwannee County, Florida. You can find out more about Denise here: About Denise