Ultimate List of Top Beaches On Florida Panhandle. Explore these gems.
This article may contain affiliate links. Whenever you buy something through one of these links, I may earn a small commission without any cost to you. I really appreciate it as it supports this site and my family. Thank you!
A Fresh Perspective On The Sunshine State: Discovering Gems on this list of top beaches on Florida Panhandle
The Florida Panhandle is a top vacation destination with some of the best beaches for beach-goers traveling from around the world.
Stunning white-sand beaches, clear waters and plenty of water sports to choose from, it's no wonder that so many people return to this part of North Florida every year.
But with so many beaches to choose from, how do you know which ones are worth visiting? This guide will help you uncover some of the best-kept secrets in the Panhandle.
Below is the guide to must visit beaches on the Florida Panhandle that offer something special for everyone.
Thank you for reading this post. Don't forget to subscribe! This way you never miss an update, travel deals, discounts and more!! Subscribe to the right------>
Choose from secluded hideaways to busy tourist hot spots and best places to relax in these beach towns and be sure to include national park, Gulf Islands National Seashore in your travels.
Why the Panhandle On The Florida Gulf Coast?
One visit to the Florida Panhandle and its top beaches is all it takes. One visit, and you'll quickly understand why it's a popular destination.
The beaches on the Gulf of Mexico are some of the most beautiful beaches in the world. I have my favorites, but each beach is special in its own way and a great place for a getaway.
Emerald waters, sand dunes, and pristine beaches are enough to make nature lovers swoon.
Do I have your attention yet? Great! Let's dig into the part of Northwest Florida and find your perfect spot among the best Florida Panhandle beaches.
When to visit the Panhandle?
My opinion of course is anytime is a great time to hit the beach no matter where it is located. But if you prefer warmer days as surf temps, the best time to visit this area would be summer through fall.
The Ultimate Guide to the Top Beaches on the Florida Panhandle
Panama City Beach
Yes, my number one is number one and one of the best beach towns you will ever visit. Truly one of the best things about a Florida Panhandle Beach Vacation are the things to do and places to see.
Enjoy nearby attractions or rent a pontoon boat and head over to Shell Island off the coast of PCB. After a day on the beach head to Pier Park for dinner or for a cocktail while enjoying live music.
A great time will be had by all. Note: this beach does tend to get crowded during spring break. If you prefer a quieter beach vacation, choose a different time of year or visit one of the nearby, quieter beaches in the area such as Santa Rosa Beach.
Destin
Right after PCB, we hit Destin as we move toward the Florida/Alabama state line. This beautiful beach town was the first one I ever visited on the Panhandle and the reason I keep going back.
Yes white sand beaches and gorgeous Gulf waters but also fantastic shopping and restaurants. Called the world's luckiest fishing village because of the many types of fish you can fish for in the Gulf.
Fort Walton Beach
The first time I visited Fort Walton Beach, it took my breath away. Yes I know it's a short drive from Panama City Beach, but it's a completely different beach town vibe.
This beach is the perfect mix of relaxation and fun. With its crystal clear waters and wide stretches of white, pristine sand, Fort Walton Beach is the ideal destination to take a break. Plenty of restaurants and bars to enjoy as well.
Miramar Beach
This popular beach located in South Walton county is a fantastic choice for those traveling with little ones.
Shallow, warm water and soft sand for the kids to play on during the day. Then head out in the evening to explore the fabulous restaurants and nightlife the city offers.
One of my favorite Emerald Coast Beaches I know you'll enjoy visiting as well. Plenty of public beach access points make it easy to get right on the beach.
Rosemary Beach
Another hidden gem in South Walton. Reminiscent of New Orleans French Quarter vibes with its shops and restaurants.
Enjoy the hidden pathways you will see between carriage houses and cottages. True Southern hospitality you will enjoy on your visit.
Cape San Blas
Many folks wonder if Cape San Blas is a secret Floridian don't tell you about. Located near Port St. Joe, this beach is paradise!
A bit more laid back than the other larger beach towns. Explore the pristine beach and shoreline then enjoy dinner at one of the local family owned restaurants.
Navarre Beach
I do not get to Navarre Beach as often as I'd like. I make it to PCB every year as well as Destin and Fort Walton but need to add Navarre as well to my annual beach getaway on the Panhandle.
12 miles of white sandy beach waits for your morning beach walk. This beach community is near the Gulf Islands National Seashore and provides one of the best relaxing beach vacations you could hope for.
Want to fish? The Navarre Beach Fishing Pier is the longest fishing pier in Florida. Because Navarre Beach is not as frequented as other beaches, you can get a prime spot right on the pier.
Pensacola Beach
Pensacola Beach is a chameleon that offers exactly what you need.
Home to Eglin AFB as well as the Pensacola Beach pier. Pensacola Beach is a popular place for a lot of reasons.
If you like to party, you are at the right beach. Prefer a more laid back beach day? You are also at the right beach. Travel + Leisure magazine's rated these areas as the "Best Beaches on Earth" for families.
Be sure to stop at the Pensacola Beach Boardwalk for some great shopping followed by either lunch or dinner. You can also book a boat tour or cruise right here while visiting the boardwalk.
You will also want to visit Santa Rosa Island, near Pensacola. This barrier island is 30 miles from the Alabama border and offers some of the most beautiful beaches in Florida.
Blue Mountain Beach is also in this area. Peaceful and less crowded beach on beautiful 30A.
Seagrove Beach
Seagrove Beach is also in South Walton and definitely a beach treasure you will want to be sure to visit. This beach is well-cared for with a great mix of old beach homes with new cottages.
Folks say this is not a welcoming beach community, but I disagree. Every time I have visited, I have found nothing but nice folks that care about their town.
Respect them and they will respect you. Simple.
Mexico Beach
Mexico Beach is still recovering from the hurricane that hit it a few years ago. But I did not want to leave this great beach off the list.
If you are looking for a destination with true Old Florida beach vibes, add Mexico Beach to your list. Check before you plan though.
Uncover Apalachicola Bay's Secrets Top Fishing Spot in Florida Panhandle Region
Apalachicola Bay is the top fishing spot in the Florida Panhandle and should be top of your list if you love to fish. Top-notch wade, drift, or boat fishing all while enjoying stunning views of St. George Island and Apalachicola National Estuarine Research Reserve (ANERR)
Apalachicola Bay fishing offers speckled trout, redfish, flounder, sheepshead and black drum year-round. For those that want to fish Spanish mackerel, pompano, tripletail, bluefish, ladyfish and sharks should visit the area between March and November.
Alligator Point at Port St. Joe
Alligator Point is one of the most beautiful examples of natural Florida in the Panhandle. The sunsets over white sandy beaches are magnificent.
Serene atmosphere and unspoiled natural beauty create a top destination ideal for relaxation and reconnecting with nature.
Take a hike on one of the nature trails or a leisurely stroll along white sand beaches.
Explore the area's diverse wildlife habitats such as Bald Point State Park. Water sports? You can enjoy water sports activities such as boating, kayaking, and even some of the best fishing in this part of the state.
St. George Island
One of my favorite places to visit every year is St George Island. The state park alone is out of this world.
Sugar-white sands and sand dunes against the emerald-green waters of this barrier island is something everyone should see once in their lifetimes.
I love St. George Island not only for the state park beach, but all the beach areas on the island.
Quieter than other beaches, it is the perfect getaway for those that prefer a quieter beach vacation destination. Nature lover? Stop at St. Vincent Wildlife Refuge.
Best Florida Beaches In The State Parks
St. Andrews State Park
As we continue up the scenic highway, our next great spot to explore is St. Andrews State Park. This state park is located near Panama City Beach and the perfect place to relax and get away from the day's craziness.
Whether you prefer to sit on the beach watching the waves, snorkeling to see the beauty of the underwater world of the Gulf or like a more active vacay with hiking, paddling, fishing and more, you will find it here.
Grayton Beach State Park
Grayton Beach State Park is heaven on earth. It is a nationally ranked oasis with something for everyone.
Here you will find miles of white sand beaches to explore as well as being able to hike through forests of pine trees, live oaks and magnolia trees.
Biking, paddling, boating, fishing, camping and more are all available for you to enjoy in this Florida State Park.
Henderson Beach State Park
This state park is located in Destin and right on the beach! Features 30 foot sand dunes and beautiful Gulf waters. Watch for sea turtles as you snorkel and swim as they are often nearby.
Protected by the state, enjoy fishing as well as a day relaxing on the sand. Campsites are connected by the boardwalk. If you plan to camp, plan in advance. These spots are reserved as they open.
Topsail Hill Preserve State Park
One more Florida State Park to talk about, and it's one of the best. Topsail Hill Preserve State Park is near Santa Rosa and Destin.
Beautiful sand dunes and freshwater dune lakes you won't see anywhere else. 3 miles of beach to explore as well as camping opportunities including Glamping!
That covers the ultimate list of top beaches on the Florida Panhandle. Clearwater Beach, Siesta Key, St. Petersburg and others are more south on the west central coastline.
Hopefully this will inspire you to check out another perspective of Florida other than Disney World or South Florida beaches like Fort Lauderdale and Miami's South Beach.
Those that prefer the East Coast check out St. Augustine as well as Amelia island for other great laid back options for your beach vacation. Let me know which part of the state is your favorite.
Upcoming Trip?
I like to use Booking for booking not only my hotels, but my tickets and rental cars as well. Makes life so much easier with only having to log into one location for my information.
Be sure to grab my travel tips to save you time and money. You'll also be entered into the weekly drawings.
Register here: Get 100 Travel Tips EVERY traveler should know PLUS entered into the weekly drawing.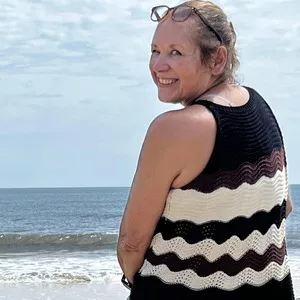 About Denise
Denise Sanger lives a life split between her love for fitness and her passion for travel particularly to the BEACH. Denise also has a love of marketing and lives in beautiful Suwannee County, Florida. You can find out more about Denise here: About Denise