Discover The Most Spectacular Beaches In North Florida
This article may contain affiliate links. Whenever you buy something through one of these links, I may earn a small commission without any cost to you. I really appreciate it as it supports this site and my family. Thank you!
Are you looking for the perfect beaches to escape to in Florida? Whether you're planning a family vacation or just need an escape from work life, there are plenty of beaches in North Florida that you will want to visit!
From picturesque beaches with white sand and crystal blue waters to secluded beaches away from crowds, North Florida has a beach for everyone. In this post, we'll dig into some of the best beaches in North Florida.
Jacksonville Beach
Jacksonville Beach is one of the most beautiful beaches on the east coast of Florida. It's located just south of downtown Jacksonville. Enjoy lying on the beach, looking for the perfect shell or shark teeth or having fun in the water.
Swimming, biking, surfing, boogie boarding, fishing and volleyball courts. When you are ready to take a break, there are many restaurants and shops within walking distance of the beach.
Thank you for reading this post. Don't forget to subscribe! This way you never miss an update, travel deals, discounts and more!! Subscribe to the right------>
Park your car for the day because you will not need it until you leave. These public beaches have access to showers and restrooms as well as lifeguards on duty during the busier months.
Panama City Beach
Panama City Beach is known to many including me as one of the world's most beautiful beaches due to its stunning white sand beaches, crystal blue waters, and warm climate.
This is the perfect beach for swimming, sunbathing, surfing, and boating. Shallow emerald green water makes it a favorite for families too.
The beaches along the gulf coast are abundant with natural beauty and wildlife. Watch for sea turtles, rays, dolphins and more.
No shortage of restaurants, bars, and entertainment in Panama City Beach. From Pier Park to Wonder Works to Gulf World Marine Park, there are plenty of nearby attractions to enjoy.
Grayton Beach State Park
Grayton Beach State Park is definitely one of Florida's most beautiful beaches. Stunning white sand beaches surrounded by lush vegetation and crystal clear water as far as the eye can see makes it feel secluded.
Enjoy many activities such as fishing, kayaking, canoeing or simply lying on the beach and relaxing. Bring a picnic basket and enjoy a picnic on the beach.
Boneyard Beach
If you're looking for a beach experience that is off the beaten path, then Boneyard Beach should be your destination. Many people do not even know this beach exists.
Boneyard Beach is located on the Atlantic Ocean side of the state and features driftwood trees and more. As a result, it has become a popular spot for photos such as engagement, wedding and family pics.
This is definitely one beach you MUST make the time to visit when in Jacksonville.
Henderson Beach State Park
Henderson Beach State Park is another beautiful Florida State Park on the beach. The dunes are 30 feet high and absolutely magnificent.
This beach is perfect for families looking for some fun in the sun. Enjoy playing and water activities in the shallow water or kick back and relax under the sun.
Crystal blue waters and white sand beaches await you in this park near Destin. There is also a nature trail and 60 campsites connected to the beach via boardwalk are among this park's featured areas.
Fort Clinch State Park
Back on the east side of the state on Amelia Island you will find Fort Clinch State park. This beach offers visitors plenty of opportunities to explore the outdoors, including the beach but a bit of history as well with the Fort.
And did I mention, shark teeth? Yes. This is a beach you will have a great shot at finding those illusive sharks teeth everyone wants to collect.
Also, the first beach I camped on here in Florida. Still one of my favorites.
Seaside Beach:
Seaside Beach on the Panhandle is one of the most popular beaches for families in North Florida. Calm, crystal blue waters and white sand beaches are perfect for spreading out and relaxing all day.
This beach is located right off 30A highway and offers plenty of activities in the area such as swimming, surfing, fishing, kayaking and more. Great area of the Panhandle and nice and clean.
Ponte Vedra Beach:
The first time I visited Ponte Vedra Beach, I thought to myself how did I not know this beach was so close to Jacksonville. It is absolutely gorgeous.
This area of the Sunshine State is known for its stunning beaches located along the Atlantic Ocean coast in North Florida. This beach destination offers plenty of activities such as swimming, sunbathing, fishing, snorkeling and more!
Even better? If you like to golf, there are several highly rated golf courses nearby. Also perfect for nature lovers, is the Guana River Wildlife Management Area. I've hiked and kayaked here many times and will go back many more.
Cape San Blas:
Cape San Blas is considered to be one of North Florida's most beautiful beaches. And for good reason too.
Cape San Blas is a short drive from Port St. Joe and perfect if you prefer a less crowded beach. White sand and emerald green waters stretch for miles along the coast.
Alys Beach:
Alys Beach is also along 30A and an exclusive beach community. I'm listing one last because you need to stay on Alys Beach to access the beach itself. Or know someone that does. It's just not as accessible as other beaches in the area.
That said, walking along the pristine white sand against the blue water at Alys Beach is something everyone should do. Enjoy swimming, surfing and kayaking or like me, take a stroll down the beach to enjoy the beauty.
Whether you're looking for a family-friendly beach or an exclusive beach community experience, you will find the perfect beach for you in North Florida.
North Florida, with its abundance of stunning beaches and plenty of fun things to do, it won't be hard to find your perfect beach destination.
Ready? Grab your towels and sunscreen and have a memorable vacation at one of these beaches in North Florida.
Upcoming Trip?
I like to use Booking for booking not only my hotels, but my tickets and rental cars as well. Makes life so much easier with only having to log into one location for my information.
Be sure to grab my travel tips to save you time and money. You'll also be entered into the weekly drawings.
Register here: Get 100 Travel Tips EVERY traveler should know PLUS entered into the weekly drawing.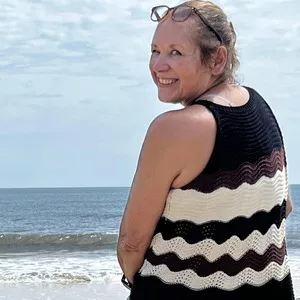 About Denise
Denise Sanger lives a life split between her love for fitness and her passion for travel particularly to the BEACH. Denise also has a love of marketing and lives in beautiful Suwannee County, Florida. You can find out more about Denise here: About Denise