Best Places to Kayak in North Florida: A Friendly Guide
This article may contain affiliate links. Whenever you buy something through one of these links, I may earn a small commission without any cost to you. I really appreciate it as it supports this site and my family. Thank you!
Ready for an adventure? In this article, you will find some of the best places to kayak in North Florida.
From picturesque waterways and scenic landscapes to lazy rivers with easy access to the boat ramp as well as calm waters to class III rapids for those more adventurous, this area offers it all for a great kayak trip.
This part of the Sunshine State offers some of the best places to kayak in North Florida as well as Central Florida These areas are perfect for paddling enthusiasts of all levels looking to explore the state's natural beauty.
With diverse destinations ranging from peaceful cypress-lined rivers to clear springs with glimpses of marine life, there's an abundance of rich experiences awaiting you.
Thank you for reading this post. Don't forget to subscribe! This way you never miss an update, travel deals, discounts and more!! Subscribe to the right------>
As you venture into North Florida's paddling paradise, you'll undoubtedly find tranquility coupled with adventure. This area is perfect for kayakers of all skill levels.
Whether you're a seasoned kayak enthusiast or a beginner discovering the joys of paddling, this region offers something unique for everyone and is a great place to explore.
Float through these pristine rivers and springs and let nature envelop you as the day unfolds. Take a moment to envision yourself seamlessly gliding across glassy water, surrounded by dense greenery, and greeted by local wildlife.
The list below of best places to kayak in North Florida offers remarkable kayaking destinations for you to get away from daily life and enjoy nature. 
Prepare to embrace its captivating allure, allowing you to forge unforgettable memories on your next paddling adventure.
With miles of coastline to explore, whether you choose a freshwater paddling trail or a saltwater paddling trail, be ready to enjoy every moment of your outing.
I have also included a few spots closer to Central part of the state. North And Central Florida offers some of the most spectacular views in Florida. 
Best Places to Kayak in North Florida: Why It is an Awesome Place for a Kayaking Trip
North Florida offers some of the most fantastic kayaking experiences in the Sunshine State as well as in the United States.
With its mix of fresh and saltwater options, as well as abundant wildlife and natural beauty, it's a haven for both beginners and experienced kayakers alike.
A standout feature of North Florida is its numerous springs like Ginnie Springs and Wakulla River, providing crystal-clear, calm water perfect for paddling.
Your kayaking adventure can take you through picturesque forests filled with towering cypress trees and let you experience the unique coastal dune lakes that make Florida a one-of-a-kind destination.
The extensive network of rivers in this region, like the Suwannee River and Santa Fe River, offer easy paddle trails to explore the diverse habitat and species native to Florida.
Besides the breathtaking scenery, you get a chance to spot dolphins and fascinating manatees in the Gulf Coast waters as well as alligators – more affectionately known as 'gators' – in a safe and exciting setting.
For those who love outdoor adventures, camping is an excellent way to immerse yourself in the experience fully.
Many of the paddling trails in North Florida offer camping options, making multi-day kayak trips a thrilling possibility. Take advantage of kayak rentals and guided tours available in the region to make the most of your time on the water.
Fishing enthusiasts, fear not! North Florida's connected waterways provide ample opportunities to catch a wide variety of fish while kayaking.
And don't forget to bring your snorkel gear! Snorkeling is a fantastic way to explore the underwater life in the springs and coastal areas.
From Jacksonville all the way down to Cedar Key, embrace the warm and friendly atmosphere of the area as you embark on your kayaking adventure.
Feel the rush as you weave through the mangrove tunnels in Indian Key, or traverse the peaceful waters around Little Talbot Island State Park.
The freshwater rivers, stunning Gulf of Mexico, and Indian River Lagoon complete the experience for kayakers visiting North Florida.
With its unique blend of sights, sounds, and experiences, North Florida is undoubtedly an excellent location for your next kayaking trip.
So whether you have your own kayak or not grab your paddle and don't miss out on one of the best ways to see this beautiful area plus the chance to immerse yourself in the best the Sunshine State has to offer!
Spotlight the Best Places to Kayak in North Florida
Sante Fe River and Springs
Kayaking down the Sante Fe River offers you breathtaking views of multiple springs like Ginnie, Blue, and Poe Springs.
Don't miss the opportunity to paddle this scenic river and to dive into these crystal-clear waters and explore the impressive underwater caves for a fantastic adventure.
Absolutely one of the best spots to enjoy many outdoor activities. Nearby hotels and camping available. 
Suwannee River
Paddle your way down the legendary Suwannee River, where you are surrounded by gorgeous tree-lined shores, majestic springs, and abundant wildlife.
Overnight camping is possible, adding an extra layer of fun to your kayaking journey.
If you choose to paddle over the Shoals at Big Shoals And Little Shoals located near White Springs, be sure to check the water levels.
Shallow waters cannot be easily paddled over and if you are looking for a bit of excitement, too high water levels will skim you over the rapids. 
You will think you are at the beach in some areas on the Suwannee. White-sand beaches appear along the river in several areas and makes a great spot to pull over to rest or have a snack.
The Suwannee River is not the longest river in Florida. The Chattahoochee River is. But the Suwannee does begin in Georgia and dumps into the warm waters of the Gulf.
Suwannee River Wilderness Trail
Embark on an unforgettable adventure when you decide to take on the Suwannee River Wilderness Trail. This 170-mile journey rewards you with captivating scenery and various state parks to rest in and explore.
Watch for crystal clear water that is flowing into the river. That is generally where the freshwater springs are. 
There are several river camps along this trail. You will first see the launch site for the camp as you come upon it from the riverside.
Withlachoochee River and Springs
Discover the beauty of the Withlachoochee River and its alluring springs. The river offers serene cypress swamps and sandy banks, perfect for a relaxing day of kayaking and soaking in the natural beauty all around you.
Launching from Madison Blue Springs, enjoy some of the best kayaking and natural springs Florida has to offer.
Ocklawaha River
Kayaking on the historic Ocklawaha River promises an experience filled with lush scenery, fascinating wildlife, and narrow channels that let you get up close and personal with the river's unique ecosystem. Great river to enjoy a leisurely paddle.
Cedar Key
Venture out to Cedar Key, where the open waters are waiting for your kayaking exploration. The area is dotted with charming islands, salt marsh, beautiful scenery providing you with excellent opportunities to view diverse bird species and make lasting memories.
If you are planning to kayak across the open water to Atsena Otie Key, watch for the white sand beaches. Point your kayak directly at those, and you will arrive in roughly 20 minutes or so depending on how fast you paddle. This island is truly a unique experience.
Rainbow River
The crystal-clear waters of Rainbow River are perfect for spending a day kayaking, marveling at the colorful fish, and enjoying the underwater spectacles. One of my favorites! Paddle through the pristine springs and witness nature's beauty in every direction.
Wakulla River
Explore the serene Wakulla River, where you'll find manatees, alligators, and abundant birdlife at every bend. The tranquil experience on the water will leave you feeling refreshed and enchanted by nature.
Weeki Wachi River
Your Weeki Wachi River kayaking adventure allows you to paddle through azure waters alongside manatees, witness lively bird species, and admire the lush surroundings. Don't forget to make a stop at the famous Weeki Wachee Springs State Park.
Silver River
Paddling through the Silver River offers an unforgettable journey through history, with sightings of wild monkeys and a chance to explore the Silver Springs State Park. Transparent waters teeming with aquatic life surround you, making this an awe-inspiring kayaking destination.
Crystal River
The warm waters of Crystal River are perfect for kayaking among playful manatees, discovering hidden springs, and indulging in the area's charming natural beauty. Be sure to check out the Three Sisters Springs while you're there.
Indian River Lagoon
The Indian River Lagoon offers a diverse kayaking experience, where mangroves, seagrass beds, and abundant wildlife provide an unforgettable time on the water.
Don't miss the chance to navigate the peaceful Mosquito Lagoon or paddle around Merritt Island National Wildlife Refuge on the Atlantic Ocean side of the state.
Tarpon Springs
Discover the charm of Tarpon Springs as you paddle along Anclote River or explore the coastal mangroves of this friendly community. The area boasts appreciable wildlife and picturesque views, making your kayaking trip a delightful adventure.
Tampa Bay
Make the most of Tampa Bay's diverse waterways by exploring the mangroves, meandering through the Caladesi Island State Park, or paddling along the Hillsborough River. You'll be surrounded by entrancing wildlife and captivating scenery at every turn.
Hillsborough River
Enjoy the stillness of nature while kayaking along the Hillsborough River, where you can witness cypress trees, alligators, and lush vegetation lining the waterways. Paddle through serene forests and be prepared to be amazed by the stillness of your surroundings.
Best Places to Kayak in North Florida State parks
Rainbow Springs State Park
At Rainbow Springs State Park, you can enjoy paddling through crystal clear waters surrounded by lush vegetation.
The park offers a 5.6-mile kayak trail starting from the headwaters, allowing you to explore the area's natural beauty at your own pace. Be sure to look out for the captivating wildlife that calls the park home.
Weeki Wachee Springs State Park
Weeki Wachee Springs State Park is another great destination for kayaking adventures. With its crystal-clear water and unique wildlife, you'll be mesmerized by its beauty.
Paddle down the gentle, meandering Weeki Wachee River, which flows from the springs to the Gulf of Mexico. Unfortunately, this river has suffered tremendous damage from boaters and humans. See more in my article here: Weeki Wachee Springs State Park – The Good, The Bad, The Ugly.
Silver Springs State Park
Silver Springs State Park is a fantastic kayaking spot that takes you through one of the largest artesian springs worldwide. When padd
ling, you can both explore the serene Silver River and enjoy the mesmerizing view of the springs. Keep your eyes peeled for manatees, turtles, and other wildlife including monkeys that can be found in the area.
Blackwater River State Park
For a more untouched and tranquil kayaking experience, head to Blackwater River State Park. This park is known for its clean, sandy-bottomed waterways and great opportunities for swimming and picnicking.
Paddle along the clear currents under the shade of cypress trees and observe turtles and white-tailed deer that inhabit the area.
Blue Spring State Park
Blue Spring State Park offers a unique kayaking experience, being a designated manatee refuge in the winter. Paddle through the spring run to St. Johns River, where you may spot these gentle giants along with other diverse wildlife.
I do not recommend paddling the St. Johns River in Jacksonville unless you are an experienced kayaker. There is significant boat traffic on the river in Jacksonville.
In summer, enjoy cruising through crystal-clear water surrounded by lush vegetation and towering trees.
Madison Blue Spring State Park
Madison Blue Spring State Park features a first-magnitude spring with crystal-clear blue water. This spot is perfect for kayaking and enjoying the captivating views of limestone cliffs and lush vegetation surrounding the spring.
As you paddle through the 150-foot spring run, you'll find yourself surrounded by abundant wildlife and pristine nature.
Lafayette Blue Spring State Park
Finally, Lafayette Blue Spring State Park offers a fantastic kayaking spot with its first-magnitude spring with the clearest waters you may ever see. This spring forms a turquoise pool surrounded by hardwood hammocks and limestone.
Paddle down the scenic Suwannee River, exploring the park's picturesque riverbanks and sandbars, perfect for a break with a view. Don't forget to keep an eye out for the abundant wildlife inhabiting this natural haven.
Best Places to Kayak in North Florida National Parks and Preserves
Ocala National Forest
Ocala National Forest offers you a variety of beautiful spots to explore with your kayak. The forest has nearly 600 lakes and ponds to choose from, providing endless possibilities for adventure. 
The spring runs of Alexander Springs and Juniper Springs are popular choices with crystal clear waters that allow for great visibility and easy paddling.
Don't forget to keep an eye out for local wildlife including black bear, as you might encounter turtles, alligators, and various bird species during your exploration.
Osceola National Forest
When kayaking in Osceola National Forest, you'll be surrounded by cypress trees and tranquil waters. With over 200,000 acres, this park is an ideal location for secluded paddling and getting in touch with nature.
Ocean Pond is a nice paddle on the one side of the pond. The other side can be choppy.
The Olustee Battlefield Trail provides a unique opportunity to explore historic landmarks as you navigate through the park's waterways.
Merritt Island National Wildlife Refuge
Merritt Island National Wildlife Refuge, located near the Kennedy Space Center, adds a unique touch to your kayaking adventure. As you paddle through the diverse ecosystems of the refuge, don't be surprised to see manatees, dolphins, and even bald eagles.
The Black Point Wildlife Drive and Bairs Cove Seaport are two excellent points to launch your kayak and delve into the beauty of this coastal wildlife haven.
At this refuge, you may also see sea turtles, sea birds, deer and more.
Big Cypress National Preserve
Big Cypress National Preserve is a must-visit destination for any kayaking enthusiast. As you maneuver through the calm, slow-moving waters of the preserve's swamps and marshes, you'll be treated to an experience unlike any other.
The Halfway Creek Trail is a popular choice for both experienced and novice paddlers, as it winds through a rich variety of habitats and panoramic views. Be prepared for close encounters with alligators, wading birds, and other fascinating wildlife as you immerse yourself in this enchanting park.
There are some fantastic places to kayak as well in South Florida. These include Fort Myers. Pine Island, Bahia Honda State Park, Fort Pierce, the Florida Keys including Key Largo and Key West. I have listed more information here: Best Places To Kayak In Miami
Below are additional links to help you plan our kayaking trips to North Florida:
Upcoming Trip?
I like to use Booking for booking not only my hotels, but my tickets and rental cars as well. Makes life so much easier with only having to log into one location for my information.
Be sure to grab my travel tips to save you time and money. You'll also be entered into the weekly drawings.
Register here: Get 100 Travel Tips EVERY traveler should know PLUS entered into the weekly drawing.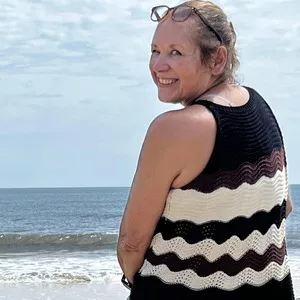 About Denise
Denise Sanger lives a life split between her love for fitness and her passion for travel particularly to the BEACH. Denise also has a love of marketing and lives in beautiful Suwannee County, Florida. You can find out more about Denise here: About Denise