What are the best beaches in northern Florida
This article may contain affiliate links. Whenever you buy something through one of these links, I may earn a small commission without any cost to you. I really appreciate it as it supports this site and my family. Thank you!
Whenever I'm asked what my favorite beach is in north Florida, I'm stumped. You know your girl is a beach bum that tries to get to the beach any time I can, so I'm limiting myself to five of the best beaches in Northern Florida.
If you're lucky enough to call North Florida home, then Panama City Beach is the place to be! Even though I'm a beach fanatic who loves getting any chance of sand between my toes – PCB remains #1 in my book.
Panama City Beach is at the top of my list. Whether it's a weekend getaway or an annual vacation tradition, this spot never fails to deliver that sandy-toed paradise feeling any time of year.
If PCB isn't your jam though, peace and tranquility still await along Mexico Beach shores while Fort Walton offers up legendary waves for pro surfers and beyond.
Thank you for reading this post. Don't forget to subscribe! This way you never miss an update, travel deals, discounts and more!! Subscribe to the right------>
Pensacola boasts stunning marine life sightings where Grayton adds breathtaking views with its oyster shells sprinkled white sand coastlines making these gorgeous destinations unbeatable choices when exploring Northern Florida beaches.
To be honest? All beaches on the Gulf of Mexico from St. George Island up through the Panhandle are breathtaking.
Because there are so many beautiful beaches in the Panhandle, I'm going to outline those in a separate article.
So what about the next four? Hmmm. There are SO many beaches I truly love in North Florida I'm limiting myself to only four more after PCB.
Top 5 best beaches in northern Florida
Panama City Beach is number one as you know. You can get all the details here: Panama City Beach Vacations. Now let's talk about the rest.
Jacksonville Beach. Jacksonville is actually Florida's largest city. It's easy to get in and out of and that includes getting to the many beaches. Simply follow the "To The Beach" signs off 95 if you're driving or from the airport if you've rented a vehicle. For me, I simply jump on I-10 East and off I go. Takes me less than two hours to have my feet in the surf. I truly think Jacksonville Beach is one of the most overlooked beaches folks should visit. Restaurants, shops, and more are close so after a day chillaxing on the beach, you can easily walk somewhere for dinner or a drink.
Amelia Island – Fernandina Beach. Amelia Island is a mere 13 miles long, but it's packed with history and beautiful beaches including Fernandina Beach. Visiting the civil war fort – Fort Clinch – will bring you to a portion of the beach popular for looking for shark's teeth.
St. Augustine Beach. Another beach I hit every year. St. Augustine is only 45 minutes from Jacksonville, but you feel like you stepped back in time. Founded by Spanish sailors in 1565, St. Augustine Beach is packed with history and includes the magnificent Castillo de San Marcos fort that stands today on the shores. This fort was built using coquino rock native to the area. After spending a day on the beautiful beach, take a leisurely stroll down St. George street for some retail therapy and dinner.
Ponte Vedra Beach. I got a good look at this beach by accident actually as I thought we were still in Jacksonville Beach while driving down A1A. My first thought as we drove through the area was how quiet it was. No city noise and condos. What you will see as you take a walk along this beautiful beach are beautiful mansions overlooking the ocean. Another great beach for looking for shark's teeth so keep your eyes peeled.
Today, those are my top five right now. BUT keep checking back because I'm visiting more and more beaches.
Upcoming Trip?
I like to use Booking for booking not only my hotels, but my tickets and rental cars as well. Makes life so much easier with only having to log into one location for my information.
Be sure to grab my travel tips to save you time and money. You'll also be entered into the weekly drawings.
Register here: Get 100 Travel Tips EVERY traveler should know PLUS entered into the weekly drawing.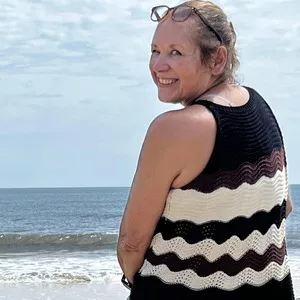 About Denise
Denise Sanger lives a life split between her love for fitness and her passion for travel particularly to the BEACH. Denise also has a love of marketing and lives in beautiful Suwannee County, Florida. You can find out more about Denise here: About Denise