Spyglass Beach Florida Things To Do
This article may contain affiliate links. Whenever you buy something through one of these links, I may earn a small commission without any cost to you. I really appreciate it as it supports this site and my family. Thank you!
My first visit to Spyglass Beach, Florida definitely did not disappoint. Every Florida beach is different, and Spyglass Beach is no exception.
If you're looking for a breathtaking beach to add to your Florida vacation itinerary, look no further than Spyglass Beach. This secluded spot is known for its beautiful beaches and clear water.
Spyglass Beach is the perfect place to relax and soak up the sun, but there are also plenty of activities to keep you busy. Take a swim in the refreshing water, go on a hike through the nearby nature trails or boogie board in the waves of the Atlantic Ocean.
What is Spyglass Beach, Florida known for?
Spyglass Beach is located right between St. Augustine Beach and Crescent Beach. It is best known for its gorgeous 14 miles of wide, white sandy beach. Read this next: 18 Best Things To Do In Crescent Beach, Florida
Thank you for reading this post. Don't forget to subscribe! This way you never miss an update, travel deals, discounts and more!! Subscribe to the right------>
Spyglass Beach Public Access address location reflects St. Augustine, FL as the city: 8202 A1A S, St. Augustine, FL 32080 United States.
How to get to Spyglass Beach
As mentioned above, Spyglass Beach is located between St. Augustine Beach and Crescent Beach. Either south or north on A1A will bring you right to this stunning location.
Public parking is limited, however. Plan to arrive early if you are driving. If you are staying at Spyglass Condos, Spyglass Villas Rentals, a beach house or other vacation rentals, you should be able to walk to the beach.
Flying? Daytona Beach International Airport, Jacksonville International Airport or Orlando Airport are all a short drive away.
Where to stay in Spyglass Beach
Planning where to stay on your Spyglass Beach vacation is fairly simple. This small Florida beach town has quite a few options.
Condos located directly on the beach oceanfront is my top pick as hotels are limited. Many of these condos have easy access to the beach, a private pool, large balcony and sea views. You can check them out here: Spyglass Beach Condos
Be sure to check with the property owner for rules you may need to know as well other incidentals. Ask about free wi-fi, whether your beautiful condo is oceanfront, ground level, second level or other as well as available bedrooms and baths.
If you are traveling with a large party, a standard unit may not be large enough. Take a look at the floorplan. A large master bedroom, huge dining room but small guest rooms or half bath may not work for you if you have a large family.
Will you have an end unit with fantastic ocean front views or are the views of the beachfront complex you are considering blocked by other condos?
Will you have to go up a spiral staircase to the top of the condo or do you prefer a bottom floor unit you can walk directly in and start your vacay.
Are you close to Spyglass Public Beach access? How long is the drive to St. Augustine (Saint Augustine), Jacksonville Beach to the north or Daytona Beach to the south. Much of this detailed information can be provided by the property owner.
Prefer a hotel? There are a few, but you do have better options either north to St. Augustine or south from Crescent Beach or Flagler Beach. You may need to consider farther south to Daytona Beach if you are traveling during the busy season. You can check your options here: Spyglass Beach Hotels
Some of the best things to do in Spyglass Beach, Florida:
There are so many fun things to do in this area of the Florida Atlantic Coast. If you have not read my Flagler Beach or Crescent Beach articles, you will want to start here:
A few other things to do include:
St. Augustine: Starting in St. Augustine, visit St. Augustine Beach, then cross over the Bridge of Lions into this historic city. Be sure to visit Ponce de Leon's Fountain of Youth Archaeological Park, Castillo de San Marcos National Monument, and the shopping areas.
Loved Castillo de San Marcos Fort? Then you will want to visit Fort Matanzas National Monument which preserved the fortified coquina watchtower, completed in 1742. You will need to take a ferry over to the Fort. Check weather as the ferry will not operate if there are storms.
Matanzas Inlet: Be sure to make a stop to the Matanzas Inlet where the Atlantic Ocean meets the Matanzas Estuary, one of the state's purest waters. Be aware of the currents though. This area can be quite rough for swimming but very popular for other water activities and fishing.
Anastasia Island. This beautiful barrier island is located east of St. Augustine, running north–south in a slightly southeastern direction to Matanzas Inlet.
One of the most beautiful islands in Florida, you may be pleasantly surprised about all the fun things to do. Anastasia Island has many historical sites, hotels, vacation rentals, shopping and plenty of dining options from fast food to fine dining restaurants.
Love to fish? You will want to head over to the western side of the island, along the Matanzas River. There you will find fantastic fishing, beaches, and parks as well as eateries and places to stay.
No matter how you spend your time at Spyglass Beach and the surrounding beach towns, you're sure to create some unforgettable memories.
Upcoming Trip?
I like to use Booking for booking not only my hotels, but my tickets and rental cars as well. Makes life so much easier with only having to log into one location for my information.
Be sure to grab my travel tips to save you time and money. You'll also be entered into the weekly drawings.
Register here: Get 100 Travel Tips EVERY traveler should know PLUS entered into the weekly drawing.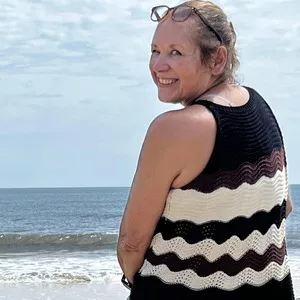 About Denise
Denise Sanger lives a life split between her love for fitness and her passion for travel particularly to the BEACH. Denise also has a love of marketing and lives in beautiful Suwannee County, Florida. You can find out more about Denise here: About Denise