Best Places To Camp In Florida
This article may contain affiliate links. Whenever you buy something through one of these links, I may earn a small commission without any cost to you. I really appreciate it as it supports this site and my family. Thank you!
Looking for the best places to camp in Florida? Check out this guide and find the best spots for your next camping trip!
Something magical about camping.
I love camping. It is a great way to leave the stress of day to day life behind. Beach camping is even better. I've included a list of the best places for beach camping below.
Yes, Florida is known for its stunning beaches and vibrant cities, but there's another side of the Sunshine State that is always overlooked.
The natural beauty and the available campgrounds to explore them are some of the best in the United States.
Thank you for reading this post. Don't forget to subscribe! This way you never miss an update, travel deals, discounts and more!! Subscribe to the right------>
Florida is a great place for camping trips, with plenty of gorgeous scenery and sunny weather. Swamps. National Parks. Forests. Springs.
And yes beaches, Florida has some of the most diverse camping spots in the US.
Even better? You can camp all year long in Florida especially in the many Florida State Park Campgrounds and Forests.
Plus you have options.  Whether you're looking for a rustic backcountry primitive camping spot or a RV park with RV sites that have amenities like full hook-ups, they are here.
Many camping locations include water, electric hookups, hot showers, a game room, laundry facilities, heated swimming pool, a hot tub and camping stores.
I am going to break down the list of the best places to camp in Florida below by geographic regions. At the bottom of this article, you will find additional information for activities also in those areas.
First, let's talk about the different camping sites.
Type of Camping Sites
There are several options for camping sites to choose from. For those that want to completely get away, a primitive camping site would be your choices.
These tent sites are often very far from restrooms, electricity and water but are usually close to the most magnificent scenery.
You can literally camp on waterfront sites like a crystal clear spring, lake or scenic river. Some locations do require reservation many times so that they know you are out there. In addition to tent camping, you can backpack in with a hammock and tie it between two trees and sleep off the ground.
If you are camping way out, be sure you have enough water and food with you as well as letting someone know where you are.
The next option is tent camping on a site with electricity and water. You might not think this is important, but if you have ever camped in Florida in the middle of a hot, humid season, you will quickly see why electricity to run a fan and water to cool off might be important.
If flush toilets are important to you these sites are generally close to the bath house.
Full RV hook-ups. These full hookups sites are always booked during the winter months as folks from up north ride out the winter in our temperate climate here in Florida. Some of the state's best campgrounds are booked a year in advance.
Cabins. Want to dip your toes into camping? The best way to do that is to rent a cabin in one of Florida's State Parks.
A popular spot to do this is at Disney World. Fort Wilderness not only has RV and tent sites, they also have cabins where the whole family can be together while enjoying the perks of being on a Disney resort.
Fort Wilderness and camping was how my young family afforded vacations to see Mickey Mouse. Otherwise, we probably would not have been able to visit.
Best Places To Camp In Florida
Now that we have covered the different camping options, let's find you the perfect spot to experience the best camping possible in the great outdoors of Florida.
Best Places To Camp Central Florida:
Ocala National Forest
Located in central Florida, this campground is perfect for campers looking to get lost in nature. This is one of my favorite places for many reasons. Miles of trails, beautiful fresh water springs for water activities like swimming, snorkeling, and paddling.
You can also explore the nearby Juniper Prairie Wilderness, where you'll spot bobcats, deer and wild turkeys as well as a variety of birds. But if you'd rather stay put, campers can lounge around their campfire or rent a canoe to explore the nearby Alexander Springs Creek.
There are over 600 campsites located within the forest. Choose developed sites, with amenities like picnic tables and fire pits, or opt for a primitive site which offers a more rustic experience and wildlife viewing. The Ocala National Forest is a short drive from Orlando and East Central Atlantic Coast.
Rainbow Springs State Park
This is a favorite of mine. The Rainbow River and natural springs are breathtaking and must be seen with your own eyes.
Plenty of options for camping including tent sites or RV sites. Dump station inside the park as well for those traveling by RV and using the rv hookups.
Fantastic amenities including a camp store, showers and restrooms, picnic areas and laundry. Access the river boat ramp from the campground to fish, swim or paddle.
Rainbow Springs State Park is located in Dunnellon, Florida.
Fort De Soto
Fort De Soto campground is located on the central west Gulf coast but not a top pick. Conveniently located near St. Petersburg but check before booking as I have been told there is a "critter" problem.
I have not visited this campground personally but didn't want to leave it off the list because of the water access and convenient fishing pier but PLEASE check before booking.
Best Places To Camp Southeast Florida & Florida Keys
Bahia Honda State Park
Bahia Honda State Park is located on the southern end of Big Pine Key in the Florida Keys. This is truly a unique camping experience.
Once home to a railroad trestle, the park now includes magnificent beachfront campsites with easy access to both the ocean and bay.
Beautiful crystal clear turquoise waters makes Bahia Honda the perfect place for swimming, snorkeling, and fishing.
There are also plenty of nature trails for biking and hiking. Definitely a top pick for nature lovers and those that want to be outdoors as much as possible.
Enjoy your drive on the Overseas Highway as you make your way through the Florida Keys to this perfect camping destination.
Curry Hammock State Park
This state park is located on Marathon, between Key Largo and Big Pine Key. It is also the largest undeveloped parcel of land in this area.
Here you will find large campsites and unrivaled sunrises. Beach access and plenty of water sports to enjoy.
A hiking trail takes you over ancient fossilized coral that was once living underwater. This state park is also one of the best locations on the east coast for star gazing.
Long Key State Park
Also located in the Florida Keys is Long Key State Park on Long Key roughly 60 mines north of Key West. This state park was originally a getaway for the wealthy.
Today this beautiful park is one of the nature's finest and a great location for outdoor activities. Enjoy kayaking, hiking, birding, picnicking, flats fishing and snorkeling.
One of the best options for those that like to backpack or primitive camp. This campground is hike-in only for tents.
The campsites are sited along the Atlantic Ocean. Each tent site includes a picnic table, grill and hammock stand. No electric or water hookups. Restrooms with cold outdoor showers are available to campers.
Biscayne National Park
This beautiful national park offers two campgrounds. They are at Elliott Key and Boca Chita Key and the only way you can only access these islands are by boat.
Tent camping only. Reservations must be made ahead and pack in, pack out.
The larger island, Elliott Key, does have restrooms with sinks, cold showers, picnic tables and grills. Boca Chita Key is beautiful but does not offer showers or drinking water.
You will be able to find waterfront views, a grassy camping area, picnic tables, grills and toilets. This location is also perfect for those that prefer a natural, primitive experience.
Jonathan Dickinson State Park
Another beautiful state park but this one is located in South Florida roughly 30 minutes from West Palm Beach and another favorite of mine.
It is actually the largest state park in Southeast Florida located in Hobe Sound. Convenient access to the pristine Loxahatchee River for paddling, fishing or hiking by land. Note there is no shuttle from the state park to the river.
Another great thing about this state park, is horseback riding. Equestrians can camp with their horses and explore miles of trails.
Best Places To Camp Southwest Florida
Myakka River State Park
Myakka River State Park is another top spot for camping in Florida. Located north of Sarasota, this state park offers plenty of activities for those that lover water sports and other outdoor activities.
The views are beautiful and wildlife includes herons, egrets, ducks, ibises, cormorants, turkeys, vultures, limpkins, anhingas, roseate spoonbills, an osprey or bald eagle, alligators sunning on the banks and turtles in the water.
For those looking to stay overnight there are full-service cabins and primitive campsites available. This gives campers the opportunity to enjoy a unique experience surrounded by nature and wildlife. Reservations are required well in advance.
Cayo Costa State Park
Cayo Costa State Park is one of the best places to camp in Southwest Florida. Located on the Gulf Coast near Sanibel Island, it is known for its seclusion and natural beauty. It is temporarily closed due to taking a direct hit from Hurricane Ian.
Once it rebuilds and reopens, this island is only accessible by boat or ferry. It hopefully will continue to offer nine miles of white sand beaches and undeveloped shoreline like no other.
Camping is available for primitive sites for tent camping as well as two cabins for those wanting a more comfortable experience.
Sites offer a fire pit, picnic table, and restrooms and showers are a short walk away. Not hot showers though, only cold showers.
There are many nesting animals on this beach including sea turtles and shore birds. Pack in and pack out everything you need.
Best Places To Camp North Florida
Anastasia State Park
This beautiful park is located on the Atlantic Ocean side of the state near St. Augustine in North Florida. Anastasia State Park is the perfect place for a beachfront camping adventure.
Sandy beaches and palm trees for those campers that are like me also a beach lover. This state park stretches across 1,445 acres, including four miles of undeveloped beach and five tidal inlets.
The park has three campgrounds with over 200 campsites. The camping area features both primitive and full-service sites.
There are so many more campgrounds and destinations I want to add to this list so be sure to check back. Other favorites of mine include county parks like Markham Park located in Sunrise which is near Fort Lauderdale as well as Fort Clinch on Amelia Island near Jacksonville.
Upcoming Trip?
I like to use Booking for booking not only my hotels, but my tickets and rental cars as well. Makes life so much easier with only having to log into one location for my information.
Be sure to grab my travel tips to save you time and money. You'll also be entered into the weekly drawings.
Register here: Get 100 Travel Tips EVERY traveler should know PLUS entered into the weekly drawing.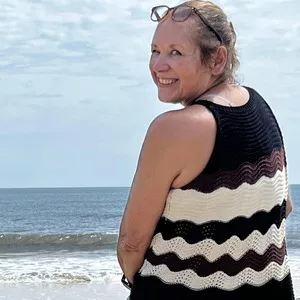 About Denise
Denise Sanger lives a life split between her love for fitness and her passion for travel particularly to the BEACH. Denise also has a love of marketing and lives in beautiful Suwannee County, Florida. You can find out more about Denise here: About Denise