Fun with Peanut Island Florida snorkeling.
This article may contain affiliate links. Whenever you buy something through one of these links, I may earn a small commission without any cost to you. I really appreciate it as it supports this site and my family. Thank you!
What you need to know about Peanut Island Florida Snorkeling
Looking for a fun, affordable day trip from West Palm Beach? Peanut Island Tropical Park is the place to go!
Peanut Island is actually constructed from debris. What started as a 10 acre island is now 80 acres.
Just a short water taxi ride away. This island park offers beautiful beaches, swimming and snorkeling in the gentle waves of the intracoastal waterway, and plenty of shady spots to relax.
You might even catch a glimpse of one of the sea turtles that call this area home. And don't forget to explore the island's rich history. There is a bomb shelter on the island that was built for President John F. Kennedy.
Thank you for reading this post. Don't forget to subscribe! This way you never miss an update, travel deals, discounts and more!! Subscribe to the right------>
The Kennedy Bunker served as command center or command central (depending on who was talking about it) during the Cold War. Many are unaware the underground bunker is located on this island.
This was at the same time as the Cuban Missile Crisis. In the event of an attack and with President Kennedy often spending time at the Kennedy Palm Beach estate, it made sense to build the Presidential bunkers on Peanut Island.
The Palm Beach Maritime Museum now on the island showcases the historic Coast Guard Station as well as the JFK bunker. Definitely make the time to see this piece of American history.
Peanut Island Florida Snorkeling
Have you ever been snorkeling? If you have, then you know how amazing it is to swim around and explore all the different types of fish and coral.
If you haven't, then you're missing out! Peanut Island in Florida is a great place to go snorkeling. The water is clear and there's so much to see!
Where is Peanut Island Florida?
If you're looking for a breathtaking Florida beach getaway, look no further than Peanut Island. This hidden gem is located in Riviera Beach in Palm Beach County. It offers stunning ocean views, crystal-clear water, and plenty of activities to keep you busy.
This unique eighty acre, tropical public park is situated in the Intracoastal Waterway near the Lake Worth Inlet and is close to Phil Foster Park, the City of Riviera Beach, and the Port of Palm Beach.
Peanut Island is truly a tropical island. You can reach it with your own boat or choose to take the Peanut Island ferry that departs from the Riviera Beach Marina. Whether you're looking to sunbathe, swim, snorkel, or kayak, Peanut Island has something for everyone to enjoy.
Peanut Island is a great place for snorkeling because of the clear water and variety of fish.
Peanut Island is the perfect spot for snorkeling! The crystal clear waters are full of sea life.
From sea turtles to tropical fish, you'll be amazed by what you can spot as you snorkel. Be careful of the strong currents though if you move too far away from the island.
If you'd rather watch sea creatures from a distance, take a water taxi around the island. You will enjoy the sea life you can view in the crystal blue waters near the shores.
You can rent equipment from the park office or bring your own.
If you're visiting Peanut Island, there's no need to worry about bringing your own snorkel gear especially if you are on vacation. You can rent what you need from the park office.
Whether it's a kayak, paddleboard or floating raft, the county park office can get you fully stocked and ready for fun. Don't forget to grab a shuttle boat ticket if you'd like to see the mouth of the inlet at Lake Worth Inlet and Intracoastal Waterway views.
The Peanut Island shuttle boat departs every half an hour for a trip around one of the quietest parts of South Florida. Enjoy the experienced guide as he/she tell stories of the island's unique history.
The Peanut Island snorkeling lagoon on the southeast tip offers easy and safe shallow-water snorkeling and paddle boarding for kids and adults too. Also, the rock breakwaters that work as an artificial reef on the east side attract a wide variety of marine life. Watch for crabs, lobsters, shrimps, sea urchins, sponges besides coral species.
Because of the shallow water, this is considered as one of the best snorkeling spots in Florida Peanut Island Park gives visitors the opportunity to observe many different fish species as well as invertebrates.
The snorkeling lagoon on the southeast tip of this inlet island offers easy and safe shallow-water snorkeling for kids and adults too.
Look for a swirl or nose on the water because manatees surface regularly to breathe. You can also spot manatees in the mangrove lagoon on the west side where swimming is not allowed, but you can observe them while walking on the mangrove boardwalk.
There is also a 1.3 mile walking path that follows the perimeter of the island.
Best time for Peanut Island snorkeling
Thanks to the island's great location, the ocean temperatures stay mild even during winter. This makes Peanut Island snorkeling trips possible anytime of the year.
Snorkeling is the best at high tide. The hours before and after high tide offering the best conditions with clear and calm water.
It is truly an island paradise with beautiful views. During quiet moments, marine life can be found floating close to the surface giving visitors an opportunity to come face-to-face with nature's wonders.
For those not looking to get in the water, you can explore the Mangrove Lagoon on the West Side where swimming is not allowed but observing manatees from its boardwalk and observation deck is spectacular!
If you have never snorkeled, or it's been a while, consider a guided tour along the snorkel trail. One of the tours will have you paddle across the Intracoastal Waterway over to the island.
If you are a new to paddle boarding or kayaking, you may not want to cross the Intracoastal as it can be choppy. Opt for the boat shuttle which is roughly a 10 minute boat ride.
Palm trees and white sand beaches await your arrival. There are no stores on this island, so you will need to bring food and water with you. Enjoy a picnic at one of the many picnic tables or in the picnic pavilion or on the beach.
Peanut Island Accommodations
Because of its close proximity to the palm beaches of Palm Beach County, there are plenty of hotels or vacation homes to stay in. If you want to stay on the island, however, you will need to tent camp.
There are 17 tent camping sites that must be reserved in advance. You can bring your dog to camp with you which is nice.
There are also boat docks on the west and east side of the island that provide 14 day use slips for those with a private boat. Boat traffic can be high depending on the time of year.
Peanut Island is truly one of the best places to snorkel in the United States with its man-made reefs. Be sure to also check out the articles on snorkeling in nearby Pompano Beach and on the Panhandle in Panama City Beach.
Upcoming Trip?
I like to use Booking for booking not only my hotels, but my tickets and rental cars as well. Makes life so much easier with only having to log into one location for my information.
Be sure to grab my travel tips to save you time and money. You'll also be entered into the weekly drawings.
Register here: Get 100 Travel Tips EVERY traveler should know PLUS entered into the weekly drawing.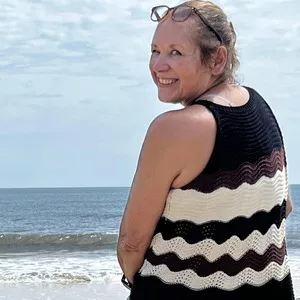 About Denise
Denise Sanger lives a life split between her love for fitness and her passion for travel particularly to the BEACH. Denise also has a love of marketing and lives in beautiful Suwannee County, Florida. You can find out more about Denise here: About Denise