Miramar Beach Florida Best Things To Do
This article may contain affiliate links. Whenever you buy something through one of these links, I may earn a small commission without any cost to you. I really appreciate it as it supports this site and my family. Thank you!
Enjoy a fun, relaxed vacation while exploring one of the prettiest beach in the country – Miramar Beach Florida
If you love the sun and the sand, then Miramar Beach is the place for you! This beautiful beach is located near Destin, Florida and is known for its amazing emerald waters and gorgeous white sand beaches.
Aside from spending a lazy day lounging on the gorgeous beach in this beach town, there are plenty of other activities to keep you entertained. Fantastic destination for a girl's trip, romantic getaway or family fun vacation.
This part of the Florida panhandle is my favorite destination in the sunshine state. Sugar-white sands await you on the beach.
Plenty of state parks to visit for a nature lover. And plenty of beautiful vacation rentals to choose from. Definitely the perfect place for a holiday.
Thank you for reading this post. Don't forget to subscribe! This way you never miss an update, travel deals, discounts and more!! Subscribe to the right------>
Where is Miramar Beach Florida located?
Miramar Beach Florida is located in the South Walton beach community, between Sandestin and Destin Florida, in South Walton County. This popular tourist destination offers panoramic views of the Gulf of Mexico not only from the beach but many locations throughout the town.
With calming green waters and sparkling shoreline, Miramar Beach was made for beach days with family, friends and plenty of fun.
But don't stop there. Let's dig into all the fun things to do many within walking distance of your rental home or hotel.
How to get to Miramar Beach, Florida
Miramar Beach, Florida is an incredible destination for anyone looking for a little bit of sun and fun! Just east of Destin, Miramar Beach is easily accessed by taking the scenic Gulf Drive.
Along the way, you can enjoy breathtaking beach views and have plenty of chances to stop off and take photos of the gorgeous nature around you.
Destin-Fort Walton Beach Airport is the closest to Miramar Beach. Pensacola International Airport is roughly 50 miles away while Panama City Beach Airport also called Northwest Florida Beaches International Airport is a little closer at 42 miles away.
Exploring and Enjoying the Best of What Miramar Beach Has To Offer
Let's start with the beach! Miramar Beach is a stunning, breathtaking paradise. The beautiful pure white sand is made up of tiny quartz crystal from the Appalachian Mountains.
This quart crystal is carried down to the calming crystal blue water by river. Miramar beach radiates a sense of serenity and created by the Apalachicola river and other waterways.
This beautiful beach is perfect for an afternoon lounging on the sand, jet skiing, or other water sports.
Whether you're spending time in the sun, splashing in the water or enjoying an evening stroll on the beachside, Miramar Beach provides truly stunning and great views for everyone to enjoy!
Other Gulf coast beaches near Miramar Beach to visit.
For travelers looking to get the most out of their Gulf coast beach vacations, Destin, South Walton, Santa Rosa, and Panama City Beach are just a short drive away from Miramar Beach.
While Destin is known for its pristine white sand and luxury resorts, South Walton offers a unique beach experience with a collection of colorful beach towns known as 'The Beaches of South Walton'.
Panama City Beach gives visitors access to unexpected sights like wild sea turtles and shipwrecks or snorkeling at Shell Island.
Pontoon rentals are available as are jet ski rentals, kayaks, paddle boards and more. All perfect for any adventure seekers.
Last but not least, gorgeous Santa Rosa Beach. Although Santa Rosa Beach boasts some of the best beach fishing in all of Florida, Destin holds the title of luckiest fishing village.
Whichever location you choose, don't forget your rod and tackle box. There are plenty of coastal destinations to choose from making it easy to see why this part of the Gulf Coast is one of the most popular places in the United States.
Best things to do in Miramar Beach
Pompano Joe's
After the beach, Miramar Beach is a true paradise for those who love to have fun in the sun. Pompano Joe's is a must-visit when you are in Miramar Beach.
Pompano Joe's opened its doors in 1995, and it didn't take long for it to become famous for its unique Caribbean-style seafood.
Tourists literally flock from near and far to enjoy signature dishes like Reggae Rolls and Garlic Crusted Grouper at this popular destination.
Soak up sights of the brightly colored window frames at this fun open-air restaurant. Great food, refreshing drinks, and panoramic views of Destin, South Walton, and Panama City Beach.
Pompano Joe's is located at 2237 Scenic Gulf Highway, Miramar Beach, FL 32550-5288
Another perfect location for a meal or beach cocktail? Surf Hut.
Surf Hut is an open air restaurant with drinks so good and magnificent Florida Gulf views. Great food and a guaranteed great time.
Shopping
Do you love to shop til you drop? You will be quite happy when you visit Miramar Beach.
There are plenty of options in this beach town and nearby beach towns making this a great place to shop til you drop.
Silver Sands Premium Outlets is the perfect spot to stock up on essentials or treat yourself to something special.
In this outlet mall you will find everything from the Disney Store to designers such as Michael Kors to Vera Bradley to surf shops.
Plenty of parking makes it easy to park near the store you want to visit.
After Silver Sands, explore the charming Village of Baytowne Wharf.
Whether you choose to stay on the property or not, enjoy the movie theater, souvenir shops and boutiques, art gallery and more.
There are also plenty of restaurants, pubs and coffee shops to choose from.
And one more to mention is Grand Boulevard Town Center. Upscale shopping, fantastic restaurants and plenty of free parking near the shops if you need to find something to do on a rainy day.
Love to golf? You will love Sandestin Golf & Beach Resort. I actually stayed at this destination with breathtaking views of the Gulf on one side of my condo and a beautiful golf course on the other side.
Pro shop, walk or choose a golf cart and enjoy this gorgeous course.
Try your hand at deep sea fishing and see what you can reel in. This area is very well-known for great fishing on the Emerald Coast. Red Snapper, King Mackerel and Amberjack are the top three species of fish you can catch in this area.
Love to be on the water but not necessarily fish? Book fun dolphin cruises, dinner cruises and or trip out to Crab Island.
Crab island is an oasis waiting right off Choctawhatchee Bay with easy access on a pontoon boat from either Miramar Beach or Destin.
And finally don't forget about Florida State Parks nearby. One thing about Florida that I absolutely love are the protected state parks, state forest, preserves and more.
Explore Henderson Beach State Park, Topsail Preserve State Park, Fred Gannon Rocky Bayou State Park and my absolute favorite Grayton Beach State Park.
Where to Stay
There are so many rental options to choose from many with a private pool, hot tub, fitness center and some even with a heated seasonal outdoor pool. Check the private home rental options here: Miramar Beach Vacation Rentals
Prefer a hotel? A great option is Hilton Sandestin or the Wyndham Miramar Beach-Destin both on the beach.
There are plenty of other options as well you can check out here: Miramar Beach Hotels. I only did a quick glance when I wrote this, but I saw an amazing deal at a hotel with tennis courts near the beach.
Whether you're looking to relax or have some fun, Miramar Beach is definitely the place to be!
With its scenic beach roads, beautiful beaches, water activities, restaurants and shops, there's something for everyone at Miramar Beach.
Upcoming Trip?
I like to use Booking for booking not only my hotels, but my tickets and rental cars as well. Makes life so much easier with only having to log into one location for my information.
Be sure to grab my travel tips to save you time and money. You'll also be entered into the weekly drawings.
Register here: Get 100 Travel Tips EVERY traveler should know PLUS entered into the weekly drawing.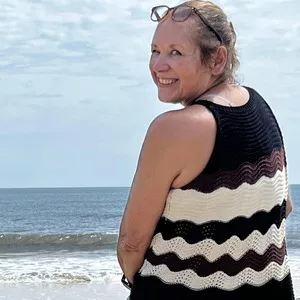 About Denise
Denise Sanger lives a life split between her love for fitness and her passion for travel particularly to the BEACH. Denise also has a love of marketing and lives in beautiful Suwannee County, Florida. You can find out more about Denise here: About Denise