13 of the Best Beaches in Destin Florida with Free Beach Access
This article may contain affiliate links. Whenever you buy something through one of these links, I may earn a small commission without any cost to you. I really appreciate it as it supports this site and my family. Thank you!
The beautiful white sand Destin Beaches located in the City of Destin on the Gulf of Mexico west of Panama City Beach and is one of our favorite vacation destinations. There are so many things to do from water sports to nature trails to great restaurants to beach access for beach wheelchairs on beautiful free beaches with ample parking. This city has it all and you will find some of the best beaches in Destin Florida.
Henderson Beach State Park is one of Florida's beautiful state parks. It's best known for its 30 foot sand dunes and warm turquoise waters of the Gulf of Mexico. Part of the Emerald Coast, you'll enjoy nature trails, bike trails, geocaching, bird watching, and fishing along with lazy days on the beach.
Love to camp? There are 60 campsites connected to the beach via boardwalk and are among this park's featured areas. Wheelchair accessible and clean restroom facilities with showers and pavilions available to rent. Be sure to pay attention to the warning flags before entering the water. These flags indicate the swimming conditions at the beach:
Double red flags mean absolutely no swimming because of high winds and undertow currents
Yellow flag means swim with caution and stay close to shore
Green flag means that the waters are safe
Purple flag means that marine pests are present.
Miramar Beach is not exactly in Destin but it's very close. It is east of Destin with its own zip code and different county but truly one of the most gorgeous beaches you'll ever visit. And literally a short 9 minute drive up the gorgeous Scenic Gulf Drive Highway 98.
Thank you for reading this post. Don't forget to subscribe! This way you never miss an update, travel deals, discounts and more!! Subscribe to the right------>
In Miramar Beach, you'll find scenic beach roads, surf shops, fabulous restaurants, beachfront homes, beachside resorts and condos with panoramic views of the Gulf of Mexico. As you stroll through this beautiful beach town, you may feel a bit nostalgic for beach trips of when you were a kid. But don't let the old Florida vibe fool you. Miramar Beach has quite modern activities such as jet skis and parasailing along with amenities of amazing shopping and designer outlets to explore after a day on the white sand beaches.
Beautiful public beaches with the main public beach access located next to Pompano Joe's Seafood Restaurant. This beach features free public parking, restrooms and wash stations and outdoor showers. On the east end of Scenic Gulf Drive/Highway 98 you will find additional public beach access across from Amalfi Coast. Restrooms and additional ample parking will be added soon.
Norriego Point is a gorgeous sandy beach located near the end of Holiday Isle. One side of Norriego Point faces the Destin Harbor while the other faces the east pass and leads out to the Gulf of Mexico. On the East Pass, the inlets of water are protected by the Destin Jetties which create calm water perfect for swimming.
Norriego Point got its name from a Spanish family who named it when Florida was still owned by Spain. It was originally named Noriega Point, after Spanish nobleman Don Jose Noriega. As with many city names, it was changed. Historical mapmakers replaced the a with an o and also added an extra r to make the name Norriego Point.
There are two public beach accesses. The first beach access is Norriego Point and it is located on Gulf Shore Drive. The second is Beach Access, O'steen Public Beach. O'steen Public Beach access is located along Gulf Shore Drive and is closer to the condo complexes in the area.
Enjoy swimming in the calm waters, jet skis, boating, snorkeling and even scuba diving. These parks have 3 pavilions, 41 picnic tables, 9 dune walkovers, a playground, restrooms with changing rooms, showers and over 100 free parking spaces.
Crab Island. Many folks are surprised to learn that Crab Island is not an island now although it used to be. It is definitely one of the most talked about spots in Destin. In the 1960's Army Corps of Engineers dredged the Destin Pass and created the Jetties to stabilize the entrance to the Gulf of Mexico. The sand from the dredging project was deposited into the Choctawhatchee Bay, forming a small island, called a 'spoil island', that eventually came to be known as Crab Island.
Today Crab Island, a popular sandbar, is a top vacation destination and has been featured on HGTV and Good Morning America, published in various travel magazines, and publications around the world. You will find Crab Island on the north side of the Destin Bridge (Marler Bridge) at the southern entrance of the Choctawhatchee Bay, inside Destin's East Pass.
Hundreds of boats gather on Crab Island during the warm summer months to party and relax. Mobile food boats and smaller floating restaurants visit the sandbar offering everything from ice cream and BBQ to fresh coconuts. Crab Island is only accessible by boat. You can launch your own boat or rent a pontoon boat or even kayak or canoe out. Be sure to check the tides if you plan to kayak/canoe
James Lee Park is located near the beach on the Walton/Okaloosa County line. This park has 3 pavilions, 41 picnic tables, 9 dune walkovers, a playground, restrooms with changing rooms, and 166 parking spaces. It is owned, managed and maintained by Okaloosa County.
This is a very nice beach with clear Gulf waters and not so many crowds. Free public parking and handicap accessible. Enjoy swimming, sunning, beachcombing and shelling or fishing at this pretty park beach.
Santa Rosa Beach is geographically the largest beach located in Fort Walton county and roughly 30 miles from Destin. More laid back and less crowded, Santa Rosa Beach is well known for its natural beauty, turquoise waters and sugar sand beaches.
Named as one of the best beaches on Earth for families, Santa Rosa Beach includes 26 miles along Florida's Emerald Coast. Be sure to slip in a visit to Grayton Beach State Park and take a look at the white sand dunes and clear turquoise waters. Santa Rosa Beach provides several entrances to Point Washington State Forest, a 15,000-acre preserve and hike or bike on the many trails available.
Okaloosa Island is also known as Santa Rosa Island. Absolutely pristine white sandy beaches it is also part of the Gulf Islands National Seashore. A narrow three-mile island, you'll find Okaloosa Island between the cities of Fort Walton Beach and Destin, Florida.
Plenty of parking available near public beach access points, enjoy swimming, fishing, sunning and more. Be sure to visit both the Okaloosa Island Fishing Pier and Okaloosa Island Boardwalk.
Okaloosa Island Fishing Pier spans 1,262 feet into the Gulf and for $8/day, you can fish for tarpon, tuna, king mackerel, cobia, redfish, bonito, and jack crevalle. With luck, you could even reel in the rare sailfish. Pier fishers can usually catch Spanish mackerel, whiting, or bluefish on an average day.
Head to Okaloosa Island Boardwalk for great food and out of this world views! After you see the sunset, stroll along and shop for beachwear, toys, kites and more. You can also access the beach from the boardwalk.
Harborwalk Village in the heart of Destin Harbor is a must visit spot during your time in Destin. Enjoy entertainment, shopping, dining and boating. Sitting on the edge of the Destin Harbor, you'll be fascinated watching the boats as they go and come back from a day on the Gulf. Check the live events calendar when you arrive and be sure to enjoy the many activities available all year long.
Crystal Beach Access, located at 2966 Scenic Hwy 98, has parking, a pavilion, picnic tables, public restrooms, and showers. Crystal Beach is white sand, beautiful water, and some shells to beachcomb. This beach is open from dawn to dusk and has a pavilion, restrooms, showers, picnic tables and limited parking.
June White Decker Beach Park is located off Scenic US Highway 98. This beach offers access to a beautiful little stretch of Destin's seashore. Perfect for swimming, this beach is away from the center of town making it a great place to come for a picnic or just relax. Many weddings are also held on this beautiful white sand beach. Once you visit, you'll see exactly why so many return year after year.
Topsail Hill Preserve State Park is a 1,640-acre Florida State Park located in Santa Rosa Beach. It is about ten miles east of Destin, off U.S. 98, in northwestern Florida. The address is 7525 W. Scenic Highway 30A.
In this beautiful state park, you'll find secluded beaches, dune lakes, fishing, camping options including set-ups for RV's. Great nature trails for hiking, walking and biking. Enjoy the beautiful one mile paved walk that takes you from the parking lot to the beach.
Stop and enjoy off-shoot trails as you walk the paved trail and explore more pine forest and several coastal lakes within the park. If you're not able to walk due to any reason, there's a tram that runs on the hour. Load up your cooler, lunch, chairs and board the tram for a relaxing day on the beach.
Gator Beach. If you want to see alligators, Gator Beach is your place to go. Fudpucker's Beachside Bar & Grill has an alligator exhibit where you can even feed the gators with a long pole. A very long pole!
Free to visit and enjoy, you are able to walk around and enjoy the shows without pulling out your wallet. Great for families.
Calhoun Beach Access is located near the restaurant The Back Porch. This beach area access provides ample parking, public restrooms, outdoor showers, and water fountains. This beach access can get crowded, but still perfect for swimming or watching the day go by from your beach chair.
Considering this beach park is smaller than others, there are plenty of things to do. You'll find a designated parking area, a beach walkover, bike racks, a public restroom, outdoor showers. You won't find a lifeguard here so be sure to check the warning flags before entering the water and never swim alone.
Be sure to read this before you leave on your Destin Vacation: Destin Florida: Things to do and see. Also be sure to check for last minute deals on hotels or homes here: Destin Florida Vacations
Thinking about exploring more of Florida's beaches? Click here and grab the list of 190+ Florida Beaches: List Of All Beaches in Florida 190+ Reasons To Relax
Upcoming Trip?
I like to use Booking for booking not only my hotels, but my tickets and rental cars as well. Makes life so much easier with only having to log into one location for my information.
Be sure to grab my travel tips to save you time and money. You'll also be entered into the weekly drawings.
Register here: Get 100 Travel Tips EVERY traveler should know PLUS entered into the weekly drawing.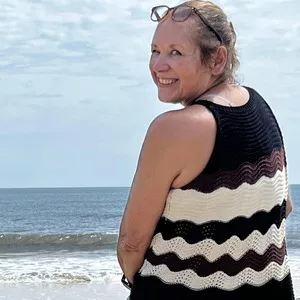 About Denise
Denise Sanger lives a life split between her love for fitness and her passion for travel particularly to the BEACH. Denise also has a love of marketing and lives in beautiful Suwannee County, Florida. You can find out more about Denise here: About Denise