Top Florida Panhandle Beaches For A Relaxing Vacation 2023
This article may contain affiliate links. Whenever you buy something through one of these links, I may earn a small commission without any cost to you. I really appreciate it as it supports this site and my family. Thank you!
The beautiful, white sandy shores of Florida's Panhandle can offer a relaxing, tranquil destination for vacationers IF you know which beach to choose. From the charming beaches of Pensacola to the stunning coastline of Grayton below are the top Florida Panhandle beaches for a relaxing vacation this year.
If quiet and relaxing is not for you, I'd recommend Panama City Beach. Again depending on what time of year your trip is planned. Spring break can get crazy.
Pensacola Beach:
Located just east of Pensacola on Santa Rosa Island, this beautiful stretch of white sand beach offers unparalleled views and opportunities to kick back and relax a bit.
Emerald-green waters also make it a popular spot for swimming, fishing and boating plus other water sports. Guests can also take advantage of the area's many restaurants, bars and shops.
Thank you for reading this post. Don't forget to subscribe! This way you never miss an update, travel deals, discounts and more!! Subscribe to the right------>
For those who prefer a more relaxing atmosphere, there is plenty of room for sunbathing and relaxing without feeling overcrowded or rushed.
Perdido Key :
Perdido Key State Park is located along the westernmost point in Florida's panhandle. This state park provides easy access to miles upon miles of pristine shoreline with gentle waves. Enjoy swimming, snorkeling or paddleboarding.
Make time to also can stroll or through the nature trails to view native wildlife such as dolphins and migratory birds.
Grayton Beach:
I am listing Grayton Beach for a relaxing beach vacation but again, depends on when you visit. For those that prefer to camp, there is usually a significant waiting period to reserve your spot.
But if you are looking for a more secluded destination than Panama City Beach or Destin, Grayton Beach is perfect if you are staying somewhere outside the park.
Grayton Beach State Park is located south of Panama City Beach off Scenic Highway 30A. Beautiful beach houses and clear blue-green waters that are perfect for snorkeling and other water sports. Keep an eye out for sea turtles, dolphins, water birds and more.
St. Joseph Peninsula State Park:
One of the most beautiful state parks in Florida is on the St. Joseph Peninsula. This beautiful park proves visitors with 10 miles worth of pristine, white sand beaches.
This beach is also perfect for shell collectors, sunbathing or to take in its natural beauty. If you prefer freshwater or salt water, you will also find several freshwater lakes within the park where you can enjoy fishing or kayaking during your visit.
Mexico Beach:
One of my absolutely favorite beaches is only 20 minutes away from Panama City. Mexico Beach may be a small beach town, but it has one of the most gorgeous white sand beaches surrounded by crystal clear turquoise waters.
Quaint beach town is filled with fun activities such as parasailing or paddleboarding. Several restaurants to choose from where you can enjoy local seafood dishes prepared fresh daily.
Dog Island:
Rounding out the list of 5op Florida Panhandle beaches for a relaxing vacation is my number one pick – Dog Island.
When you need a tranquil escape away from the day to day craziness life can give you, Dog Island is the perfect destination.
This small island is off the coast of St. George Island and boasts some of Florida's most stunning and secluded beaches.
Incredible views and wide stretches of pristine white sugar sand, this beach overlooks the Gulf of Mexico and Apalachicola Bay and is perfect for a day of R&R. For visitors that enjoy water sports, enjoy kayaking, beachcombing, and snorkeling.
When looking for a relaxing getaway in Florida's Panhandle region, these six incredible beaches offer something special for everyone looking to relax and unwind in 2023.
Get away from life's hustle-and-bustle and simply relax surrounded by nature's beauty. Whether you head out to fish at Perdido Key, savor seafood dishes at Mexico Beach, or simply relax on Dog Island, you're sure to have an unforgettable, relaxing vacation.
Upcoming Trip?
I like to use Booking for booking not only my hotels, but my tickets and rental cars as well. Makes life so much easier with only having to log into one location for my information.
Be sure to grab my travel tips to save you time and money. You'll also be entered into the weekly drawings.
Register here: Get 100 Travel Tips EVERY traveler should know PLUS entered into the weekly drawing.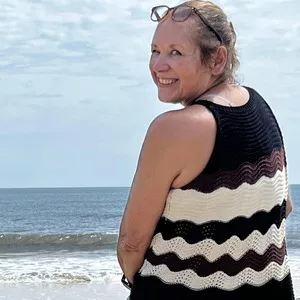 About Denise
Denise Sanger lives a life split between her love for fitness and her passion for travel particularly to the BEACH. Denise also has a love of marketing and lives in beautiful Suwannee County, Florida. You can find out more about Denise here: About Denise