Want The Least crowded beaches in Florida Spring Break?
This article may contain affiliate links. Whenever you buy something through one of these links, I may earn a small commission without any cost to you. I really appreciate it as it supports this site and my family. Thank you!
UPDATED 2/2023. If you are looking for the least crowded beaches in Florida Spring Break, you've found the perfect list!
Spring break is notorious for guaranteed craziness on many of Florida's beaches.
After experiencing Spring Break when I lived in South Florida near Fort Lauderdale, I have made it a POINT to avoid Spring Break beaches such as Miami Beach, Fort Lauderdale Beach, or Tampa during this time of year.
Updated for 2023 with a few new options for you if you, like me, prefer a less crowded beach vacation. Below are my top picks for least crowded beaches in Florida during Spring Break.
Thank you for reading this post. Don't forget to subscribe! This way you never miss an update, travel deals, discounts and more!! Subscribe to the right------>
Least crowded beaches in Florida during spring break
Mexico Beach/Panhandle
Mexico Beach is near Panama City Beach but so much less crowded. Absolutely gorgeous as all beaches are on this part of the Florida panhandle.
If you're feeling you want a little bit more excitement, hop in your car and head over to Panama City Beach, but for a nice quiet beach vacation, Mexico Beach is the top of my list for the Florida Panhandle.
Santa Rosa Beach/Florida Panhandle
Also on the Florida Panhandle is beautiful Santa Rosa Beach. And I mean BEAUTIFUL.
Part of Florida called the Emerald Coast for very good reason. The beautiful waters shimmer off-white powder sand. You can instantly feel your heart rate slow.
Santa Rosa Beach is a coastal treat. It's a more laid back beach town than others nearby beach towns. Enjoy spending time soaking up the sun and enjoying some much needed R and R with peace of mind.
Spend your days basking in the sunshine, taking leisurely strolls along the shore, or building sandcastles with loved ones. Whatever makes you happy, while avoiding the hustle and bustle of other more crowded beaches.
Marco Island/Southwest Florida
Farther south on the Gulf, you'll find beautiful Marco Island. You can experience the best of Florida nature as Marco Island is near the Everglades. Yet if you're looking for a bit more excitement, you'll find Marco Island, south of Naples, has plenty of restaurants, art galleries and shopping to keep you occupied.
Fort DeSoto Park/West Central Florida Gulf Coast.
This chain of islands is one of the gems of the Gulf. Located near busy Clearwater Beach, you can find plenty of nature and history to explore. Fort
DeSoto Park is a 20-minute drive to St. Pete which has many attractions to explore if you should choose. You will find a list in my article here: A Weekend in St. Petersburg.
Flagler Beach/East Central Florida Atlantic Coast
Definitely one of my favorites on the East coast. Located between historic St. Augustine and Daytona Beach, you can spend your days surfing, biking down beautiful A1A and enjoying a delicious meal while overlooking the beautiful Atlantic Ocean.
Flagler Beach is also easy to get to from busy Orlando. Roughly an hour away. Check out all the fun things to do from my last visit here: Flagler Beach Florida: Where To Go. What To Do.
Ormond Beach/East Central Florida Atlantic Coast
Ormond Beach is the perfect place to have an unforgettable spring break beach vacation. Without all the crowds.
This gorgeous stretch of East-Central Florida coast is known for its wide and rolling sand dunes, shimmering sea, and lush green vegetation.
Ormond Beach offers both secluded spots to relax with your family but also a great destination for those that prefer to be more active.
Enjoy parasailing, kayaking, jet-skiing, beach volleyball and more. All without having to fight the masses for your turn on the water toys or for the perfect spot on the sand.
Cape Canaveral National Seashore/East Central Florida Atlantic Coast
Before we leave the East Central side of the Sunshine State, I've saved the best for last. Cape Canaveral National Seashore.
Cape Canaveral National Seashore is a great place to visit for an exciting and secluded beach vacation during spring break.
While other beaches may be crowded to bursting, Cape Canaveral National Seashore will give your family the chance to connect with nature.
Explore an unspoiled coastal landscape and experience the beauty of nature without the crowds you would find in South Florida or Orlando.
Whether you want to take a hike on one of the trails, admire local wildlife, or simply relax and catch some waves, this beach has something to offer everyone looking to relax.
Enjoy views of sandpipers fluttering near shore, catch a glimpse of a sea turtle as you dip your toes in the crystal blue water. In the park scan the skies for a beautiful eagle as it takes flight.
Whatever you choose, if you are a nature lover, Cape Canaveral National Seashore is waiting for your visit.
Amelia Island/Northeast Florida
Finishing up my list is the beautiful Amelia Island. Drive or hop a plane to Jacksonville and rent a car for a short drive over to Amelia Island. You'll find the closer you get to Amelia Island the better you'll find the view.
No crowds. Plenty to see and do whether you're a nature lover, a shopper or history buff. Check out my list of top 8 things to do in Amelia Island here: 8 best things to do at Amelia Island Florida
There are a few other beaches that I will add on AFTER I visit them. Be sure to bookmark this page and come back for the updates.
Upcoming Trip?
I like to use Booking for booking not only my hotels, but my tickets and rental cars as well. Makes life so much easier with only having to log into one location for my information.
Be sure to grab my travel tips to save you time and money. You'll also be entered into the weekly drawings.
Register here: Get 100 Travel Tips EVERY traveler should know PLUS entered into the weekly drawing.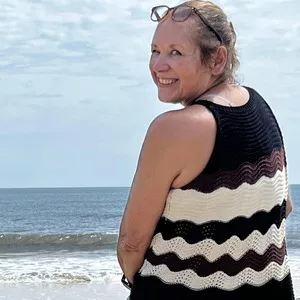 About Denise
Denise Sanger lives a life split between her love for fitness and her passion for travel particularly to the BEACH. Denise also has a love of marketing and lives in beautiful Suwannee County, Florida. You can find out more about Denise here: About Denise