Best Beaches on Florida's Emerald Coast
This article may contain affiliate links. Whenever you buy something through one of these links, I may earn a small commission without any cost to you. I really appreciate it as it supports this site and my family. Thank you!
The Emerald Coast is so named because of the beautiful, emerald green waters and white sand beaches. But which ones are the best beaches on Florida's Emerald Coast?
Which Beaches on Florida's Emerald Coast would be perfect for you?
The Florida Gulf of Mexico stretches from Pensacola in the west to Panama City Beach in the east to St. George Island as you head south and one of the best places for a memorable beach vacation in the United States.
The beaches, sand dunes, and emerald waters offer visitors stunning views and fun water activities on the Florida Panhandle. Thanks to its temperate climate, it's a great place and destination for a beach vacation all year round.
Whether you're looking for relaxing getaways or endless outdoor adventures, there's something here for everyone. Best of all, these Emerald Coast Florida, white sandy beaches are just waiting to be explored.
Thank you for reading this post. Don't forget to subscribe! This way you never miss an update, travel deals, discounts and more!! Subscribe to the right------>
Why is the sand on Florida Emerald Coast beaches white?
Located along the coast of Florida, the Emerald Coast is made up of a variety of beaches with sand that ranges from snow-white to a slightly off-white hue.
This is because the white or off-white quartz crystal sand which starts in the Appalachian Mountains is washed down into the Gulf of Mexico and deposited along the coastline.
The Apalachicola River is largely responsible for bringing this beautiful white sugar-like sand to the beaches of Florida.
Closest Airports to The Emerald Coast Beaches
The closest major airports to the Emerald Coast beaches are Pensacola International Airport (PNS), Northwest Florida Beaches International Airport (ECP) and Panama City Beach International Airport (PFN).
These airports all offer flights from major US cities, as well as some international destinations. From these airports, it's easy to get to any of the beach towns along the Emerald Coast by car, bus or taxi.
Emerald Beaches Florida Gulf of Mexico
Which beaches are the best? This is a really tough one because the beaches in this part of the sunshine state are all breathtaking.
From the clarity of the water to miles of beaches, with public beach access ways, this area of the world has some of the most popular beaches.
The beaches below are in no particular order. My recommendation? Visit them all!
Panama City Beach.
When it comes to choosing a beach destination for your vacation, Panama City Beach is a great option. This area attracts visitors from all over the world and there are plenty of activities and attractions here to keep everyone entertained.
Whether you want to let your hair down or just relax with family and friends, this beach has something for everyone. Rent a pontoon boat and explore the turquoise waters. Enjoy snorkeling as you watch for sea turtles and dolphins.
Head out to Shell Island nearby, an uninhabited island full of incredible shells and other treasures. Remember, what you take onto the island, you must take back off.
After a day on the water, head over to Pier Park for shopping, dinner and/or drinks.
St. Andrews State Park.
This beautiful park is also near Panama City Beach. Not only is it breathtakingly beautiful, there are accommodations for everyone including those in a wheelchair or needing a service dog. Pets are also welcome in this state park. It is considered one of the best beaches in the USA and open year round.
Camping is available but with most of Florida's state park, you need to reserve in advance especially on Florida's Gulf Coast beaches and beachfront parks.
Fort Walton Beach.
Fort Walton Beach. This beach stretches for miles and is one of the area's most popular, boasting white sand dunes, clear emerald waters and a variety of activities.
Fort Walton Beach is the ideal destination for travelers looking to combine relaxation with adventure. With over 20 miles of beaches, stunning landscapes, and plenty of activities all year round, it's a great place to unplug and connect with nature.
Destin Florida.
Just east down 30A lies Destin, known as the World's Luckiest Fishing Village. From parasailing, jet skiing, deep sea fishing and other water sports to golfing, shopping, and more, you will find plenty to keep you busy at this special place.
This is a very popular beach vacation destination on the Emerald Coast due to its soft sand beaches and warm emerald water.
Depending on the time of year you visit, there are many fun activities the City of Destin offers. Be sure to check a Destin Travel Guide when you arrive for current events.
Crab Island.
One of my absolute favorite spots on the Emerald coast is Crab Island. A shallow sandbar located just off of Destin, this island is perfect for a day at the beach or fishing. The water is crystal clear and its unique landscape makes it a one-of-a-kind experience
Santa Rosa Beach.
Santa Rosa Beach offers visitors miles of pristine coastline as well as fantastic shopping opportunities in nearby Destin or Sandestin. Taking some time away from the shoreline can be nice too.
Play a round of golf or wander around one of the many art galleries in this beach town. Like an adventure? You're in the right town. Adventure activities like parasailing or scuba diving excursions await your visit.
Santa Rosa Island.
Santa Rosa Island. This island is one of the longest barrier islands in the world. There is so much to explore here, from endless sandy beaches and gorgeous sunsets to Pensacola's historic sights and naval air station tours.
Plus, with the Santa Rosa Island Authority overseeing the beach, you can be sure that it will remain beautiful for years to come.
Pensacola Beach.
The first time I went to Pensacola Beach was more than 15 years ago for a triathlon at Eglin AFB. I like Pensacola Beach because it's easy to drive into Alabama to check out Orange Shores which are also gorgeous.
Visiting Pensacola Beach is a must-do for anyone looking for a fun-filled vacation. Enjoy the warm waters of the Gulf of Mexico and relax on the soft white sand while soaking in the sun.
Hop on a catamaran tour to explore some of the nearby islands and enjoy dolphins swimming in their natural habitat.
Experience the thrill of parasailing or grab boards and glide away on the waves. Truly so many fun activities for the whole family.
John Beasley Park.
John Beasley Park is a large beach park on Okaloosa Island with 2 dune walkovers to the Gulf of Mexico. It is a great spot for surfing, sunbathing or just walking along the shoreline. Enjoy a picnic in the pavilion as well as restrooms and showers.
Gulf Islands National Seashore.
When you are in Pensacola, be sure to make a side trip to the Gulf Islands National Seashore. This popular destination is an incredible oasis of untouched beaches, dunes and wildlife that will leave you feeling refreshed after your visit.
Grayton Beach State Park.
Grayton Beach State Park is a hidden gem on the Emerald Coast of Florida. You may have heard of this popular state park on 30A due to its pristine beaches and crystal clear waters
Visitors can take part in activities such as swimming, fishing on one of the many fishing boats and guides, snorkeling, kayaking and more – or simply lounge under the sun and relax.
Be sure to take time to explore a nature trail or scenic bike path n the park. There are picnic tables, restrooms, and the best part is the nearby parking lot making it easy to get your gear to the beach.
Perdido Key.
Perdido Key is another popular choice for those who want to experience Florida's Emerald Coast at its best.
The stunning white sand beaches here are perfect for swimming and sunbathing, while a variety of water sports will ensure that you stay active during your trip.
There are also plenty of excellent restaurants and bars lining the coast, so you can treat yourself to delicious food or drinks while enjoying these idyllic surroundings.
Navarre Beach.
Navarre Beach is known as one of Florida's most "family-friendly" beaches and offers something special for all ages. With crystal clear waters and soft sands, it's no surprise that this little town is a popular vacation destination.
While you're visiting Navarre Beach, be sure to explore the scenic nature trails or take a sunset cruise along Santa Rosa Sound. Both are perfect ways to end a fun filled day.
Henderson Beach State Park
Henderson Beach State Park is another great place for beach lovers looking for a more natural setting.
Spend time lounging on soft sandy shore with a beautiful view of the Gulf as well as exploring dunes dotted with sea oats and wildflowers.
This state park is one of the most magnificent in Florida. If you're feeling adventurous, make sure to check out the other trails taking you through forests filled with native plants.
Prefer to relax? Plenty of picnic areas, public restrooms and showers makes it the perfect place for family getaways.
Mexico Beach.
I'm still listing this beach but keep in mind that Mexico Beach in the heart of Florida's panhandle, took a direct hit from Hurricane Michael which was a cat 5 storm so rebuilding continues.
As the area continues to recover, it may make finding vacation rentals in Mexico Beach still a bit challenging.
The beach? Gorgeous. One of the most beautiful beaches on the Florida Gulf Coast.
The most popular activities in Mexico Beach are the fun water sports in the brilliant green color water of the Gulf.
Enjoy swimming, shelling, boating, fishing, diving, kayaking, snorkeling and surfing.
After a day on the beach, eco-tours, shopping and dinner and cocktails are a fun way to end the day.
Miramar Beach
Miramar Beach is located in South Walton County. Beach lovers love this beach and there is no shortage of fun for everyone. Plenty of public beach accesses available here and all along 30A.
After a day on the beach, enjoy shopping or maybe a spa day. Dinner? No shortage of spectacular restaurants and bars to choose from.
Florida's Emerald Coast boasts an array of incredible beaches, each one offering unique experiences full of fun activities and stunning natural beauty that will surely stay in your memory long after you leave!
From Panama City Beach's nightlife scene, Shell Island's untamed wildlife and Perdido Key's waterfront restaurants, there is something here for everyone.
Each of these beach destinations are a short drive from each other which makes it easy to visit several during your Emerald Coast vacation.
FAQ'S
What is the Emerald Coast of Florida?
The Emerald Coast of Florida refers to the area in northwestern Florida that spans from Pensacola Beach to Panama City Beach.
What is the best time of year to visit the Emerald Coast of Florida?
The best time of year to visit the Emerald Coast of Florida is generally from April through June, when temperatures are mild and the sun is shining but not too hot.
What are some of the best things to do on the Emerald Coast of Florida?
Some of the best things to do on the Emerald Coast of Florida include swimming, fishing, kayaking, hiking trails and beach walks, visiting local attractions such as Gulf Islands National Seashore or Eglin Air Force Base's Eglin Beach Park, and exploring some of the stunning coastal towns along 30A.
Upcoming Trip?
I like to use Booking for booking not only my hotels, but my tickets and rental cars as well. Makes life so much easier with only having to log into one location for my information.
Be sure to grab my travel tips to save you time and money. You'll also be entered into the weekly drawings.
Register here: Get 100 Travel Tips EVERY traveler should know PLUS entered into the weekly drawing.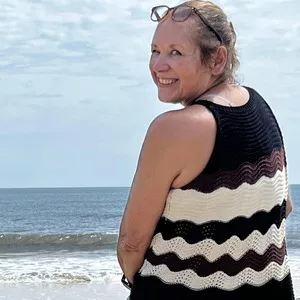 About Denise
Denise Sanger lives a life split between her love for fitness and her passion for travel particularly to the BEACH. Denise also has a love of marketing and lives in beautiful Suwannee County, Florida. You can find out more about Denise here: About Denise