Can you take sand from a beach in Florida? May not be a good idea.
This article may contain affiliate links. Whenever you buy something through one of these links, I may earn a small commission without any cost to you. I really appreciate it as it supports this site and my family. Thank you!
Can you take sand from a beach in Florida? Is it legal?
Is there anything that screams Florida more than beach sand? The Sunshine State is known for its white-sand beaches, and many people think about taking home a bit of that sand as a souvenir. But is it actually legal to take sand from Florida beaches? And if so, what are the rules?
To be honest? I have never really thought about if you can take sand from a beach in Florida. But when I receive a question several times, it is time to look into it.
There are some gorgeous sand necklaces where you can display sand from your latest trip on Etsy. You can even choose the beach where the sand is taken from. But can YOU take sand from the beach?
What kind of sand is on Florida's Beaches?
When you visit any of the beautiful beaches located in Florida, you will quickly see why folks want to take sand home. Florida definitely has some of the best beaches in the world.
Thank you for reading this post. Don't forget to subscribe! This way you never miss an update, travel deals, discounts and more!! Subscribe to the right------>
The most interesting thing, at least to me, is that most of Florida's sand is composed of quartz crystals These crystals are produced by the weathering of continental land masses like the Appalachian mountains.
The quartz is then carried down by some of America's great rivers into the Atlantic and the Gulf of Mexico. From there, it is carried onto the beaches by water currents and waves.
Panama City Beach and nearby Shell Island on the Gulf of Mexico, as examples along with Clearwater Beach and the Tampa Bay area has stunning white sand beaches. Marco Island, Sanibel Island, and Siesta Key to name a few are islands that also have beautiful white sand beaches.
The shallow waters along with the beautiful shore line and dunes, makes the Gulf a popular destination. The Gulf Coast is truly the perfect destination for nature lovers with its many nature trails along the shoreline.
One beach can actually have two different color sands. Siesta Key's northern area has white sand which consists of quartz crystals. The southern portion has darker sand that is mixed with shells.
On the Atlantic Coast, you will find a range of sand colors but not the pure white that you will find on the Gulf Coast. Cocoa Beach has light gray or tan colored sand as does St. Augustine and Jacksonville.
But a bit further south to Daytona Beach and Ormond Beach, the sand looks orange. The sand is not actually orange though. The coquina shells add that hue.
Further south to Fort Lauderdale, South Beach and in to the Florida Keys you will find even more variance in the sand color. South Beach is more white while depending on where you are in the Florida Keys, the sand may be white to gray to tan.
Farther north to Amelia Island as well as the beach in Fort Clinch State Park, the sand is whiter than other beaches along the eastern coast.
Which Florida beach on the Gulf Coast has the best sand?
For me, hands down the beach on the Gulf Coast with the best sand is Panama City Beach. I love walking on this beach and hearing the squeak of my feet as I walk on the soft sand.
Miles of white sand beaches can be found on the Panhandle. Fort Walton, Pensacola, Mexico Beach and more of this area will have this soft white sand. Siesta Key is one of the most popular beaches in the State of Florida not only due to the beaches also for the beautiful shells you may find.
Which Florida beach on the Atlantic Coast has the best sand?
Over on the Atlantic Coast of the sunshine state, I personally think Fernandina Beach, Amelia Island has the best sand. The soft sand is clean but also hides treasures of seashells and shark teeth.
From sand dunes, to sea turtles, to sea urchins to live sand dollars, you will find it all on the Atlantic Coast. For those that like many options of recreational activities, the East Coast is definitely where you want to be.
Which Florida beach has the softest sand?
Looking for the beach with the softest sand? Again Siesta Key Beach tops the list. This beautiful beach with white sand, palm trees and crystal clear water makes it one of the best beaches in the world.
These soft sand beaches though are not easy for folks to push beach wheelchairs on. Check at the public beach access points for the best places to use beach wheelchairs. There may be a ramp nearby with public access.
Why is some Florida sand white?
The white sand on Florida's beaches are from the natural resources of the mountains like the Appalachian Mountains. Florida Gulf Coast and Panhandle are the best areas for this soft sand
Are there any pink sand beaches in Florida?
Beautiful Clearwater Beach has about three miles of pink sand beaches. This area is a great place for family vacations as not only are the beaches gorgeous, there are a lot of activities to keep the kids busy.
Are there any black sand beaches in Florida?
Venice, Florida has sand that is close to black. The reason the sand is dark on this beach is due to minerals and fossils.
If you truly want to visit a black sand beach, Hawaii and Iceland are the places to go. The beaches are black volcanic sands. You can see the beautiful black sand in Hawaii at Punalu'u Black Sand beach.
Papakolea Beach aka Mahana Beach in Hawaii has more of a green sand beach. This is not a beach to swim at though due to the powerful ocean waves.
Finally, can you take sand from a Florida beach? Is it legal?
With all the many colors of the sand from beaches in Florida, is it legal to take the sand? There may not be a state law that prohibits you from taking sand, many local governments due have such laws.
Beach erosion is a big problem. High tide may bring some sand in to shore while low tide will move some out. Add in that sand is not easily replenished on the shores. It takes a long time for sand to become sand.
The Florida Department of Environmental Protection, protects, preserves and manages the beautiful sandy beaches and coastlines of Florida. This is extremely important as there are many plants and live animals including sea turtles and turtle nests that call our sandy beaches home.
What happens if you do take sand from a beach in Florida?
It truly depends on the local ordinances for the beach. The State of Florida may not have a law in place throughout the state, but the individual cities might have hefty fines.
It is never okay to take a shell with a live animal in it or a live sand dollar off the beach. And as always, please leave the beaches as you found them. Footprints only.
Upcoming Trip?
I like to use Booking for booking not only my hotels, but my tickets and rental cars as well. Makes life so much easier with only having to log into one location for my information.
Be sure to grab my travel tips to save you time and money. You'll also be entered into the weekly drawings.
Register here: Get 100 Travel Tips EVERY traveler should know PLUS entered into the weekly drawing.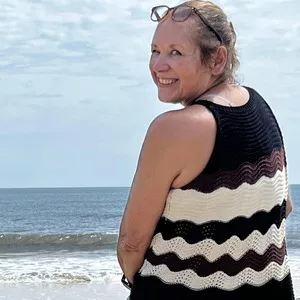 About Denise
Denise Sanger lives a life split between her love for fitness and her passion for travel particularly to the BEACH. Denise also has a love of marketing and lives in beautiful Suwannee County, Florida. You can find out more about Denise here: About Denise