Tropical Beaches In Florida: A Quick Guide To Paradise
This article may contain affiliate links. Whenever you buy something through one of these links, I may earn a small commission without any cost to you. I really appreciate it as it supports this site and my family. Thank you!
Tropical beaches in Florida that attract millions of visitors each year. With soft white sands, clear turquoise waters, and lush green landscapes, these beaches may have you thinking you are in the Caribbean not in the United States.
The Sunshine State coastline stretches over 1,300 miles on both the Gulf of Mexico and the Atlantic Ocean side, the tropical beaches truly stand out for their unique features, such as palm trees, warm waters, and vibrant marine life.
Many of these dazzling beaches are located in areas such as South Florida, the Florida Keys, and the Gulf Coast. 
From the lesser-known beach town gems to the world-renowned tourist hotspots like Miami, there's a perfect tropical beach for everyone.
Thank you for reading this post. Don't forget to subscribe! This way you never miss an update, travel deals, discounts and more!! Subscribe to the right------>
Whether you are traveling for a romantic getaway, or a solo adventure, or family trip these tropical beaches are the best place for an unforgettable vacation. 
With a wide range of activities available, such as swimming, snorkeling, beach volleyball, and sunbathing, visitors are sure to create lasting memories on these stunning shores.
Read on to discover some of the most breathtaking tropical beaches in Florida and what makes them worth exploring.
Below is the contents for this page, so you can click to the section you are most interested in. I have also included links below to other things you may want to visit and see while in Florida.
Top Tropical Beaches in Florida Gulf Coast And Atlantic Coast
Florida is well-known for its beautiful coastline and the most beautiful beaches. Any of these beaches would be a great place for a getaway.
I prefer the calm waters of the Gulf West Coast, but the East Atlantic Coast is better for those that love water sports and activities. 
But there is never a bad day no matter which beach you choose. Below I have selected the best Florida beaches for those that prefer a tropical vibe like the Caribbean.
Gulf Coast Beaches
Florida Panhandle Beaches
Panama City Beach
Of course, my number one beach is Panama City Beach. One of the most popular beaches. The crystal-clear water and white sand beaches call to my heart. This is why I return every single summer.
Plenty of fun things to do from snorkeling at Shell Island to Scuba Diving in the Gulf. Fantastic restaurants, shopping at Pier Park and more make this a very popular spot on the Panhandle. 
Pensacola Beach
Pensacola Beach, on Santa Rosa Island, is renowned for its powdery white sand and emerald green waters.
The beach boasts a laid-back atmosphere, perfect for visitors looking to relax and soak up the sun. It's also a prime spot for water sports, ranging from paddleboarding to jet skiing.
West Central Florida Beaches
Clearwater Beach
Clearwater Beach is situated on the Gulf Coast of Florida and boasts calm, crystal-clear waters. The beach is family-friendly, offering plenty of activities like boat tours, paddleboarding, and snorkeling.
There's even a nearby marine aquarium where one can learn about local wildlife. I mention this often but if you have the time be sure to stop at the Clearwater Marine Aquarium. Wonderful for the whole family but definitely for kids of all ages.
​St. Petersburg Beach
Near Tampa Bay, St. Petersburg Beach welcomes you with white sandy beaches and crystal clear waters. Easy access to the beach and a great spot to get away from it all.
Easy drive from the Tampa St. Pete airport and also from Clearwater and Sarasota.
Southwest Tropical Beaches Florida
Siesta Key Beach | Siesta Beach
This picturesque beach is located on Siesta Key, a barrier island near Sarasota. Siesta Key Beach is known for its powdery white sand, which stays cool even during hot summer days.
It's an ideal destination for families and those seeking a tranquil beach experience.
Fort Myers Beach | Sanibel Island | Captiva Island
Fort Myers Beach as well as Sanibel Island and Captiva Island are definitely among the favorite white-sand beaches in the Southwest part of the state.
At this time of writing, however, this area is still recovering from taking a direct hit from Hurricane Ian. I strongly recommend before booking any getaway to this area, that you check for accommodations and to be sure beach access is open. 
Marco Island
Beautiful Marco Island is also in the area that took a direct hit from the Hurricane but for the most part is open. Marco Island is the longest island in Florida's Ten Thousand Islands.
This area is gorgeous and perfect for nature lovers to explore by hiking, biking, boating, kayaking and more.
Atlantic East Coast
Moving over to the Atlantic Side of the Sunshine State and miles of coastline you can't wait to explore!
Amelia Island and Fernandina Beach
Beautiful Fernandina Beach on Amelia Island a short drive from Jacksonville and a great destination for a getaway. Enjoy Fort Clinch State Park, as Amelia Island State Park beaches as well as historical and beautiful Fernandina Beach.
Pack a lunch and sit at one of many picnic tables and picnic areas throughout these parks. 
St. Augustine Beach
The rich history of the oldest city entices you to explore but one of the best things in this area is St. Augustine Beach. The beach is fantastic for water activities like swimming but also snorkeling and even kiteboarding.
Stop at nearby Daytona Beach while you are in the area and check out the Daytona 500. It is definitely something to see. 
New Smyrna Beach
One of the top beaches for many reasons on the Atlantic Coast but my favorite? The ability to walk everywhere you need to.
Park your car, and it's not only a short walk to the beach but also to the many restaurants, bars, and shops. Like Daytona Beach, you are actually able to drive onto the beach in several locations in NSB.
Cocoa Beach Kennedy Space Center and Cape Canaveral National Seashore
There are so many things to do on this beautiful section of the Atlantic Ocean. Start the day watching the sun rise over the ocean.
After exploring the history of Kennedy Space Center before heading over to one of the most beautiful national parks in the country. Cape Canaveral National Seashore. End the day with a surf lesson in Cocoa Beach.
Tip: I only spent one day at the Space Center and really wish I would have allowed time for a second day. So much to see.
Vero Beach
This gorgeous beach was actually one of the first beaches on the Atlantic side I explored when I first moved to Florida way back when.
It is still one of my favorites. It's beautiful, less crowded and perfect if you love the ocean but want a less crowded beach vacation.
Delray Beach
Continuing to move down the coast into South Florida. Delray Beach, like Vero Beach is beautiful but definitely much less crowded than West Palm Beach, Fort Lauderdale Beach and Miami Beaches.
Don't let that stop you though. This is one of the most favorite small beach towns with a lively nightlife. Enjoy fantastic restaurants, bars, shopping and more.
West Palm Beach
​Many folks think expensive when they think about West Palm Beach. Let's clarify. It's not the cheapest, but it's not the most expensive in the country either.
It is a bit pricier than Fort Lauderdale, but your first view of the ocean makes it all very much worthwhile. Also, less crowded than Fort Lauderdale or Miami Beaches.
Fort Lauderdale Beach
Fort Lauderdale Beach is one of Florida's best beaches for those that want to have an active vacation. Close to Miami Beach, there is plenty to do in Fort Lauderdale from water sports, fishing, tennis courts, golf courses and more.
But the highlight of Fort Lauderdale and surrounding beach towns are the miles of beaches to explore. Stop at Hollywood Beach and take a walk on the boardwalk.
South Beach and Miami Beach
Located in the heart of Miami, South Beach is a vibrant destination known for its turquoise waters, fine sand, and lively entertainment scene. It's perfect for those who love a mix of relaxation and excitement during their beach vacations.
Nightlife. Clubs. State and National Parks. Easy access to the Florida Keys. What is there not to like about Miami?
Keep your eyes open for celebrities that often frequent South Beach and the areas nearby. Enjoy beach volleyball on one of many volleyball courts in Miami on the beach.
Key West, Key Biscayne, Key Largo
Located in the Florida Keys, Bahia Honda State Park is a gem among the tropical beaches of Florida. It features beautiful shallow waters, perfect for snorkeling and swimming.
This state park also provides opportunities for hiking and observing local wildlife, making it an enjoyable destination for both beach goers and nature enthusiasts.
Key Biscayne near Miami is a fantastic place to escape the craziness of Miami and South Florida. You feel like you literally are in a different world.
Take time to explore the beautiful Biscayne National Park and Biscayne Bay.
If you love to snorkel, Key Largo is your destination. The coral reefs offshore are breathtaking and something you have to see for yourself. Be sure to include time to see everything then relax on one of the most beautiful beaches on the Atlantic Coast.
Finishing with Key West. The beaches are beautiful, but some tend to be rocky. The prettiest beach in my option is on Dry Tortugas National Park.
To get over there, you hop on a ferry in Key West. Spend the day relaxing on the white sand beach, explore the Fort or snorkel the crystal clear water.
Activities on Florida's Tropical Beaches
Water Sports
Florida's tropical beaches offer a plethora of water sports for visitors. From gentle activities like paddleboarding and kayaking, to more thrilling options like jet skiing and surfing, there's something for everyone.
Many beachside rental shops provide equipment, and local instructors are available for lessons. Be sure to know when it is high tide and low tide. 
Nature Walks and Wildlife Watching
For those who enjoy a more serene experience, many of Florida's tropical beaches are surrounded by picturesque nature trails with lush vegetation.
Explorers can observe unique flora and fauna, as well as a variety of birds and sea turtles. Local parks and conservation areas offer guided walks, providing opportunities to learn about the region's ecosystems.
Beach Volleyball and Yoga
Beach volleyball and yoga are popular activities on Florida's tropical beaches. Visitors can often join pick-up games or attend organized events at many of the beaches.
For yoga enthusiasts, there are group classes set on the beach, allowing participants to connect with nature while enjoying their practice.
Fishing and Boating
Fishing and boating enthusiasts will love the wide array of options available along Florida's tropical coastline. Choose a fishing pier to fish or take a deep sea excursion, anglers will find suitable spots for a great catch.
Boating options include sailing, speed boating, and even wildlife-watching cruises.
With so many activities and sights to enjoy, Florida's tropical beaches are a perfect destination for families, couples, and solo adventurers alike.
Accommodations and Dining Options
Visiting tropical beaches in Florida offers a delightful experience, and choosing the right accommodations and dining options can truly enhance your stay.
Many of these beaches do have high tourist visiting times throughout the year including the holidays as well as Spring Break. You will want to play ahead.
Florida's Beach Safety Tips
Sun Protection and Hydration
When enjoying Florida's tropical beaches, it's essential to protect oneself from the sun. Wear a wide-brimmed hat and apply sunscreen with an SPF of at least 30. Reapply every two hours, especially after swimming or sweating.
Staying hydrated is equally important. Drink plenty of water throughout the day, and consider bringing electrolyte replacement beverages to replenish lost fluids.
Rip Currents and Water Safety
Rip currents pose a significant risk to beach goers, even to experienced swimmers. To avoid getting caught in a rip current, always swim in designated areas with lifeguard supervision.
If caught in a rip current, remember the following tips:
Remain calm, and conserve energy.
Float and allow the current to carry you out.
When the current weakens, swim parallel to the shoreline.
Once free from the current, swim diagonally back to shore.
Wildlife Awareness
Florida's beaches are home to a diverse array of wildlife. Be respectful of their habitats and maintain a safe distance from nesting birds, turtles, and other marine creatures.
Be cautious of marine-life stings from creatures like jellyfish or stingrays. If stung, seek medical attention for proper treatment.
Upcoming Trip?
I like to use Booking for booking not only my hotels, but my tickets and rental cars as well. Makes life so much easier with only having to log into one location for my information.
Be sure to grab my travel tips to save you time and money. You'll also be entered into the weekly drawings.
Register here: Get 100 Travel Tips EVERY traveler should know PLUS entered into the weekly drawing.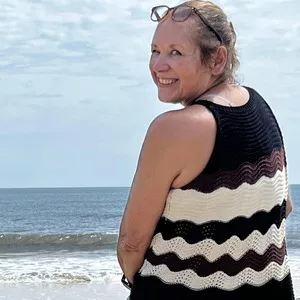 About Denise
Denise Sanger lives a life split between her love for fitness and her passion for travel particularly to the BEACH. Denise also has a love of marketing and lives in beautiful Suwannee County, Florida. You can find out more about Denise here: About Denise