Reasons why going to the beach is good for you.
This article may contain affiliate links. Whenever you buy something through one of these links, I may earn a small commission without any cost to you. I really appreciate it as it supports this site and my family. Thank you!
Ever wonder why so many people schedule beach vacations? The beach is good for the soul. No matter how stressed you are, simply smelling the salt air, feeling the ocean breeze, and walking along the shoreline will have your blood pressure back in the normal range.
Go ahead and schedule that beach vacation! Here are the top reasons why going to the beach is good for you:
Not only is salt water good for your soul, it's good for your skin and body. Salt water actually contains minerals our body needs. Feeling stuffy? A nice swim in the salty ocean or Gulf waters just might clear up your sinuses.
Sunshine is a fantastic source of Vitamin D. I remember my doctor calling to tell me that my Vitamin D was dangerously low. I added more outdoor time to my day along with a Vitamin D supplement and immediately felt 100% better. But don't forget the sunblock and your sunglasses.
Unplug and destress. There's something about sitting on the beach without your phone and simply watching the waves as they roll into shore. Your breathing will quickly align and you can feel your whole body slowing down and relaxing.
The sound of the waves may help you sleep better. Have you ever noticed how easy it is for you to take a nap on the beach? I'm not one that naps but every beach vacation finds me snoozing away in the middle of the day while lying on the beach.
Works your heart. That stroll you take in the morning watching the sunrise or in the evening for the sunset, gives your heart a nice little workout. Add in the bending when you're picking up seashells, sea glass or sharks teeth and you've given your body a good workout.
Give your feet a pedicure. Sand is a natural exfolliant and every time you put your feet in the sand, you're giving yourself a nice little pedicure.
Now that you are ready for your next beach vacation, where will you go? You know my number one beach is Panama City Beach but these beaches have great bargains all year long. Tripadvisor has some pretty great deals for cheap resort trips this month to Florida. Get more info here: Cheap Resorts In Florida
Upcoming Trip?
I like to use Booking for booking not only my hotels, but my tickets and rental cars as well. Makes life so much easier with only having to log into one location for my information.
Be sure to grab my travel tips to save you time and money. You'll also be entered into the weekly drawings.
Register here: Get 100 Travel Tips EVERY traveler should know PLUS entered into the weekly drawing.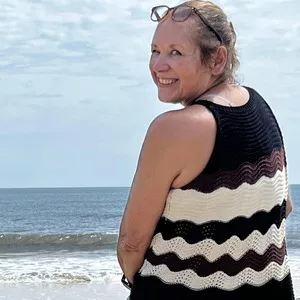 About Denise
Denise Sanger lives a life split between her love for fitness and her passion for travel particularly to the BEACH. Denise also has a love of marketing and lives in beautiful Suwannee County, Florida. You can find out more about Denise here: About Denise