Prettiest Beaches in Florida For the Best Vacation Ever
This article may contain affiliate links. Whenever you buy something through one of these links, I may earn a small commission without any cost to you. I really appreciate it as it supports this site and my family. Thank you!
Have you been wanting to visit sandy white beaches and soak up some sun for vacation? If you're looking for picturesque beaches to escape to during a Florida vacation, you're in luck.
Browse our guide of the prettiest beaches in Florida.
From Pensacola Beach to Sanibel Island and everything in between, Florida's coastline is teeming with some of the prettiest beaches the United States has to offer.
This was really difficult for me because there are so many amazing beaches in Florida. So I told myself that I had to limit it to my top five which you see below.
I did try to hit different part of the Sunshine State to make it easy to choose what works best for you. Hope you enjoy the list.
Thank you for reading this post. Don't forget to subscribe! This way you never miss an update, travel deals, discounts and more!! Subscribe to the right------>
Clearwater Beach.
With an abundance of white sand and vibrant turquoise waters, Clearwater Beach is a popular destination in Florida. This beach is known for its clear Gulf waters, sugar-white sand, plenty of amenities, and shallow shorelines which make it an ideal spot to enjoy the sun and relax.
If you're looking for outdoor activities such as jet skiing or parasailing then this beach has plenty to offer – with lots of shops and restaurants nearby there's plenty to do during your vacation here!
Siesta Key Beach.
Siesta Key Beach is located on the southwestern coast of Florida and features miles of white sand beaches that are perfect for both swimming and soaking up some sun.
It is known for its clear blue waters, powdery white sand, easy accessibility, gentle waves and proximity to a variety of restaurants, shops, hotels and luxury resorts.
With so much to do here you won't know where to start! Whether you want to take a relaxing day out or an exciting adventure, Siesta Key Beach offers something for everyone.
South Beach.
South Beach is one of the most popular beaches in Florida, and it's easy to see why. With crystal blue waters, bright white sand, and stunning views of the Miami skyline, South Beach is an ideal destination for sun worshipers and beach-goers alike.
It also boasts plenty of restaurants and bars, allowing you to soak up some cocktails with your sun. There are also lots of activities available on the beach, such as snorkeling, paddleboarding, swimming and even a roller coaster!
Sanibel Island And Captiva Island Beaches Two of The prettiest Beaches In Florida In The southwest
Captiva Island and Sanibel Island are popular destinations for beach vacations in Florida.
Miles of pristine beaches and shallow waters make them an excellent place to take a dip in the ocean, play in the sand with your kids, and create wonderful memories worth cherishing for a lifetime.
The shells here are considered some of the best in the world, giving you memorable souvenirs to show off when you get home. Bike rentals make it easy to explore these islands without having to miss out on any of the scenery.
Panama City Beach.
My favorite so I saved it for last! Panama City Beach is definitely one of the prettiest beaches in Florida and an ideal spot if you're looking for sugary white sand and stunning blue water.
With its wide beachfront, there's plenty of space to spread out and find your idyllic spot to kick back and relax during your stay. Read this next and see why you should visit: Panama City Beach Vacations.
The translucent water is perfect for snorkeling or scuba diving in the summer months when the gentle waves make it safe for swimming.
Venture on over to one of the nearby state parks, Shell Island or even charter a boat and head out into the open waters of the Gulf of Mexico.
Any one of these beaches would be perfect for a romantic getaway, family vacation and even a girl's trip.
Looking for an all-inclusive Florida getaway? These are some great options: All Inclusive Florida Beach Vacations
Upcoming Trip?
I like to use Booking for booking not only my hotels, but my tickets and rental cars as well. Makes life so much easier with only having to log into one location for my information.
Be sure to grab my travel tips to save you time and money. You'll also be entered into the weekly drawings.
Register here: Get 100 Travel Tips EVERY traveler should know PLUS entered into the weekly drawing.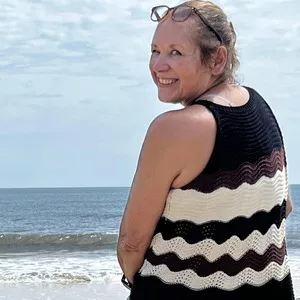 About Denise
Denise Sanger lives a life split between her love for fitness and her passion for travel particularly to the BEACH. Denise also has a love of marketing and lives in beautiful Suwannee County, Florida. You can find out more about Denise here: About Denise