How to Make a Mojito beach Cocktail
This article may contain affiliate links. Whenever you buy something through one of these links, I may earn a small commission without any cost to you. I really appreciate it as it supports this site and my family. Thank you!
There is nothing quite like sitting on the beach, watching the sun go down in to what looks like the water enjoying an end of the day cocktail. A Mojito Beach Cocktail is one of my favorites for enjoying this perfect scene.
The perfect blend of crisp yet sweet. Delicious with a pop of mint.
But when you hear the term muddle, many automatically think what is muddle? I can't do that at home.
Yes you can, and I'm going to explain how easy it is to enjoy this cocktail indigenous to Cuba. All the flavors you would find in this country are in this refreshing cocktail.
Thank you for reading this post. Don't forget to subscribe! This way you never miss an update, travel deals, discounts and more!! Subscribe to the right------>
Ingredients in a Mojito Beach Cocktail
What do you need to make a Mojito?
1.5 ounces White Rum
1/2 Club Soda
2 tablespoons to taste Sugar
10 Mint Leaves
Lime
That's it. 5 simple ingredients.
Directions:
Cut lime into quarters. Place 1/4 lime wedge with the mint leaves into the bottom of a cocktail glass.
Muddle. This simply means to crush together to release the juices and combine. If you do not have a muddler, you can use a wooden spoon or mortar and pestle.
Really don't stress about it. You can get one on Amazon for under $7 here: cocktail muddler
Add another quarter lime plus sugar and muddle a second time.
Add ice cubes to top of your cocktail glass.
Add rum.
Fill the glass with club soda. Garnish with remaining limes. That's it!
Salute! Enjoy.
p.s. You can get more beach cocktail recipes here: Beach Cocktails.
Upcoming Trip?
I like to use Booking for booking not only my hotels, but my tickets and rental cars as well. Makes life so much easier with only having to log into one location for my information.
Be sure to grab my travel tips to save you time and money. You'll also be entered into the weekly drawings.
Register here: Get 100 Travel Tips EVERY traveler should know PLUS entered into the weekly drawing.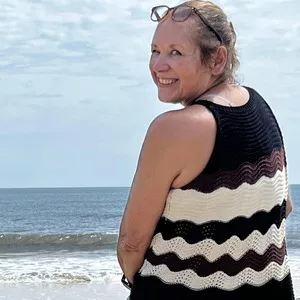 About Denise
Denise Sanger lives a life split between her love for fitness and her passion for travel particularly to the BEACH. Denise also has a love of marketing and lives in beautiful Suwannee County, Florida. You can find out more about Denise here: About Denise