Boneyard Beach, Florida and why you must visit.
This article may contain affiliate links. Whenever you buy something through one of these links, I may earn a small commission without any cost to you. I really appreciate it as it supports this site and my family. Thank you!
Boneyard Beach, Florida and why you must visit.
This past weekend, I finally made it to Boneyard Beach Florida. There is another Boneyard Beach located on Jekyll Island, George.
Boneyard Beach Florida, located along A1A in Big Talbot Island State Park is in the northeast corner of the city of Jacksonville and northeastern part of the state of Florida.
Boneyard Beach has been at the top of my must-visit list for quite some time. And let me tell you, it did not disappoint. If you are anywhere near Jacksonville, make the time to visit.
When we were heading toward Big Talbot Island State Park, we had put the address for Boneyard Beach into our GPS. Upon arrival, we were not quite sure if we were in the right place.
Thank you for reading this post. Don't forget to subscribe! This way you never miss an update, travel deals, discounts and more!! Subscribe to the right------>
The sign I believe said the bluffs or bluffs overlook. So, we decided to head up the road a bit, but our GPS quickly told us we were indeed at the right location.
Upon pulling into the park, you will see a parking area with a metal box for payment. These payments are very minimal. In this case it was $3 to enter.
Unfortunately, you would not believe the number of cars that quickly blew by the check point and did not pay. These parking fees help maintain the parks.
Even more disturbing? There are signs all over stating that they are working on rehabilitating the bluffs. Do not go on the bluffs.
While on the beach, we watched a family step over the sign that clearly stated do not go on the bluffs. They climbed over a wood rail and slid down the bluff. The amount of sand that was disturbed was insane.
I don't know what is wrong with people. Once these natural landmarks are destroyed, they are gone forever. Are they lazy? Think the signs do not apply to them? That's my vent for today.
Big Talbot Island State Park is a natural preserve for birdwatching, nature study and photography. There are also many beautiful areas to paddle along the shoreline. You will find a floating dock for deep water access at the north end of the park, or you can launch a kayak or canoe at the boat ramp at the southern end of the park.
Back to Boneyard Beach. Plenty of places to park as you explore this great place. The bluffs picnic area is under trees which provide shade for a quick lunch or snack.
There is a gorgeous shoreline access trail that takes you right through a beautiful ecological wonderland as you make your way down to the beach. In addition, you will notice a few lookout points that allow you to look down on the beach giving you a unique view.
Once you finish exploring this area, there are several other beautiful Florida beaches to stop and visit. We took the Mayport Ferry over to Mayport Poles which is one of the most popular spots to surf in Northeast Florida.
Where is Boneyard Beach?
Boneyard Beach is located in Big Talbot Island State Park and is a favorite among Jacksonville locals. Easy to get to from the Jacksonville area including Jacksonville Beach, Amelia Island State Park, Fernandina Beach. Actually, anywhere in North Florida and even South Georgia.
This beach is a favorite Jacksonville retreat! Many brides to be having chosen this location for their engagement and wedding pictures.
According to the state park website, Boneyard Beach is three miles of shoreline along the Nassau Sound at the very northeast corner of the city limits which form a spectacular visual and ecological wonderland.
It is important to note this state park lies within the protective boundaries of the Timucuan Ecological and Historical Preserve. Nearby you can also visit Kingsley Plantation on Fort George Island which has a plantation house and the remnants of 25 slave residences. All very well-preserved.
Love to fish? You will find some of the best fishing in the state in this area. The state record for a flounder catch is from this part of the city.
How was Boneyard Beach formed?
Boneyard Beach has literally been sculpted by nature and is truly a unique beach. As the waters of the Atlantic Ocean move around this barrier island, channels deepen and the sand dunes and shore sand shifts.
Over the past 100 years, when the water retreats from the shore, if often causes trees to fall. These oak and cedar trees lie on the beach and become bleached by the sun. Hence, Boneyard Beach. The power of mother nature is astounding as you look at the tree roots literally pulled out of the ground.
Even those these trees may not be standing, they are still serving an important job. The trees protect the woods and bluffs and slow further erosion.
Why do they call it Boneyard Beach?
Boneyard Beach was given its name due to the bleached "skeletons" of the oak trees along the beach. You will also find palm trees and cypress among the fallen trees on the bleach.
But that's not all that has been found on this striking beach. Archaeologists have also found fossilized mammoth bones on the beach nearly as big as the trees!
Can you swim at Boneyard Beach?
This beach does not allow swimming. The reason is that it is not safe. I think it may be due to the many fallen trees being submerged underwater that you cannot see.
How long is Boneyard Beach?
This beach is three miles of shoreline along the Nassau Sound.
What to expect
After parking your car in the nearby parking lot, you will see a few picnic tables and two porta potty toilets. There is no running water at the location, but you will find a full service restroom about ¼ mile up the road.
You can even walk to this part of Big Talbot State Park from nearby Blackrock Beach or Black Rock Beach. I've seen it spelled both ways. Please note that dogs are not allowed on the beach.
Look for the sign that points you in the direction of the short nature trail that reads beach access. This trail will take you through the natural maritime forest down to the beach. This trail is a nature lover's dream!
After we made our way down to the shoreline, we caught a glimpse of an osprey at the top of a tree with a fish in his mouth. See picture left. Shells, crabs, fish and more to check out as you walk along the shoreline.
When to visit
As you can imagine, this area of Florida has several popular beaches along with nearby Little Talbot Island State Park. Weekends are fairly busy. The best time to visit would be during the week.
In addition, the best time to see everything on the beach would be at low tide.
Hiking.
Love to hike? There are several trails to explore.
As mentioned above, there is a short hike that takes you down to the beach. Nearby on Big Talbot Island is Big Pine Trail which is roughly 0.8 miles out to the bluff.
Also, nearby is Black Rock Trail or Blackrock Trail. People spell it both ways. This trail takes you through what looks like lava rocks but are actually made of sand.
Where to stay:
Nearby Jacksonville, Amelia Island and St. Augustine are nearby. Check here for travel arrangements: Jacksonville Beach Area Vacations
Also be sure to visit Amelia Island while you're in this area. Here is my article with lots of information and tips: Travel guide for best beaches in Amelia Island Florida
Upcoming Trip?
I like to use Booking for booking not only my hotels, but my tickets and rental cars as well. Makes life so much easier with only having to log into one location for my information.
Be sure to grab my travel tips to save you time and money. You'll also be entered into the weekly drawings.
Register here: Get 100 Travel Tips EVERY traveler should know PLUS entered into the weekly drawing.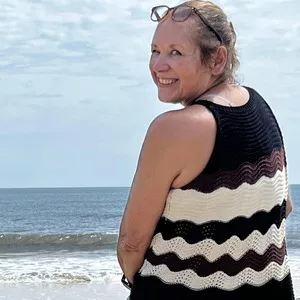 About Denise
Denise Sanger lives a life split between her love for fitness and her passion for travel particularly to the BEACH. Denise also has a love of marketing and lives in beautiful Suwannee County, Florida. You can find out more about Denise here: About Denise