This article may contain affiliate links. Whenever you buy something through one of these links, I may earn a small commission without any cost to you. I really appreciate it as it supports this site and my family. Thank you!
Osprey Florida Beaches
Where is Osprey, Florida? Osprey Florida beaches?
Osprey is a small town in Sarasota County, Florida, United States. This cool beach town is located on the central-west coast of Florida, just south of Sarasota.
Osprey is also quite close to Siesta Key, Marco Island, Fort Myers plus the downtown Sarasota area which are all great places for a beach vacay! The distance between Osprey and Siesta Key is 6 miles. The road distance to drive is 7.6 miles.
The nearest airport to Osprey is Sarasota/Bradenton (SRQ) Airport which is about 14 miles away. Other nearby airports include St. Petersburg (PIE) which is about 50 miles away, Tampa (TPA) roughly 54 miles, Ft. Myers (RSW) 65 miles and Orlando (MCO) in the center of the state at 112 miles away.
What is Osprey, Florida best known for?
Osprey is a small town of about 5,000 people and one of the best places to visit. It is located on the central west coast of Florida in Sarasota County. This town is situated on Little Sarasota Bay and just south of the Sarasota-Bradenton International Airport.
Thank you for reading this post. Don't forget to subscribe! This way you never miss an update, travel deals, discounts and more!! Subscribe to the right------>
Osprey is known for its large retirement community, its nature parks and reserves, and its proximity to some of the best beaches in Florida. This town was ranked the 37th best place to live in the United States by CNN Money in 2006 for good reasons.
Osprey is also home to Florida's oldest continuously operating state park, Myakka River State Park with fun activities for the entire family. You will also find one of the last old-growth bald cypress forests in existence in Osprey.
Is Osprey worth visiting?
It sure is! Osprey is a great place to visit for its beautiful beaches, its proximity to Sarasota, Siesta and Bradenton, and its many parks and nature reserves.
What is there to do in Osprey, Florida?
There is a lot to see and do in Osprey. Starting with Historic Spanish Point. Here you will find an environmental complex with prehistoric shell mounds as well as a pioneer homestead museum where visitors can learn about life on this land before it became ours!
Historic Spanish Point is a 30-acre museum and environmental complex that includes a prehistoric shell mound, turn of the century pioneer homesteads, a citrus packing house, and a chapel.
The chapel was established in 1868. There are gardens for visitors to enjoy along their nature trails which will lead you all over this beautiful land. Truly a place where history can be discovered every day.
Visitors can explore the shell mound, which is a burial site that dates back to 5,000 BCE. They can also learn about the pioneers who homesteaded on the land, and see how they lived.
The citrus packing house is a great example of Florida's agricultural history. And the chapel is a beautiful place to sit and reflect on the history.
There truly is so much to learn at Historic Spanish Point. This is a great place to visit for anyone who loves history, nature, or just wants to explore a beautiful piece of old Florida.
After Historic Spanish Point, make time to explore several nature parks and preserves also in the area, including the Oscar Scherer State Park and the Carlton Reserve. A bike ride is a great way to see everything. Be sure to watch for bald eagles overhead.
Below is a list of things to do near Osprey, Florida:
Osprey Nearby Attractions
Historic Spanish Point: This outdoor museum is perfect for history buffs and nature lovers. It offers a look at Florida's early days, with exhibits on the state's Native American and pioneer heritage.
Oscar Scherer State Park: This state park is a great place to hike, bike, or simply take in the Florida scenery. A short walk from the parking lot is all it takes to step onto one of the beautiful trails.
Legacy Trail: This trail is perfect for those who love to be outdoors. It's a 12-mile-long path that runs from Venice to Sarasota.
Nokomis Groves: This is the perfect place to buy fresh, local fruits and vegetables.
Myakka River State Park: This state park is great for hiking, camping, and bird watching. Plenty of picnic areas too. You will also find a kayak launch for those that bring kayaks or canoes to enjoy.
Sarasota Jungle Gardens: This 10-acre zoo is home to over 150 animals, including alligators, flamingos, and parrots.
Mote Marine Laboratory: This marine research center is open to the public and offers a look at the work being done to protect Florida's marine life.
St Armands Circle: This popular shopping destination is perfect for those who love to shop. It's home to over 130 shops and restaurants.
Osprey Florida Beaches
If you're looking for the best beaches in Osprey, Florida, look no further! This coastal town is surrounded by beautiful beaches that are perfect for a day of relaxing, playing or fishing.
The first thing you'll notice on any beach including the nearest beaches to Osprey is the wrack line. There are the creatures that call the beach home – both in and out of the water.
From seagulls to sand crabs, each creature has an important role to play in the ecosystem of the beach. This is the wrack line that you see on most beaches.
Ready to hit the beach? Below are the nearest public beaches to Osprey, many with boat ramps, for you to enjoy:
North Jetty Park. This beach area is located on the north side of Osprey and is a great spot for fishing, swimming, and exploring. There's also a boardwalk that provides stunning views of the Gulf of Mexico. Stop by at sunset.
Caspersen Beach. This beach is located on the south side of Osprey and is known for its clear waters and gentle waves. It's a perfect spot for swimming, sunbathing, and picnicking.
Venice Beach. This beach is located on the south side of Osprey and is perfect for swimming, sunbathing, and fishing. The Venice Fishing Pier provides great views of the area and is a popular spot for watching dolphins and other marine life.
Casey Key Beach. Casey Key Beach is located on the barrier island of Casey Key and is only accessible by boat or ferry. This secluded beach is perfect for those looking for a peaceful, quiet day in nature. A picnic area and pavilion is available for visitors too. This beach is known for its shells and shark teeth that can be found in the sand. It's also a great place to go fishing, as there are many types of fish that can be caught here. Be sure to stop at the beach on the south end of Casey Key Beach. This beach, located at the southernmost point of Casey Key, is a great spot for swimming, sunbathing, fishing, and picnicking.
Turtle Beach: If you're looking for a more laid-back beach day, Turtle Beach is the perfect spot. Relax on the sand, go for a swim, or take a walk down the nature trail.
Siesta Key Beach (Siesta Beach): Looking for a party? Then you'll want to head to Siesta Key Beach. This Florida beach is known for its nightlife, so you can dance the night away while enjoying the beautiful Florida coastline.
Nokomis Beach This beach is perfect for families, as there are plenty of activities to keep everyone entertained. There are also several restaurants and cafes nearby, so you can grab a bite to eat after a day in the sun. The Nokomis Beach drum circle takes place on Nokomis Beach. The drum circle starts about an hour before sundown, every Wednesday and Saturday nights. Depending on the weather, the drum circle attendance is between several hundred to several thousand people and is a good time for all that attend.
Sarasota Beach is well known for its expanse of white sand as well as beach bars and crystal clear waters. Swimming, kayaking, surfing and more are a few of the fun water sports you can enjoy. Need a wheelchair? You will find beach wheelchairs here.
Where to eat:
There are plenty of fantastic restaurants near Osprey, Florida. A great time can always be found at the Casey Key Fish House located at 801 Blackburn Point Rd, Osprey, FL 34229. Live music is one of the great things you'll enjoy here along with the food.
In addition to Casey Key Fish House, you will find not only fantastic food but cold beer and cocktails too. Check out Rosebud's Steak and Seafood House, Mad Moe's Sports Pub & Grill and Hoosier Bar & Grill. All fantastic options for a delicious meal.
Where to stay:
Home rentals are plenty in this area. Check out the many options from an exclusive home directly on the sand to adorable tiny houses with all the comforts of a big home. VRBO is by far the best to check pricing and availability here: Osprey Florida VRBO
Prefer to stay in a hotel? Got you covered. From small resorts such as Captiva Beach Resort or Tropical Beach Resort to larger hotel like the Hyatt or Best Western, you'll find what you're looking for here: Osprey Hotels
So what are you waiting for? Osprey is the perfect place to escape for a weekend and enjoy everything that Florida has to offer. With beautiful beaches just a short drive away, there's no need to look any further for your next vacation spot. Book your trip today!
Not sure which beach you should visit? Grab this list of over 190 Florida beaches here: List of Florida Beaches
Upcoming Trip?
I like to use Booking for booking not only my hotels, but my tickets and rental cars as well. Makes life so much easier with only having to log into one location for my information.
Be sure to grab my travel tips to save you time and money. You'll also be entered into the weekly drawings.
Register here: Get 100 Travel Tips EVERY traveler should know PLUS entered into the weekly drawing.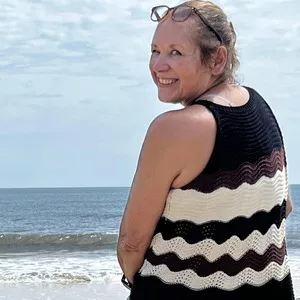 About Denise
Denise Sanger lives a life split between her love for fitness and her passion for travel particularly to the BEACH. Denise also has a love of marketing and lives in beautiful Suwannee County, Florida. You can find out more about Denise here: About Denise