Best Apple Cider Martini Fall Cocktail Recipe Easy And Delicious
This article may contain affiliate links. Whenever you buy something through one of these links, I may earn a small commission without any cost to you. I really appreciate it as it supports this site and my family. Thank you!
Well since it's almost officially fall and even though I am not ready to give up my beach-loving days, I am giving today's beach cocktail a nod to the arrival of autumn. This is the best Apple Cider Martini I have ever tried, and I hope you like it as well.
The reason I like this recipe so much is that it is still fantastic during the hot summer months but also great for fall's coolers temps.
And your girl Denise loves a two-fer whether it is hitting two beaches in a day, working two body parts at the same time while teaching fitness classes or a beach cocktail that works for two seasons.
You can literally enjoy this one sitting on the beach watching the waves roll in as well as sitting at a bonfire with a sweater on. Even better? It's EASY. Nothing difficult about this cocktail.
Thank you for reading this post. Don't forget to subscribe! This way you never miss an update, travel deals, discounts and more!! Subscribe to the right------>
Ready? Let's do it.
Apple Cider Martini Fall cocktail Ingredients
All you need are four ingredients:
Shot Tequila
Shot Apple Cider
1 ounce Lime Juice
1 ounce Ginger Ale or Ginger Beer – whichever you prefer. I have had it both ways and like both. It may be easier though to find ginger ale depending on where you live.
Apple Cider Martini Fall cocktail Instructions
Add ice to a shaker then add all ingredients – tequila, apple cider, lime juice, and ginger ale or ginger beer to the shaker as well.
Shake, shake, shake. Shake, shake, shake. Shake your booty. Oops! Shake your shaker cup full of that apple cider martini fall cocktail.
Take a lime slice and wipe it along the rim of your martini glass. Then dip the rim into a sugar-cinnamon mixture. Kind of like what you would use on toast.
If you are watching your sugar, you can simply use cinnamon on the as decoration or even go without. Whatever works best for you.
Strain the cocktail into the glass. Garnish with a cinnamon stick, apple slice, or even a blood-red orange for a pop of fall color. Enjoy. Salute!
You may also enjoy these delicious cocktails:
Frozen Drink Maker and Margarita Machine for Home
Upcoming Trip?
I like to use Booking for booking not only my hotels, but my tickets and rental cars as well. Makes life so much easier with only having to log into one location for my information.
Be sure to grab my travel tips to save you time and money. You'll also be entered into the weekly drawings.
Register here: Get 100 Travel Tips EVERY traveler should know PLUS entered into the weekly drawing.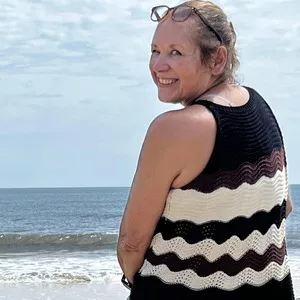 About Denise
Denise Sanger lives a life split between her love for fitness and her passion for travel particularly to the BEACH. Denise also has a love of marketing and lives in beautiful Suwannee County, Florida. You can find out more about Denise here: About Denise