The Best Key West Winter Rental Vacation Options
This article may contain affiliate links. Whenever you buy something through one of these links, I may earn a small commission without any cost to you. I really appreciate it as it supports this site and my family. Thank you!
It's coming. Whether we like it or not, those cold, winter days will be here before we know. Want to escape? Maybe checking out the many historic Key West Winter Rental Vacation options is a great choice for you.
I love Key West and literally just returned from a week in this beautiful Sunshine State island. I actually love all the Florida Keys, but my top two are Key Largo and Key West.
It is a tropical paradise located way down at the bottom of the Sunshine State. It's often referred to as the southernmost point of the United States.
There is even a buoy at this spot which is a very crowded photo opportunity for tourists. On our last visit, we stood in line for about 10 minutes waiting our turn.
Thank you for reading this post. Don't forget to subscribe! This way you never miss an update, travel deals, discounts and more!! Subscribe to the right------>
As well as being the southernmost point, you will also find a few small beaches, fun nightlife with live music and more, and a laid-back island lifestyle. No one is in a hurry as we are all on "island time."
The winter months are a fantastic time to visit Key West. The weather is warm and sunny, and the crowds are smaller making it probably the best time to visit. 
This last visit, I was chatting with a few couples who would be spending winter in this beautiful tropical paradise. I did a little digging and whether you are looking for monthly vacation rentals or an extended stay location, Key West is definitely a great option.
You will find there are plenty of vacation rental options to consider. You can choose between condos, houses, mobile homes and even long-stay hotels available for rent. 
You can find a rental that fits your budget and needs, no matter how big or small your group is. Some house rental options have a private pool, tennis court, and hot tub, while other rental properties are within walking distance of Duval Street, Smathers Beach, or Mallory Square.
Finding the perfect place for you really depends on your needs. It can be as simple as you want to be close to the beach.
Or maybe you have more must-haves on your rental home list. If that is the case, you may want to consider working with rental managers or property managers to help you find that Key West cottage, home, or condo perfect for you.
Here are a few things to keep in mind when choosing a Key West Winter Rental Vacation Home:
The location: Key West is a small island, so it's important to choose a rental that's located in a convenient location especially if you do not have a rental car. If you want to be close to all things going on, you will want to look for a rental in Old Town Key West. If you prefer a more relaxed setting, consider one of the seasonal rentals available in the outer-lying neighborhoods away from Duval.
The amenities: Many Key West rentals come with a variety of amenities, such as swimming pools, hot tubs, balconies, tennis courts, and near golf course. Some of these vacation private homes have lush tropical landscaping and are in a gated community. Decide how many bedrooms you will need. Will an open layout with the living room and kitchen in one big area work, or would you prefer separate rooms? Full kitchen needed or will a studio version work? Prefer waterfront locations with a view of the Atlantic Ocean or the Gulf of Mexico or is your ideal vacation spot off the beaten track? Air conditioning or open the French doors to the ocean breeze? Sit down and determine what is important to you. The more specific you are with your search and with the property manager if you are working with one, the easier it will be to find a rental property perfect for you.
The price: Snowbirds have arrived! Winter is a popular time to visit Key West, so prices for rentals can be higher than during other times of the year. You can still find the best deals though if you put the time and effort into your search.
Top neighborhoods For A Key West Winter Rental Vacation
Once you have determined everything you would like in your vacation rental, it's time to search. Key West is an exciting island with many diverse neighborhoods, local shops, and plenty of things to do. Below are some of the Key West winter vacation rentals:
1. Old Town: Known for its charming historic streets and colorful architecture, Old Town is the heart of Key West. Here, you'll find a mix of vacation rentals ranging from historic Conch houses with palm trees to modern waterfront villas with easy access to outdoor activities.
If you want to be close to Duval Street, entertainment, top bars, and restaurants where you can enjoy a delicious slice of key lime pie. You will also have a short walk to view Ernest Hemingway House, the famous Mallory Square, and other must-see sights, you will want to stay in Old Town. 
2. Truman Annex: Located adjacent to Old Town, Truman Annex is a gated community known for its upscale vacation rentals. Stay here to enjoy a quiet, relaxing vacation with a bit of tropical seclusion away from the crowds.
You will still enjoy easy access to attractions like Fort Zachary Taylor State Park and the Key West Butterfly and Nature Conservatory.
3. Casa Marina: Casa Marina is located on the eastern side of Key West and is a peaceful neighborhood known for its beautiful beaches and upscale resorts.
If you prefer a tranquil and beach-centric vacation, with easy access to the Southernmost Point and Higgs Beach, Casa Marina is for you.
4. Midtown: If you prefer a more residential atmosphere, consider staying in Midtown. Here you will find many options for vacation rentals.
Choose from cozy 1 or 2-bedroom cottages with a beautiful tropical garden to spacious townhouses. Midtown provides easy access to grocery stores, restaurants, and local parks.
5. New Town: Located away from the hustle and bustle of Old Town, New Town is a popular neighborhood for families and long-term visitors.
Stay in New Town for more affordable vacation rentals, with easy access to shopping centers, supermarkets, and the Key West Golf Club.
Each neighborhood in Key West has its own unique charm and attractions, so choose the one that best suits your preferences and interests.
Things you can do in Key West during the winter:
There are quite a few fun things to do on your vacation in Key West. Winter season makes it easier as the crowds are much fewer.
Visit the Hemingway Home and Museum: This historic home was once owned by Ernest Hemingway, and it's now a museum dedicated to his life and work.
Take a sunset cruise: There's nothing quite like watching the sunset over the Florida Keys. There are many different sunset cruises to choose from, so you can find one that fits your budget and interests.
Go snorkeling or diving: The waters around Key West are home to a variety of coral reefs and marine life. This makes it a great place to go snorkeling or diving. Be sure to make time to hop on the ferry and visit the Dry Tortugas.
Explore the Key West Butterfly and Nature Conservatory: This conservatory is home to over 500 butterflies from all over the world. It's a great place to learn about butterflies and their lifecycle.
Visit the Key West Aquarium: This aquarium is home to over 5,000 marine animals, including sharks, stingrays, and jellyfish. It's a great place to learn about the marine life of the Florida Keys.
Additional tips for booking a Key West winter rental as well as information for Key West's finest locations:
Book your rental in advance, especially if you're traveling during peak season (December-March).
Be flexible with your dates, as you may be able to find better deals if you're willing to travel during the shoulder seasons (November and April).
Compare prices from different rental companies before making a decision.
Read the rental agreement carefully before signing it, so you know what's included and what is NOT included to be sure you stay within your budget.
Key West Vacation Home Rentals By Neighborhood
The following will help you find the perfect Key West home by neighborhood for your winter escape:
Vacation Rentals near Duval Street.
If you want to be where the action is, start your search here: Duval Street Area Vacation Home Rentals The perfect Key West Vacation option where you can choose between a historic Old Town home, a cottage, or a condo. You can even search for homes that allow you to bring your furry friend with you.
Vacation Rentals near Truman Annex
Cottages, vacation homes, condos and more. You can search for the perfect beautiful home for you here: Vacation Rentals near Truman Access
Vacation Rentals near Casa Marina
This tropical oasis offers beautiful homes with easy access to the water. It is a fantastic option any time of year for the person who loves to be outdoors. You can search for the perfect option for you here: Vacation Rentals near Casa Marina
Vacation Rentals Midtown Key West
Prefer easy access to everything? Midtown is your best bet. You can search for the perfect winter rental for you here: Vacation Rentals Midtown
Vacation Rentals New Town Key West
This option is actually quite convenient for all activities and sites. You can search for the perfect vacation rental for you here: Vacation Rentals New Town
Key West Vacation Home Rentals By Type Of Rental
The following will help you find the perfect Key West home by type of rental home:
Prefer a condo? Start your search here: Key West Condos For Rent
Prefer a private home? Start your search here: Key West Homes For Rent By Owner
Really prefer to be in a hotel? These are hotels that offer longer stays: Key West Long Term Hotel Rentals
Whether you want to escape to warm weather or simply conch fritters at your favorite restaurant all month long, Key West is definitely a great way to hide out for a few months from winter.
Below are additional links to help you plan your getaway in a Key West Winter Rental Vacation
Upcoming Trip?
I like to use Booking for booking not only my hotels, but my tickets and rental cars as well. Makes life so much easier with only having to log into one location for my information.
Be sure to grab my travel tips to save you time and money. You'll also be entered into the weekly drawings.
Register here: Get 100 Travel Tips EVERY traveler should know PLUS entered into the weekly drawing.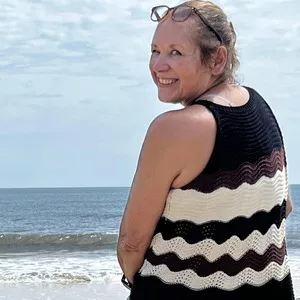 About Denise
Denise Sanger lives a life split between her love for fitness and her passion for travel particularly to the BEACH. Denise also has a love of marketing and lives in beautiful Suwannee County, Florida. You can find out more about Denise here: About Denise