​Best Bars In Key West Where To Go For Happy Hour, Music and Great Cocktails
This article may contain affiliate links. Whenever you buy something through one of these links, I may earn a small commission without any cost to you. I really appreciate it as it supports this site and my family. Thank you!
One thing about Key West is that you will always find a friendly bar pretty much all over the island. Depending on what you are looking for, below is a list of the best bars in Key West and where to go for a good time.
I am breaking these bars down by what they offer but will probably write another post by bar location. I definitely have my favorites and never miss stopping at Sloppy Joe's Bar or Hog's Breath Saloon but in all my visits, I have added several more that are on my best bars.
Best Bars In Key West For Happy Hour
We hit several bars this past trip for happy hour and had a great time at each of them. Many of the bars and restaurants on Duval Street did offer happy hour deals and drinks. Try the bars below on your next trip:
Hard Rock Cafe.  
Located right on Duval Street, this is one of the more famous Key West bars as many people are familiar with the Hard Rock brand. Enjoy specialty drinks, and deals on beer, wine, and more. Happy hour at Hard Rock Cafe is every day of the week from 5 p.m. to 7 p.m.
Thank you for reading this post. Don't forget to subscribe! This way you never miss an update, travel deals, discounts and more!! Subscribe to the right------>
Sunset Tiki Bar
This Tiki Bar is not on Duval, but it is in an area where you are closer to Mallory Square on Front Street. They offer happy hour twice a day. In the morning from 10 a.m. to noon then again in the evening from 5 to 7 p.m. Enjoy happy hour specials on drinks, domestic beer, and their Margaritas!
Salty Frog's Bar & Grill
Also on Front Street. This fun bar offers specials every day on cocktails, beer, wine, and even 1/2 price off appetizers. 
Mary Ellen's Bar
Mary Ellen's Bar is a fun neighborhood bar on Appelrouth Lane right off Duval. They open at 11:30 a.m. and offer Happy Hour Monday – Friday from 4 to 6 p.m. and 5 to 6 p.m. on Thursday. Great place to watch the game. Although I wasn't there when they had this event, they have vibrator races for charity.
Half Shell Raw Bar
Half Shell Raw Bar has been voted the number one raw bar so if you like oysters, this is the place to go. Happy hour is daily from 4:30 to 6:30 p.m. and in addition to cocktail, wine, and beer specials, they also have happy hour specials on fresh seafood. Located on Margaret Street, you can enjoy sitting outside overlooking the water at this open bar. 
22 & Co.
This bar is so much fun! From wearing a tutu to a drag show on Wednesdays, this is the perfect place to let loose. Get all wild and sassy. Happy hour is Wednesday, Thursday, and Friday from 2 to 6 p.m. It is located on Angela Street. 
The Roost.
The Roost delivers for happy hour. It runs until 6 p.m. every day. After that, they offer nightly specials on everything from wine to caviar.  They also offer fun events and are dog-friendly too. Located on Fleming Street.​
Old Town Tavern and Beer Garden.
We hit this one for the first time on our last trip and loved it. One of the best things about this bar is happy hour is twice a day and includes wine, cocktails, beer, and even flatbread to share.
We stayed after happy hour and enjoyed a delicious dinner. Located right on Duval Street.
Schooner Wharf Bar
Schooner Wharf Bar was another fun stop for us. With a full live entertainment schedule and delicious food, this bar was originally located on Schooner Diamanté before moving to its current location on William Street in the historic seaport area.
Special events throughout the year with a great view from the open-air bar. They have two happy hours. The first is 8 a.m. to noon and the second is 5 to 7 p.m. Great food, great drinks, and a lot of fun at this stop. Love conch fritters? Get them here. YUM.
Green Parrot Bar
Green Parrot Bar is another fun stop with live bands located on the southeast corner of Southard Street and Whitehead Street. The history of this bar dates back to the 1890s and is a local favorite.
You KNOW a place is good if it's where the locals go. Stop in for happy hour here Monday through Thursday from 4 to 7 p.m. and Friday from 4 to 5:30 p.m. One of the best places I have stopped in. And free popcorn!
I have many more to add to this list of the best Happy Hour bars so be sure to bookmark this page and come back for the updates before you visit Key West!
Must Visit Bars In Key West
Moving on to the must-visit bars in Key West. In addition to those mentioned above, these are my top picks:
Captain Tony's Saloon
Captain Tony's Saloon is located on Greene Street, this is one fun dive bar. Not sure about you but I prefer dive bars. The bartenders are nice as well as the guests.
Captain Tony Tarracino purchased and built the bar in the 1800s. Definitely one of the top as far as the bar scene. Jimmy Buffett was a regular as is Kenny Chesney.
Capt. Tony hosted Ernest Hemingway, Truman Capote, Jimmy Buffett, Shel Silverstein, John Prine, Tennessee Williams and even John F. Kennedy and Harry Truman have all visited this oldest bar in the Florida Keys.
There is a hanging tree at this bar but what's hanging today from the ceiling are dollar bills, business cards, bras, and a few ahem other things. 
The history alone is enough to make you want to stop in, but it has been said that the spirit of Capt. Tony lingers today.
Fun fact I was told Captain Tony's Saloon was the original location of Sloppy Joe's. This live music venue offers great music every night of the week including local musicians. Absolute one of the best Key West Bars.
Sloppy Joe's
Of course, Sloppy Joe's is on the list! This past visit when we popped in we enjoyed live music as well as a sloppy Joe's sandwich. The first time I had one at the bar with the same name. And it was good!
Sloppy Joe's today is located on Duval at the corner of Green Street. This bar looks exactly the same as my first visit decades ago and is still just as much fun. If you have not popped in, make sure to stop on your next visit. It's a blast.
The Bull & Whistle Bar
Also on Duval is the Bull & Whistle Bar, an open-air bar on the first floor called the Bull. This is a great spot to relax and take a break.
On the second floor is the Whistle Bar. Here you will find a pool table to play a game of pool, dart boards and other games, and a balcony that overlooks Duval Street. Great if you like people-watching. Live music as well.
Tip: On the roof is another bar – the Garden of Eden. It is a clothing optional bar. Sorry but I did not stop in this one.
Durty Harry Key West
Next on the list is Durty Harry's also on Duval. It is referred to as the largest drinking establishment in the Florida Keys.
There are eight bars at this location. Rick's Downstairs is the original main bar where you can enjoy live music.
Durty Harry's is where you can enjoy good music as well as watch the game on one of 15 TVs. The Tree Bar is next on the list where you can pull up a stool at the hand-carved bar.
Rick's Upstairs offers five bars as well as a balcony where you can watch folks walk by on Duval. Looking for a dance floor? You will find it at Rick's Upstairs.​
The Red Garter Saloon is next on the list and is a gentlemen's club. The Crow's Nest is a bit quieter, but you can still see all the action from the balcony.
Mardi Gras Bar is where you can pop in for a nice cold daiquiri. Finally, The Loft is also a quieter bar to sit and relax a bit.
Rum Bar
The Rum Bar sits on the ground floor of the Speakeasy Inn on Duval Street. If you love rum, this is the stop for you. Enjoy tasting rum from around the world at this fun spot.
Little Room Jazz Club
If you prefer live jazz music, this is the place for you. It is located on Duval as well and offers jazz music daily. No full menu but you can get what is referred to as bits on the menu.
Irish Kevin
Irish Kevin's is in Old Key West on Duval. They offer a full bar with 26 beers on tap and live entertainment. Hungry? Good food including a Reuben sandwich, burgers, and more. Enjoy a slice of key lime pie for dessert before you leave.
801 Bourbon Bar
Super fun bar located on Duval Street and featuring a Drag Show. The 801 girls perform drag nightly at 9 and 11. Prefer karaoke? You can do that here too while enjoying rum runners or other tropical cocktails.
Waterfront Brewery
This is where we stopped after our Sunset Cruise. Waterfront Brewery is a craft brewery located at the Historic Key West Bight. Enjoy craft beer along with a sandwich, salad or entrée. Everything we tried was delicious. 
Smokin' Tuna Saloon
Another fun bar with live music, you will find this bar on Charles Street. It is the perfect spot to enjoy a cocktail, beer, or cool drink as well as lunch or dinner.
Smallest Bar
Finishing up this list with the Smallest Bar in Key West. You will find this bar also on Duval Street. We walked by this one, but I had to mention it.
It is 72 square feet and a great place to stop for cheap drinks.
And there are still more! Definitely bookmark this page because I have more to add because there are some great bars in Key West Florida.
A list for Key Largo will be following soon so be sure to check back. The following will help you plan your Key West vacation. 
Upcoming Trip?
I like to use Booking for booking not only my hotels, but my tickets and rental cars as well. Makes life so much easier with only having to log into one location for my information.
Be sure to grab my travel tips to save you time and money. You'll also be entered into the weekly drawings.
Register here: Get 100 Travel Tips EVERY traveler should know PLUS entered into the weekly drawing.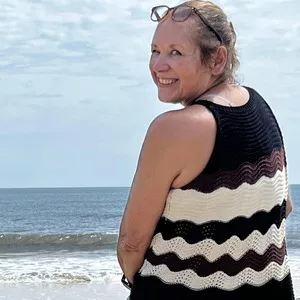 About Denise
Denise Sanger lives a life split between her love for fitness and her passion for travel particularly to the BEACH. Denise also has a love of marketing and lives in beautiful Suwannee County, Florida. You can find out more about Denise here: About Denise