This article may contain affiliate links. Whenever you buy something through one of these links, I may earn a small commission without any cost to you. I really appreciate it as it supports this site and my family. Thank you!
Key West, Florida. The Florida Keys is a tropical paradise or heaven on Earth as I refer to it but how are the beaches. What are the best beaches in Key West? Is the water clear?
This article is all about the beaches in Key West and will answer all your questions. There really are not a lot to choose from but several of them are quite beautiful.
Best Beaches In Key West To Visit
The beaches listed below are in no specific order. I do want to mention that depending on the time of year and the weather, the water and the beaches change.
Don't have time to read the whole article? Get information on the top sightseeing tours here: Best Sightseeing Tours In Key West
Thank you for reading this post. Don't forget to subscribe! This way you never miss an update, travel deals, discounts and more!! Subscribe to the right------>
On my last visit, we were on the beaches right after a hurricane. There was stinky seaweed on the beaches themselves as well as floating in the water.
Hurricanes also churn up the waves and may cause rip currents. Please keep that in mind if you visit any Florida beach or elsewhere that a hurricane may hit.
Below are my top picks for beaches to visit while in Key West.
Smathers Beach
Smathers Beach was literally across the road and up about 1/4 mile from the hotel we stayed at. I will not mention this hotel because I would not refer it to anyone for a stay.
The water was clear and there were tractors and other equipment out cleaning up the seaweed. Once the seaweed was clear, the beach is very pretty.
Smathers Beach is one of the largest beaches in Key West. It is not very wide but plenty of room to spread out.
You can walk quite a way on the beach as well as enjoy water sports. There is a rental area on the beach as well as restrooms.
My sister-n-law found a very nice conch shell while we were walking along the shore. Definitely stop at this beach.
Fort Zachary Taylor Beach
I really loved Fort Zachary Taylor Beach. We actually explored the Fort first before venturing over to the beach area.
In addition to the fort, there are hiking trails throughout this beautiful Florida State Park. The beach itself has clear water which makes it a great beach for swimming and snorkeling.
There also are picnic tables near the beach as well as trails you can follow and explore. This beach is more secluded, but it was also fairly busy the day we visited.
Higgs Beach
Higgs Beach is a nice beach that is family-friendly as well. It includes a playground, picnic areas, and a pier that you are able to walk out and see farther into the Gulf of Mexico.
Nice calm waters which makes it great for swimming. There is also the Key West AIDS Memorial located nearby the pier that you may want to stop at while there.
A dog park is across the road as well. Great beach to spend the day.
South Beach
South Beach is a hidden gem you will want to include in your beach visit list. You will find this beach in Old Town Key West.
It is a small beach but very pretty. Even better? It is very close to restaurants and bars making it a great beach to spend the day relaxing.
Bahia Honda State Park
I really loved this beach even with stinky seaweed. There are so many things you can do in this Sunshine State park.
From chilling on the beach to water sports, camping, hiking and other activities, Bahia Honda State Park delivers. We did find the beach to the left when you turn into the park, the nicer beach but be sure to stop on both sides.
Dog Beach
Have your fur family member with you? Dog Beach is the place to go.
This is a designated dog-friendly beach. Dogs can run off-leash and play in the shallow waters.
Please keep an eye on your puppy though because I did catch a glimpse of a dog drinking the salt water which is a no-no and will make them quite ill.
Rest Beach
Prefer less crowded beaches? Rest Beach is the best option for you.
Relax. Watch the waves. Read a book. This little beach is a great choice to unwind.
Casa Marina Beach
This beach is at the absolutely gorgeous Casa Marina Resort. We did not stop though because it is undergoing renovation.
If you are looking for a luxurious resort, however, this is the one. It's beautiful, but I do not believe it is a public beach.
Dry Tortugas National Park
I have saved the best for last. Dry Tortugas National Park. Even though it is not on the island of Key West it was the highlight of my trip.
We took the ferry over and spent the day exploring Fort Jefferson, snorkeling along the moat wall and simply enjoyed relaxing.
Definitely one to put on your list when in Key West. Read more here: Best And Cheapest Way To Get To Dry Tortugas National Park
There you have it. Whether you're looking for quiet, water activities or a family-friendly beach to relax and soak up the sun, Key West has a beach for you.
The following will help you plan your Key West getaway.
Upcoming Trip?
I like to use Booking for booking not only my hotels, but my tickets and rental cars as well. Makes life so much easier with only having to log into one location for my information.
Be sure to grab my travel tips to save you time and money. You'll also be entered into the weekly drawings.
Register here: Get 100 Travel Tips EVERY traveler should know PLUS entered into the weekly drawing.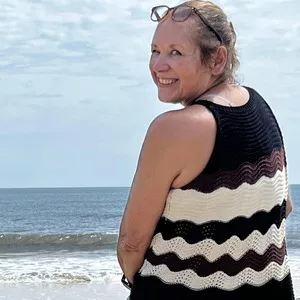 About Denise
Denise Sanger lives a life split between her love for fitness and her passion for travel particularly to the BEACH. Denise also has a love of marketing and lives in beautiful Suwannee County, Florida. You can find out more about Denise here: About Denise