Best Single Travel Tours in Florida for Women Over 50
This article may contain affiliate links. Whenever you buy something through one of these links, I may earn a small commission without any cost to you. I really appreciate it as it supports this site and my family. Thank you!
Are you thinking about ticking a few things off your buckets list but do not want to travel alone? This article is for you. Below we go into detail about the best single travel tours in Florida for women over 50.
Solo travelers are increasing in numbers, especially female travelers. When you are over 50, you generally have a bit more time than you did raising a family or working on your career. This makes it a good time to plan and enjoy those adventures.
There are several fantastic destinations both within and outside the United States that are perfect for dipping your toes into solo travel. Before we touch on travel, tourist attractions, travel groups, and even overseas adventure travel, let's talk safety.
Safety Tips for Single Travelers
Traveling solo is a great way to see the world, but you must be aware at all times. Enjoying a new destination or solo adventure can be exciting. These tips will help you enjoy this beautiful world we live in one great place at a time:
Thank you for reading this post. Don't forget to subscribe! This way you never miss an update, travel deals, discounts and more!! Subscribe to the right------>
Research your destination thoroughly.
Before you go anywhere, it's important to thoroughly research your destination inside and out. Become familiar with local laws, customs, and cultural norms. This will help you to be respectful and aware of any risks.​
An example is one my daughter just experienced in Costa Rica on a business trip. Their sewer systems cannot handle a lot of waste.
In the restrooms, you will find a wastebasket next to the toilet. You are to dispose of toilet tissue that you have only used when you urinate in that basket. Not exactly what we are used to doing in the USA. 
Next the safety of the area, including crime rates and any specific safety concerns for women travelers. Additionally, be sure to research transportation options, healthcare facilities as well as nearest hospital. Make sure your emergency contacts are up-to-date.
Share your itinerary with someone you trust.
Make sure someone knows where you are at all times. One of the most important safety tips for solo travel, especially for women over 50, is to share your itinerary with someone you trust.
Whether you choose a family member, friend, or even a neighbor make sure someone is aware of where you are. Give them details of your travel plans, including your flight information, accommodation details, car rentals, taxis, or Uber as well as any activities you have planned.
In case of an emergency or if you suddenly become unreachable, this person will know where you are supposed to be and can alert authorities if necessary.
Be sure to check in with this person regularly throughout your trip. Let them know you are safe and update them on any changes to your plans. 
By having someone who knows your whereabouts, you can have peace of mind knowing that someone is looking out for your safety.
Pack light and stay organized.
When traveling solo, especially as a woman over 50, it's important to pack light and stay organized. I have gotten so good at this that I only have a carry-on bag for most trips.
Traveling light makes it easier to get through airports and train stations. It also reduces the risk of losing or misplacing your belongings.
Start by making a list of essential items you'll need for your trip. My travel planner will help you get organized. Get it here: Travel Planner And Journal
Opt for versatile clothing pieces that you can mix and match. Next, choose lightweight and wrinkle-resistant fabrics like tees and leggings or travel pants.
Invest in a good quality travel backpack or suitcase. Check to be sure it has plenty of compartments and pockets to keep you organized.
Finally, only pack what you TRULY need. Be sure to leave room for any souvenirs!
Stay in reputable Hotel Or Vacation Rental Accommodations.
Peace of mind is way more important than cheap when you are alone. Traveling solo, especially as a woman over 50, it's crucial to prioritize your safety and choose reputable accommodations.
Research and book your accommodations in advance. Check reviews as well as their reputation for safety.
Look for accommodations that have security measures in place, such as 24-hour front desk service.
Also, check reviews and Better Business Bureau complaints. They will provide information to help you choose wisely. 
Well-lit entrances and hallways, and secure locks on doors and windows. Choose accommodations that are located in safe and well-populated areas, preferably near public transportation or major tourist attractions.
Trust your gut.
I have been drilling this into my daughters since before they could walk. You know when something is not right. Listen to that feeling especially when traveling solo.
Trust your instincts and always be aware of your surroundings. If something feels off or unsafe, listen to your gut and remove yourself from the situation.
Pay attention to the people around you and any potential red flags. Do not walk alone at night in unfamiliar or unsafe areas. And again always let someone know where you are going and when you expect to return.
Best Single Travel Tours In Florida For Women Over 50
Now that we have the safety concerns covered, where should we go? There are many fantastic destinations to choose from including the United States and throughout North America.
I will update additional locations in future posts including North Carolina, South Carolina, Santa Fe, New Mexico, California including Santa Barbara, San Francisco, and San Diego.
Also, to follow will be info on Las Vegas as well as New Orleans. In all of these locations, I have traveled alone and had a great time.
​For this article, we are going to focus on Florida where I currently live. I am comfortable traveling throughout the state by myself and you can be too.
Sometimes choosing a less popular destination can make all the difference. From national parks to historic sites, these are my top picks for solo travel destinations in Florida for women:
Single Travel Tours in Florida for Women Over 50 Historic St. Augustine
St. Augustine is the perfect place to travel solo especially if you are a history buff. I myself have been many times and have always felt safe.
The best way to enjoy this city when visiting for the first time is to book with the trolley tour operators. My favorite is St. Augustine Hop-On Hop-Off Trolley Tour.
You can get additional information here: St. Augustine Trolley Tour and also for the Haunted Trolley Tour here: Haunted Trolley Tour
The tour guides are so knowledgeable, and you will learn things you wouldn't on your own. The best thing is that you hop on and off as you'd like. My must-see stops include:
Castillo de San Marcos
Historic District St. George Shopping District
Fountain of Youth
St. Augustine Lighthouse & Maritime Museum, Inc
St. Augustine Alligator Farm Zoological Park
Check out all the fantastic tour options here: St. Augustine Tour Companies
Single Travel Tours in Florida for Women Over 50 Florida Keys
I absolutely love the Florida Keys. It reminds me of fun beach, small towns with plenty of outdoor activities to enjoy.
Whether it is Key Largo, Islamorada, Marathon, or Key West, you can bet you will have a fantastic time in the Florida Keys. You can choose group travel with a tour company or opt to explore at your own pace.
If this is your first time, and you are able to travel by car or able to afford a rental car after arriving in Miami, I recommend doing so. This is the ideal destination to meander and enjoy.
At the top of the Keys is Key Largo and one of the best things on this island? Key Lime Pie but also the local people are so friendly. Key Largo is easy to access from South Florida.
It is also considered to be the safest key because of how close it is to the mainland. That provides you with easy access if you need to get off the island. These are the top tours I recommend in Key Largo: Key Largo Small Group Tours
The middle Keys include Marathon and Big Pine Key but also a lot of little keys that you need a boat or ferry to get to.
This area is fantastic for those that prefer a higher activity level with water sports and fun new things to try including snorkeling and diving. This is the number one activity I recommend in Marathon: Marathon Key: 3-hour Snorkeling adventure on a Pontoon at Sombrero Reef 
Next is party central Key West. Key West is such a fun town, and you will never run out of things to do. Whether you prefer to stroll at a leisurely pace or enjoy new foods and cocktails, you will find it here.
This is the farthest south Key and the tip is the Southernmost Point of the USA. Be sure to hit Duval Street, Hemingway House, and number one take a ferry over to Dry Tortugas National Park. You can get info here: Key West Ferry To Dry Tortugas
South Florida
There are a few destinations in South Florida, but I would be very careful where you travel. South Beach is fun and more upscale than nearby Hollywood Beach or Lauderdale-By-The-Sea. But keep in mind it is always much more crowded.
The best time to visit South Florida including Miami Beach, when it is not busy, would be during the summer months. Many avoid this area during summer as it is quite hot and humid. You will still have plenty of fun things to do and see.
Check availability and prices here: Miami Beach Hotels
Best Single Travel Tours In Florida For Women Over 50 Amelia Island
About an hour north of Jacksonville Airport, lies Amelia Island. Another one of my favorites for many reasons and is perfect for solo travel trips.
The good news is it is also one of the safest places to explore on your own. Enjoy pristine beaches, historic downtown Fernandina Beach, history at Fort Clinch State Park, and much more.
Not quite as walking-friendly as other destinations but if you have a car or rent one you'll be good to go. I recommend staying at one of the boutique hotels or a vacation rental.
It's the little things that count when it comes to a fun vacation and Amelia Island delivers those little things. Check availability for Vacation Rentals here: Amelia Island Vacation Rentals
There are a few other destinations also in Florida I would recommend including Sanibel Island, Clearwater Beach, and Fort Walton Beach. These are all a bit slower pace allowing you to unwind and relax.
These links will help you plan your next getaway whether you choose to go in a group of people or on your first solo trip:
Upcoming Trip?
I like to use Booking for booking not only my hotels, but my tickets and rental cars as well. Makes life so much easier with only having to log into one location for my information.
Be sure to grab my travel tips to save you time and money. You'll also be entered into the weekly drawings.
Register here: Get 100 Travel Tips EVERY traveler should know PLUS entered into the weekly drawing.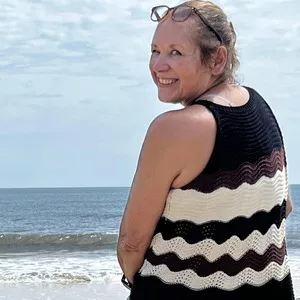 About Denise
Denise Sanger lives a life split between her love for fitness and her passion for travel particularly to the BEACH. Denise also has a love of marketing and lives in beautiful Suwannee County, Florida. You can find out more about Denise here: About Denise