How to make a Dirty Banana Beach Cocktail
This article may contain affiliate links. Whenever you buy something through one of these links, I may earn a small commission without any cost to you. I really appreciate it as it supports this site and my family. Thank you!
My number one pick when on a beach vacation is a Bushwhacker, but the Dirty Banana Cocktail is a close second. A dirty banana drink is a refreshing and delicious alcohol milkshake that is perfect for summer.
The Dirty Banana Cocktail is a drink that was created in the Caribbean. It was originally made with banana liquor, dark rum, and cream of coconut.
It is also a favorite among visitors to Sandals Resorts including Sandals Resort Jamaica where I first heard of this delicious concoction.
Many people confuse the Dirty Banana with the Dirty Monkey cocktail. A Dirty Monkey Cocktail is made with vodka, coffee liqueur, and banana liqueur. Whereas a Dirty Banana Cocktail is made with rum, banana liquor, and Kahlua.
Thank you for reading this post. Don't forget to subscribe! This way you never miss an update, travel deals, discounts and more!! Subscribe to the right------>
This delicious cocktail made with rum (I like spiced rum) is a fun twist on the classic banana daiquiri. To make this Tiki Bar Dirty Banana recipe favorite you will need the following
Dirty Banana Beach Cocktail Ingredients:
1 oz. rum
1 oz. banana liqueur (I like this one 99 Bananas)
1 oz. Kahlua
1 banana
Ice cubes
Dirty Banana Beach Cocktail Directions:
Add all ingredients except for the banana into a blender.
Blend until smooth.
Pour mixture into a hurricane glass.
Slice the banana on a bias and use as a garnish.
Serve immediately.
Banana liquor is an alcoholic beverage that is made with bananas. It can be made with either ripe or green bananas. The alcohol content of banana liquor ranges from 15% to 40%.
There are a few things to keep in mind when making a dirty banana cocktail. First, be sure to use ripe bananas for the best flavor. Second, use ice cubes to help thicken the drink and make it icy. Third, garnish with a fresh banana slice for a beautiful presentation.
Now that you have the ingredients to make a Dirty Banana Frozen Cocktail, give it a try. This delicious drink is sure to be a hit at your next party or gathering. You won't be disappointed. Promise.
Get the recipe for my number one favorite frozen Beach Cocktail here: Bushwhacker
Upcoming Trip?
I like to use Booking for booking not only my hotels, but my tickets and rental cars as well. Makes life so much easier with only having to log into one location for my information.
Be sure to grab my travel tips to save you time and money. You'll also be entered into the weekly drawings.
Register here: Get 100 Travel Tips EVERY traveler should know PLUS entered into the weekly drawing.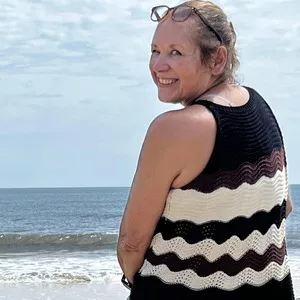 About Denise
Denise Sanger lives a life split between her love for fitness and her passion for travel particularly to the BEACH. Denise also has a love of marketing and lives in beautiful Suwannee County, Florida. You can find out more about Denise here: About Denise