Explore The Underwater World. Guide To Snorkeling Biscayne Bay Miami
This article may contain affiliate links. Whenever you buy something through one of these links, I may earn a small commission without any cost to you. I really appreciate it as it supports this site and my family. Thank you!
Snorkeling Biscayne Bay Miami is a snorkeler's paradise with its crystal-clear waters, colorful marine life, and fascinating underwater landscapes.
This area is definitely one of my favorites and John Pennekamp State Park was the first place I snorkeled in Florida.
With easy access to some of the most captivating snorkeling spots in Florida, locals and visitors alike can enjoy the unparalleled beauty of this tropical destination. 
The following guide to snorkeling Biscayne Bay Miami will provide essential information for both beginners and seasoned snorkelers looking to explore this exquisite underwater world.
Thank you for reading this post. Don't forget to subscribe! This way you never miss an update, travel deals, discounts and more!! Subscribe to the right------>
This part of the Continental United States definitely offers some of the best places for snorkeling. The bay is home to an array of spectacular sites for snorkeling enthusiasts, including coral reefs teeming with diverse marine life and sunken shipwrecks waiting to be discovered.
Snorkelers can marvel at the vibrant colors of coral and sponges, swim alongside sea turtles and schools of fish, and observe other fascinating marine creatures in their natural habitats.
When planning a snorkeling adventure in Biscayne Bay, it's crucial to consider factors such as water visibility, weather conditions, and safety precautions.
Choosing the right equipment and tour operators is essential for an enjoyable and unforgettable experience. 
Also check on the best time to snorkel. Snorkeling is best at low tide if you are snorkeling off the shore. If you are taking a snorkel boat tour, your private tour guide will take you to the best area for the conditions that day.
The guide below will help you make the most of your snorkeling journey and truly appreciate the breathtaking beauty of Biscayne Bay, Miami.
Where Is Biscayne Bay?
Biscayne Bay is a shallow estuary situated along the southeastern coast of Florida, in the United States. It stretches approximately 35 miles from north to south and covers an area of roughly 428 square miles.
The bay separates the mainland of Dade County from the barrier islands of Miami Beach and Key Biscayne.
The bay's northern boundary is defined by the Port of Miami and the Miami River, while its southern boundary stretches down to the northern tip of the Florida Keys. 
Biscayne Bay is known for its stunning turquoise waters, vibrant coral reefs, and diverse marine life, attracting many tourists and snorkeling enthusiasts every year.
To access Biscayne Bay, visitors can find numerous access points and possibly a nearby parking lot at one of these locations:
Crandon Park on Key Biscayne
Matheson Hammock Park
Oleta River State Park
These parks offer facilities such as restrooms, showers, picnic areas, and boat ramps, which make them ideal starting points for a snorkeling Biscayne Bay Miami.  
Additionally, several snorkeling tour operators operate out of the nearby marinas, providing guided tours and equipment rental to help visitors explore the underwater wonders of the bay.
How To Get To Biscayne Bay
Biscayne Bay is easily accessible from various points in Miami. There are multiple options for visitors to reach this popular snorkeling destination.
By Car
For those traveling by car, the best way to get to Biscayne Bay is only a short drive away from downtown Miami. Take the I-95 Highway, and exit at Key Biscayne (Exit 1A).
Continue on the Rickenbacker Causeway until you reach the Bay Area. There are multiple parking options near the popular snorkeling spots, including:
Crandon Park
Bill Baggs Cape Florida State Park
Matheson Hammock Park
By Plane
Miami International Airport is the closest airport to Biscayne Bay. Other options include Fort Lauderdale International Airport.
Guided Tours and Boat Rentals
For those interested in guided snorkeling tours or renting a boat, several operators are available in the Miami area. They offer various packages to explore Biscayne Bay, including snorkeling gear and experienced guides.
Some popular options to consider for your boat trip include:
Biscayne National Park Institute
Snorkel Tours Out of Miami
By choosing one of these options, visitors can ensure they have an enjoyable and well-organized snorkeling experience at Biscayne Bay.
I have listed information below on snorkel tours.
Biscayne National Park Institute, National Park Service
Biscayne National Park Institute, managed by the National Park Service, offers a variety of experiences for visitors to enjoy the beauty and unique underwater world of Biscayne Bay National Park.
There is another national park located in South Florida but you definitely do not want to snorkel there! If you have time be sure to visit Everglades National Park.
You may not be able to snorkel in the Everglades like Biscayne National Park Snorkeling, but you can take a boat tour, kayak, hike, camp and more.
It is definitely worth making time to visit. Watch for alligators and other wildlife that calls this beautiful park home.
If you have never visited any of the National Parks in South Florida, park rangers are available to answer any questions you may have.
Dante Fascell Visitor Center
The Dante Fascell Visitor Center serves as the gateway to the park, providing information, exhibits, and educational programs.
It is a great starting point for first-time visitors to learn more about the park's rich history and ecosystems.
Hours: Open daily from 9:00 am to 5:00 pm
Amenities: Restrooms, picnic area, and bookstore
Key Biscayne
Located in the northernmost section of the Florida Keys, Key Biscayne, the largest island in Biscayne Bay, offers pristine beaches, a lighthouse, and plenty of opportunities for snorkeling and water sports.
Visitors can explore the island's natural beauty on guided tours or by renting kayaks and paddleboards as you get ready for snorkeling Biscayne Bay Miami.
Watch for protected areas while enjoying any water activities. You may not realize it is a protected area until you are close to areas designated as such by the State of Florida.
Elliott Key
Elliott Key, the park's largest island, is known for its lush vegetation, hiking trails, and clear shallow waters.
One of the best things about this key is snorkelers can explore the vibrant coral reefs surrounding the key, and campers can stay overnight at the primitive campgrounds at Elliot Key.
First come, first served on campsites.
Amenities: Picnic area, restrooms, and campsites
Boca Chita Key
Boca Chita Key is a small, picturesque island with a historic lighthouse, white sandy beaches, and crystal-clear waters.
It is the perfect place for a day trip, visitors can enjoy picnicking, swimming, and snorkeling.
Access: Accessible by boat only
Amenities: Picnic area, picnic tables and restrooms
Adams Key
Adams Key is a day-use island ideal for picnicking, relaxing, and exploring the surrounding mangroves.
Visitors can enjoy bird-watching, fishing, and short hiking trails.
Access: Accessible by boat only
Amenities: Picnic area and restrooms
Jones Lagoon
Jones Lagoon is a shallow, sheltered body of water, teeming with marine life. Known for its unique underwater scenery, it is a popular spot for snorkeling, kayaking, and paddleboarding.
Maritime Heritage Trail
The Maritime Heritage Trail offers snorkelers the opportunity to explore historic shipwrecks and underwater archaeological sites.
Visitors can learn about the park's maritime history while experiencing its vibrant marine ecosystem.
Remember, always use caution and respect the park's rules and regulations to protect this precious natural resource.
Why You Should Consider A Snorkel Tour
A tour guide for snorkeling Biscayne Bay Miami offers numerous benefits for both experienced snorkelers and beginners alike.
One of the main reasons to consider a snorkel tour is the opportunity to explore the vibrant marine life within the bay. 
From colorful fish to stunning coral reefs, snorkelers can immerse themselves in an underwater paradise.
Furthermore, guided snorkel tours provide a level of safety and convenience that solo snorkeling may lack.
Tour operators are knowledgeable about the best sites and conditions for snorkeling in Biscayne Bay, ensuring a pleasant and memorable experience for participants. 
Additionally, they provide essential snorkeling equipment, such as masks, fins, and snorkels, as well as on-site guidance and assistance when needed.
Another advantage of joining a snorkel tour is the opportunity to learn more about Miami's rich marine ecosystem.
Guided tours often include informative talks and demonstrations from knowledgeable guides, who can offer insights into the local marine life and the importance of ocean conservation. 
This educational aspect can greatly enhance the overall snorkeling experience.
Lastly, snorkel tours encourage social interaction, connecting like-minded individuals who share a passion for the underwater world.
Participants can make new friends and even form lasting bonds as they experience the wonders of Biscayne Bay together.
Taking part in a fun tour when snorkeling Biscayne Bay Miami is an excellent decision for anyone looking to explore the bay's marine life. This provides many benefits including safety, convenience, and education provided by experienced tour operators. 
Not to mention, it offers a fantastic opportunity for socializing. You may find your new snorkeling buddy this way.
What You Might See While Snorkeling
Marine Life
Biscayne Bay is home to a diverse array of marine life. Snorkelers can expect to encounter a variety of colorful fish species, such as parrot fish, angelfish, and sergeant majors. 
Additionally, the bay is a habitat for several types of coral, including brain coral, elkhorn coral, and staghorn coral.
Other marine creatures you may spot include:
Sea turtles
Spiny lobsters
Moray eels
Sea fans
Sea stars
Anemones
Not only will snorkelers be able to appreciate the beauty of these underwater creatures, but they can also learn about their importance in maintaining a healthy marine ecosystem.
Story of the Mandalay Shipwreck
One of the highlights of snorkeling in Biscayne Bay is the opportunity to explore the Mandalay shipwreck. The Mandalay was a 112-foot-long sailing vessel that sank in 1966 during a fierce storm.
Located in approximately 16 feet of water, the wreck site is accessible and suitable for divers as well as snorkelers.
The Mandalay's remains still hold remnants of its former glory, with its mast, deck, and parts of the hull offering a unique and engaging snorkeling experience.
The shipwreck has become an artificial reef, attracting a wide range of marine life and creating a vibrant underwater scene for snorkelers to enjoy.
Other Nearby Snorkeling Destinations
Key Largo
Key Largo is a popular destination for snorkelers due to its clear waters and abundant marine life. The area offers several snorkeling sites, including Molasses Reef and Grecian Rocks.
These locations provide excellent opportunities to see a variety of fish, coral, and even sea turtles. Snorkeling tours are available for those looking to explore these beautiful underwater landscapes.
John Pennekamp State Park
Located in Key Largo, John Pennekamp Coral Reef State Park is the first underwater park in the United States. The park boasts a diverse range of snorkeling sites, from shallow seagrass beds to the renowned Christ of the Abyss statue.
Snorkelers can expect to see a wide variety of marine life in the crystal clear waters that surround the beautiful coral reefs in this area. You will need to take a boat ride from the park to reach the reef.
From the park, the reefs are three to five miles off shore. They include White Banks Dry Rocks, Grecian Rocks, Banana Reef, Garret's Reef/Cannon Patch, and Key Largo Dry Rocks.
Keep in mind, the reef is a protect area. Please do not step or touch the soft corals that feed the marine life including:
Colorful coral
Tropical fish
Spiny lobster
Barracuda
If you have not snorkeled previously, it is a very good idea to take a guided tour. Guided snorkeling trips can help visitors experience the best the park has to offer. Your tour guide will be able to help you.
There is an entrance fee to enter the park. The water is warmer during the summer months. Keep in mind during the school year, may schools book full-day trips to this park to snorkel and kayak the mangrove forests.
West Palm Beach
West Palm Beach is home to several offshore reefs, providing ample snorkeling opportunities.
Popular sites include Breakers Reef and Flower Garden, where snorkelers can spot vibrant coral and marine life.
The Blue Heron Bridge is another popular snorkeling destination, loved by locals and visitors alike for its:
Shallow, calm waters
Unique marine species
Easy accessibility
Pompano Beach
Pompano Beach offers a range of snorkeling experiences, from reef snorkeling to exploring shipwrecks.
The SS Copenhagen, a 19th-century shipwreck, is one of the area's fascinating underwater attractions.
The Vista Park Reef is another popular spot, teeming with a variety of fish and coral.
Peanut Island
Accessible only by boat, Peanut Island is a snorkeling hotspot in Palm Beach County. The island's man-made lagoon provides a safe and sheltered snorkeling spot to see numerous fish species, including:
Angelfish
Parrotfish
Sergeant majors
Pufferfish
Dry Tortugas National Park
Located off the coast of Key West, is another national park you will want to be sure to visit. Dry Tortugas National Park.
Many folks think the Dry Tortugas are in the Atlantic Ocean, but there are not. They are actually located in the Gulf of Mexico and offers some of the best snorkeling spots in the world.
Shallow waters and direct access from the sandy beach, makes this a great place for beginners. The island is a great destination for a day of snorkeling, picnicking, and enjoying nature.
Keep in mind, this will be a full-day tour with the time needed to ferry from Key West to the Dry Tortugas.
Other Popular Activities In Southern Florida
Scuba Diving
Southern Florida offers several spectacular scuba diving destinations. Divers can explore vibrant coral reefs, marine life, and fascinating shipwrecks.
One popular spot is John Pennekamp Coral Reef State Park in Key Largo, where scuba divers can see the famous Christ of the Abyss statue.
Boating
Have your own boat? This is a very fun area to spend the day on the water. Always keep an eye on sea conditions.
The Atlantic Ocean may be deep, but Biscayne Bay is more shallow and tends to whip up quickly. This Cleveland girl watched shallow Lake Erie turn from looking like glass to choppy waves in the blink of an eye.
Jet Skiing
For thrill-seekers, jet skiing is an exciting way to enjoy the warm waters of Southern Florida.
Several rental companies offer guided tours, allowing visitors to explore hidden islands, spot dolphins, and view the stunning coastline while zipping along on a jet ski.
Paddle Boarding
Paddle boarding is a peaceful and enjoyable way to experience the unique ecosystem of Southern Florida. Tourists can rent paddle boards at various locations or join guided excursions.
Paddleboarding through mangrove tunnels and shallow waters offers a unique perspective of the natural beauty surrounding the region.
Kayaking
Kayaking is another popular water activity in Southern Florida. Renting a kayak allows visitors to navigate the calm waters, explore small islands, and observe a variety of wildlife, including manatees and dolphins.
Guided tours teach participants about the area's rich history and marine life, while experienced kayakers can venture out on their own to discover secluded spots.
Hiking
You will find a hiking trail to explore in all of these parks located in the State of Florida. The best thing? No extra cost once you are inside the park. 
Upcoming Trip?
I like to use Booking for booking not only my hotels, but my tickets and rental cars as well. Makes life so much easier with only having to log into one location for my information.
Be sure to grab my travel tips to save you time and money. You'll also be entered into the weekly drawings.
Register here: Get 100 Travel Tips EVERY traveler should know PLUS entered into the weekly drawing.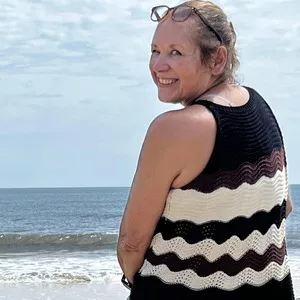 About Denise
Denise Sanger lives a life split between her love for fitness and her passion for travel particularly to the BEACH. Denise also has a love of marketing and lives in beautiful Suwannee County, Florida. You can find out more about Denise here: About Denise