Best Places to See Flamingos in Florida: Top Locations for Birdwatchers
This article may contain affiliate links. Whenever you buy something through one of these links, I may earn a small commission without any cost to you. I really appreciate it as it supports this site and my family. Thank you!
The Sunshine State is renowned for its sunshine, beaches and Mickey Mouse. It also offers some of the best places to see flamingos in Florida as well as the United States.
Not sure about you but I love this pink bird. Anytime I catch a glimpse of one, I instantly smile.
You might associate these vibrant birds with more exotic destinations. Florida is actually home to several spots where pink flamingos can be observed in their natural habitat or in carefully curated sanctuaries and wildlife preserves.
The natural habitats of this bright pink bird, are large alkaline or saline lakes or estuaries and lagoons that usually lack vegetation. You will often see them in mangroves and swamps.
Thank you for reading this post. Don't forget to subscribe! This way you never miss an update, travel deals, discounts and more!! Subscribe to the right------>
One of the best places to see flamingos in Florida is the Everglades National Park. This is a sprawling, protected wilderness that serves as a sanctuary to countless species including large flocks of flamingos. 
Here, visitors have the chance to spot wild American Flamingos wading through the park's shallow waters, a truly unforgettable experience.
Another one on the list of best places to see flamingos in Florida and prime location is Hialeah Park. This park with its lush, idyllic setting draws the attention of both local and migratory flamingos alike.
For those who prefer a more controlled environment or wish to learn more about these iconic birds, the Flamingo Gardens in Davie is an excellent choice.
I have visited many times including take my daughter's girls scout troops on a tour of this zoological garden in Broward County.
This wildlife sanctuary and botanical garden provides a safe haven for injured or non-releasable flamingos and features informative exhibits to educate visitors about the bird's unique characteristics and behavior.
Whether you're a nature enthusiast or simply want to experience the beauty of these fascinating creatures up close, the Sunshine State offers quite a few great places to see Florida flamingos.
At the bottom of this article, I have included links for nearby destinations and other animal attractions in Florida you might want to visit also. But first, let's learn about flamingos.
Fun Facts About Flamingos
Flamingos are fascinating birds and can often be seen in various locations throughout Florida. These elegant creatures are known for their distinct pink color, which is a result of their diet rich in crustaceans.
They are also known for standing on one leg for what seems like hours.
Species: Florida is home to the colorful Caribbean flamingo. It is most commonly found in the wild along the southern coastlines of the state.
Height: These tall birds can reach up to 4.6 feet in height, making them one of the most easily recognizable wild animals in the area.
Diet: Their unique feeding habits contribute significantly to their distinctive appearance. Flamingos primarily feed on crustaceans and other organisms found in shallow water. These organisms are collectively known as conchy.
Coloration: The pink color of flamingos comes from the presence of carotenoids – natural pigments found in the algae and crustaceans they consume.
In addition to their attractive appearance, flamingos have remarkable behaviors and adaptations:
Social: Flamingos are very social birds, often living in large colonies called flamboyances. These gatherings can sometimes consist of thousands of birds.
One-legged stance: It's not uncommon to see flamingos standing on one leg, which helps them conserve energy and maintain a constant body temperature.
Miami Vice. One of the most popular and memorable shows of South Florida was Miami Vice. In the opening credits, there are flamingos in the shows theme and logo.
Flamingos are a symbol of Florida's diverse wildlife and offer a unique sightseeing opportunity for nature enthusiasts.
Wild Flamingos
A zoo isn't the only place you can see these long-legged pink birds. There are several destinations to see flamingos as well as many other different species of birds. 
Best places to see flamingos in Florida
Everglades National Park
The Everglades National Park is home to a diverse range of wildlife, including alligators, crocodiles, panthers, and many migratory bird species.
One such species is the beautiful flamingo. These wild flamingos can be spotted in areas of the park such as Snake Bight and Florida Bay, wading in the shallow waters.
The best time of year to see these beautiful birds with the long legs is from spring through summer. Flamingos prefer the warmer temps.
​Flamingo Gardens
Briefly mentioned above, Flamingo Gardens is absolutely one of the best places to see flamingos in Florida.
It is also one of my favorite places to spend the day as it is also the oldest botanical gardens in South Florida.  
Enjoy visiting Flamingo Pond where you see and feed real birds up close.
Kids love Flamingo Gardens. In addition to the flamingos, alligators, river otters, 25000 square foot aviary featuring many rare birds as well as a black bear habitat all wait to be explored.
Flamingo Gardens is located in Davie, Florida.
Bonita Springs
Everglades Wonder Gardens in Bonita Springs is home to a number of bird species, including flamingos.
Visitors can explore the gardens and observe the birds while enjoying the natural surroundings.
Sarasota Jungle Gardens
Sarasota Jungle Gardens is a popular wildlife park in Florida that is home to a variety of animals, including flamingos.
The park's flamingos are a popular attraction and visitors can observe them up close as they wade through the water and interact with each other.
The park also offers educational programs and guided tours that provide visitors with a deeper understanding of these fascinating birds and their behavior.
Florida Keys
The Florida Keys, a chain of islands in the southeast United States, provide the perfect habitat for flamingos.
Key West Butterfly & Nature Conservatory is a must-visit destination for flamingo enthusiasts, especially in the month of April when the flamingos' presence is more prominent.
Zoo Miami
Zoo Miami offers visitors the chance to see flamingos up close in its bird gardens. This wildlife sanctuary has a dedicated area for flamingos, which makes it an ideal place to observe them.
Jungle Island
Jungle Island located at 1111 Parrot Jungle Trail in Miami, is a fantastic place to see and interact with American Flamingos.
Enjoy feeding this striking bird as well as other animals throughout the park.
Palm Beach Zoo
Similarly, the Palm Beach Zoo located in West Palm Beach, also houses a bird garden where you can find flamingos alongside other native and migratory birds.
This Palm Beach County destination offers you the opportunity to get up close and personal with American and Chilean flamingos.
There is also the flamingo walk where you can interact with the flamingo population that resides at this zoo. Be sure to hit the gift shop on your way out and take a flamingo home with you.
Hialeah Race Track
Hialeah Park Casino, located within the Hialeah Race Track, is another great place to spot flamingos in Florida.
When I still lived in South Florida, this racetrack actually closed for horse racing.
The first flock of adult flamingos was introduced to South Florida from Cuba by Joseph Widener in 1934.
The flamingos though had become so well adapted to their location in the Hialeah Park Race Track, it became a successful breeding colony that today under the management of the National Audubon Society Sanctuary. 
The racetrack was of the first that held captive colonies of flamingos, but you can still watch these birds today in what has become their natural habitat while enjoying the park's other attractions.
Jacksonville Zoo
At the Jacksonville Zoo and Gardens, flamingos can be found within the zoo's wildlife sanctuary. This Florida destination provides flamingo lovers with an opportunity to see them up close.
At the zoo, you can see two different types of flamingos. The Caribbean flamingos from South America as well as greater flamingos.
The Caribbean flamingo is the brighter of the two. They get their coloring from eating carotenoid pigments that are consumed in their diet. Roseate Spoonbills also get their pink color from carotenoid pigments.
International flamingo day is April 26 but the Jacksonville Zoo celebrates Pink Flamingo Day on May 29. One fun thing about Jacksonville Zoo is you can interact with the juvenile flamingos hand-reared at the zoo.
The zoo is open daily except Thanksgiving and Christmas days.
Lion Country Safari
Lion Country Safari offers a unique experience as it is both a wildlife sanctuary and theme park. Flamingos can be observed alongside other animals in this Florida attraction.
You can actually mingle with your favorite pink exotic birds at this fun park. One of the best things is that you can see many of the animals up close as you drive through the preserve.
You can also camp here at the KOA campground. There is something super cool about hearing the roar of the lions in the morning.
If this is your first time visiting Lion Country, I can promise you will have a great time exploring this drive through Safari destination.
This park is open daily Monday through Sunday from 9:30 a.m. until 5:30 p.m. The last drive-through safari in your car is at 4:30 p.m. 
Busch Gardens Tampa Flamingos
Busch Gardens Tampa is one of many popular theme parks located in Florida, USA. Busch Gardens though is home to a flock of flamingos. 
Most famous at this park was Pinky the dancing flamingo. Unfortunately in 2016, a "guest" and I use that term loosely, grabbed Pinky and through her to the ground.
As a result of very serious injuries this guy caused this beautiful creature, Pinky needed to be euthanized. I remember this like it was yesterday and am still sad.
Several years later this guy was killed in an Orlando collision. My first thought? Karma for Pinky.
The park's flamingos can be found in the "Flamingo Island" exhibit, which is located near the entrance of the park. Visitors can observe these beautiful birds as they wade through the water and interact with each other.
The park also offers educational programs and guided tours that provide visitors with a deeper understanding of these fascinating birds and their behavior.
Before you leave if you want to see more flamingos, top at Zoo Tampa. This zoo is open Monday through Sunday but check the hours for the day you plan to visit.
Disney's Animal Kingdom
At Disney's Animal Kingdom in Orlando, visitors can find flamingos among other wildlife. The park offers various attractions, which include opportunities to see these birds up close.
I am mentioning Animal Kingdom, but you may notice it's last. Personally, I like to see not only the majestic flamingo but all animals in protected preserves and other wildlife management areas.
Yes, you can see flamingos in Animal Kingdom. But a day pass to any Disney Theme Park can be pricey. When you pay to enter a sanctuary or other smaller zoo organization, you are supporting not only the organization but the animals as well.
Wildlife Sanctuaries
Numerous wildlife sanctuaries, such as St. Marks National Wildlife Refuge in Florida, provide a habitat for migratory birds, including flamingos. Bird-watching enthusiasts can visit these sanctuaries for a chance to spot Caribbean flamingos.
Where To See Flamingos in the Caribbean
For those who wish to venture outside of Florida, several Caribbean destinations offer opportunities to observe wild flamingos.
Flamingos can be found in several places on several islands. Some popular destinations for flamingo sightings include:
Aruba: The Renaissance Island in Aruba is home to a private flamingo beach where visitors can see these beautiful birds up close.
Bonaire: The Pekelmeer Flamingo Sanctuary in Bonaire is a protected area where thousands of flamingos can be seen in their natural habitat.
Curaçao: The salt pans of Curaçao are home to a large population of flamingos, and visitors can take a guided tour to see them.
Bahamas: The Inagua National Park in the Bahamas is home to the largest breeding colony of flamingos in the Western Hemisphere.
Renaissance Island. Located in the Caribbean, Renaissance Island boasts a population of flamingos that reside on its shorelines. Although not in Florida, it is worth mentioning for those willing to travel to see these elegant birds.
Dominican Republic hosts nesting of the Caribbean Flamingo. This beautiful bird is almost considered a resident of Hispaniola these days.
British Virgin Islands. Not only US Virgin Islands. You can also see flamingos and other native wildlife in the British Virgin Islands.
Mexico: Not in the Caribbean, but the Celestun Biosphere Reserve in Mexico is a popular destination for flamingo sightings, with thousands of these birds living in the area. Also, popular is Galápagos Islands which currently has 400 to 500 flamingo residents.
Be sure to make time to see these beautiful pink long-legged birds on your next trip to Florida.
Upcoming Trip?
I like to use Booking for booking not only my hotels, but my tickets and rental cars as well. Makes life so much easier with only having to log into one location for my information.
Be sure to grab my travel tips to save you time and money. You'll also be entered into the weekly drawings.
Register here: Get 100 Travel Tips EVERY traveler should know PLUS entered into the weekly drawing.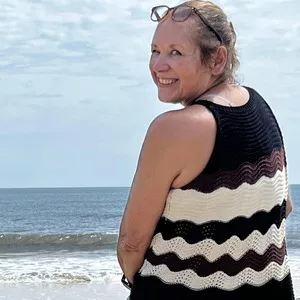 About Denise
Denise Sanger lives a life split between her love for fitness and her passion for travel particularly to the BEACH. Denise also has a love of marketing and lives in beautiful Suwannee County, Florida. You can find out more about Denise here: About Denise