Top 5 Beaches in Florida 2023 You Will not Want To Leave
This article may contain affiliate links. Whenever you buy something through one of these links, I may earn a small commission without any cost to you. I really appreciate it as it supports this site and my family. Thank you!
It's hard to find a beach I don't love though in some trips I like a more laid back, quiet vacation then other times I like an active getaway. This article is the top beaches in Florida for folks that love both like I do. 
My love of travel and beaches in particular have taken me to many coastal spots dreams are made of. At least my dreams of sunsets that only Mother Nature's crayon box can create.
Whether you are looking for secluded spots to bustling beach towns with plenty of activities, we'll help you find the perfect beach destination for your next trip.
Florida is a peninsula with 3/4 of it's borders on the water. That's a lot of beachfront! I've lived in south Florida on the Broward/Dade border and now live in a part of North Central Florida near the Suwannee River.
Thank you for reading this post. Don't forget to subscribe! This way you never miss an update, travel deals, discounts and more!! Subscribe to the right------>
It's more common to hear "Hey y'all" here as well as on the Panhandle than it is "surfs up" on the Atlantic side of the sunshine state.
But where I now live, I can be on a beach in an hour when I choose to be. And that makes me happy.
Every part of Florida is unique, and I'm really enjoying exploring the state beach by beach.
After much thinking, these are my top five beaches that I'll be visiting this year and you do too.
Top 5 beaches in Florida for 2023
St. Augustine Beach. You may have thought number one would be Panama City Beach but this year number one is St. Augustine Beach. I can't get enough of this beautiful historic beach town. Since I like to be on the beach away from the crowds, I stay in a house one block off the ocean. It's an easy walk to the beach but less expensive than a house directly on the beach. I've stayed in the same house I found through VRBO the past 3 years I've visited. Travel tip: Once you find a place you like, make friends with the owner. They go above and beyond to make sure you're happy and want to return. In addition to the time spent on the beach, you can always find me on a trolley touring beautiful historic St. Augustine itself. Even though I've been to this city many times, I always learn something new. Love wine? Be sure to hit San Sebastian Winery for a wine tasting. I purchased the St. Augustine Lighthouse wine bottle my first visit to the winery, and today it sits on my back porch filled with beautiful beach sand and a light on top.
Daytona Beach. This beach is perfect for those who want to relax and enjoy the sun, and it is also fantastic for those that love water sports. The sand is soft and inviting, while the waves roll one after another into shore while you relax and drift away into your own thoughts. Clear water perfect for swimming, while the beach bars provide snacks and cocktails to keep you going all day long. Plenty of water activities to choose from, like paddleboarding, jet skiing, parasailing and more, Daytona Beach offers something for everyone searching for a perfect day on the beach in the sun.
Clearwater Beach. This beach is perfect for everyone from couples, to families to girls trips. Really beautiful white sand beaches with turquoise waters, it's paradise. Plus there is so much to do on and near Clearwater Beach. Shopping, to Pier 60 to enjoying the Florida Gulf coastline. Swim, snorkel, kayak, jet ski, paddleboard and other water activities. Or simply kick back on the sand or in one of the many beachside restaurants or bars. Soak up the rays or explore. It's whatever you choose while enjoying this one of a kind beach town.
Fort Lauderdale Beach. I love all of South Florida including nearby Hollywood Beach and Delray Beach but for this year, Fort Lauderdale Beach is in my top 5. Easy to get to not only from Fort Lauderdale Airport but also from Miami or West Palm Beach. This destination for ideal couples looking to enjoy a romantic getaway or families looking for adventure. Sparkling blue waters, white sand, it's the perfect place for relaxation and romance. Hold hands as you stroll down the beach, enjoy a picnic on the sand or check out sea turtles and tropical fish while snorkeling. Activities ranging from snorkeling and kayaking to checking out the nearby towns, state parks and maybe even take an airboat ride in the Everglades. When I lived in South Florida, it was literally a few minutes drive up the road and my toes would be in the sand.
Miami Beach. And last but certainly not least is Miami Beach. This beach is the ultimate party beach. Perfect for couples, girl's trips, bachelorette parties and more. Beautiful white sand beach with clear water. Spend the day on the beach then head back to your rental to take a nap and shower. Then get dressed because you are heading out to enjoy the amazing nightlife. Fantastic beach for those who are looking for sun, sea as well as partying all night long. Great beachfront bars and restaurants to explore and enjoy.
There you have it! These are the top 5 beaches in Florida for 2023 and perfect 365 days of the year.
One of these beaches is perfect for you. Let me know which one you pick by commenting below.
Upcoming Trip?
I like to use Booking for booking not only my hotels, but my tickets and rental cars as well. Makes life so much easier with only having to log into one location for my information.
Be sure to grab my travel tips to save you time and money. You'll also be entered into the weekly drawings.
Register here: Get 100 Travel Tips EVERY traveler should know PLUS entered into the weekly drawing.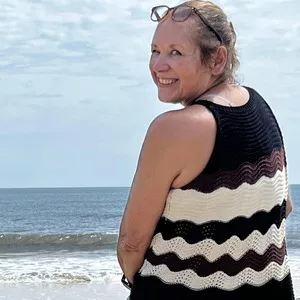 About Denise
Denise Sanger lives a life split between her love for fitness and her passion for travel particularly to the BEACH. Denise also has a love of marketing and lives in beautiful Suwannee County, Florida. You can find out more about Denise here: About Denise