Top things to do in a weekend in St. Augustine 2023
This article may contain affiliate links. Whenever you buy something through one of these links, I may earn a small commission without any cost to you. I really appreciate it as it supports this site and my family. Thank you!
Updated 2023.
Ah. St. Augustine and St. Augustine Beach. Combined they are one of my must-do trips every year.
I haven't been able to stay more than a few days lately, but it's okay because I'm less than two hours away by car. That's the wonderful thing about living in Florida.
Even if you're inland, it's usually 2 hours or less to get to the beach. The perfect place for this beach loving gal.
Thank you for reading this post. Don't forget to subscribe! This way you never miss an update, travel deals, discounts and more!! Subscribe to the right------>
People always ask what my favorite things to do in St. Augustine are, so I thought I'd write a quick post listing out my top five to visit for a weekend.
Tip: Pay for the trolley especially if this is your first visit to St. Augustine. It simply makes life so much easier. Hop on and hop off as you like and know that your car is safely parked. Click here for trolley info: St. Augustine Trolley
Here they are. If you go, email me to let me know how many you ticked off the list. (Be sure to read this next for more fun weekend trip ideas: Best Florida Beaches For A Girl Trip Or Weekend Getaway)
Top10 things to do in a weekend in St. Augustine.
WELL you know I am a beach loving gal so my number one thing is twofold. First sunrise on the beach (see pic above) and then sunset on the beach. Sunrise and sunset are magical times of the day. Don't you agree? Even if you're sitting at home on your porch, there is something special about watching a sunrise and sunset that makes everything feel right in the world.
#2, 3, 4 and 5 really are interchangeable, so the order doesn't matter. For me the second thing I love to do is get on one of the trolley car services (I always take the red one – creature of habit and their guides are fantastic.) I like to take a complete trip around St. Augustine on the trolley first then decided where I want to jump off the second time around. Although I've been to St. Augustine many, many times, I always learn a new nugget of info from the trolley guides. Definitely a must in my book.
Castillo de San Marcos National Monument. Another must for me is to hit the fort although these days I generally don't pay to go inside unless I'm visiting with folks that haven't been. It amazes me every time I visit, how small our St. Augustine founders were. The doors, the bunks, the rooms – all tiny by today's standards. Even more mind-boggling is the number of men that fit into those rooms. Wow.
St. George Street. Whether you are a shopper or like me NOT a shopper, this is also a must-visit. You can actually spend most of the day on St. George Street making your way slowly down one side including the side streets, then back up the other side. Grab an ice cream cone. Peek inside the little school house. And be sure to meander in and out of the funky shops and restaurants.
San Sebastián Winery and St. Augustine Distillery. I'm combining these two since they are an adult beverage related BUT both are fantastic for their tours and tastings. Whether you prefer wine or whiskey or rum, you'll enjoy both venues from the moment you are welcomed, through the tasting and the goodbye, we hope to see you soon. I have bought many gifts from both places and particularly love the red wine in the lighthouse bottle.
As I'm finishing my top five, I realize that there are SO many other stops that I should mention, so it has been updated to the top 10 things to do. Continue reading!
#6. Visit Ponce de Leon's Fountain of Youth Archaeological Park. This park is absolutely gorgeous. When visiting, you will learn about early Spanish settlement and be able to explore artifacts about what life was like when the settlers first landed in St. Augustine. Be sure to check out the Fountain of Youth and let me know if it works.
#7. If you love lighthouses, you will definitely want to visit the St. Augustine Lighthouse and Maritime Museum. This lighthouse is said to be haunted so keep your eyes open! Climbing 219 steps will reward you with magnificent views of St. Augustine from the top of one of Florida's tallest lighthouses
#8. Visit The Old Jail & Potter's Wax Museum. If you are on the trolley I mention above, you will automatically visit the Old Jail. Also said to be haunted. Check out jail cells stocked with rusty handcuffs at The Old Jail. Then stop and look at the wax figures at Potter's Wax Museum inside Casa Monica Hotel.
#9. Stop at Flagler College. The architecture showcases Spanish Renaissance Revival style and is something to see. Keep your eyes open for historic landmarks throughout the college including statues, plaques and signs, stained-glass windows, and more.
#10. And this list ends with another trip to the BEACH! You were expecting that right? Anastasia State Park Beach is on the Atlantic Ocean and one beach you will not want to miss. Spend the day enjoying the sun and sand. Fun activities and things to do include surfing, fishing, biking, birdwatching or just strolling along the shoreline with your feet in the sand looking for seashells. Keep an eye out for the illusive Anastasia Island Beach Mouse.
Be sure to bookmark this page because I will be updating it again soon. Also, be sure to check out even more nearby beaches here: The best Florida beaches on the East Coast.
Upcoming Trip?
I like to use Booking for booking not only my hotels, but my tickets and rental cars as well. Makes life so much easier with only having to log into one location for my information.
Be sure to grab my travel tips to save you time and money. You'll also be entered into the weekly drawings.
Register here: Get 100 Travel Tips EVERY traveler should know PLUS entered into the weekly drawing.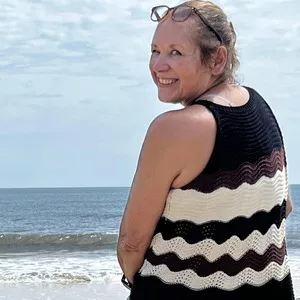 About Denise
Denise Sanger lives a life split between her love for fitness and her passion for travel particularly to the BEACH. Denise also has a love of marketing and lives in beautiful Suwannee County, Florida. You can find out more about Denise here: About Denise