Best Florida Beaches for Girl Trip or Weekend Getaway. Fun In The Sun Vacays!
This article may contain affiliate links. Whenever you buy something through one of these links, I may earn a small commission without any cost to you. I really appreciate it as it supports this site and my family. Thank you!
UPDATED July 2023. Girls' vacations! Are you planning a holiday with your closest friends? This one's for you! The best Florida beaches for a girl getaway are listed below.
Why Are Girls' Trips So Important?
For many women, girls' travels are a crucial part of their lives. These trips allow women to bond, relax, and enjoy themselves with their friends.
They are a time to get away from the strains of daily life and make memories that will last a lifetime. One of the most important advantages of a girl's trip is the opportunity to build friendships.
When women are free of the distractions of everyday life, they can focus on each other and form deeper bonds. Bonds that literally last a lifetime.
Thank you for reading this post. Don't forget to subscribe! This way you never miss an update, travel deals, discounts and more!! Subscribe to the right------>
Girl's getaways are also a great opportunity to replenish and revitalize. Women frequently have multiple responsibilities, including employment, family, and housework.
Taking time away from these obligations to unwind and enjoy yourself can be quite good for both your mental and physical health.
Another advantage of girl's excursions is the opportunity to try new things and make memorable memories. These trips provide possibilities for adventure and growth, whether it's visiting a new city, experiencing new foods, or participating in interesting activities.
A few years back, my best friends and I celebrated our 60th birthdays together. Yes, we are all married, but we try to get together at least once a year.
Just us 3 girls. While we are out, our spouses and significant others stay at home to run the household. We meet together more frequently if our schedules allow it.
My girlfriends have been on some of my most pleasurable trips. And my personal favorites are our weekend getaways. I enjoy exploring coastal towns and beaches.
I've known Nancy and Karen, two of my travel best friends, for most of my life. I met Karen in fourth grade and Nancy in seventh.
It's funny how some people come and go from your life, while others are there for you in every moment, large or small.
My husband and I travel occasionally, although we are polar opposites. Vacations that are more active, sightseeing, and experiencing new things are more appealing to me.
My hubby is a happy camper when he has downtime to relax in a Tiki Bar and a delicious meal every evening. And that's fine. The world would be a terribly boring place if we were all the same.
My best friends and I are not alone in taking women-only outings. Hotels, resorts, and tour operators have all noted an increase in the number of women traveling in groups or alone.
For these reasons, I am thankful that my girlfriends enjoy traveling. My old buddies as well as my newest friends. Some of the most beautiful sites I've seen with my buddies.
Have I convinced you to book a getaway with your besties? Good! Below are the top Florida beaches for a girls' trip. After the Florida beaches, I have put a few more great trip options outside of Florida.
After that, I have provided links for more information to help you plan the perfect girl's getaway. If you'd like to jump to any section, you can do so with this Table of Contents:
Best Florida Beaches for a Girl Trip
I prefer the Gulf Coast since I believe it has the nicest Florida beaches for a girl trip. Karen wishes to stay close to home, and Nancy is the mediator who will bring everything together.
Some of our best vacations have been in Florida. These are our favorite beach destinations in no particular order:
Fort Walton Beach: A vibrant beach destination.
Yes I am a Florida Panhandle girl that really loves Panama City Beach. However, for a girl's trip? I choose Fort Walton Beach.
Fort Walton Beach is a vibrant beach destination located on the Emerald Coast of Florida. Stunning white sand beaches and turquoise waters makes this destination a no-brainer for beach lovers.
Fort Walton Beach also offers a range of activities for visitors to enjoy, from water sports like paddleboarding and kayaking to fishing charters and dolphin cruises.
The area is home to several golf courses, shopping centers, and outstanding seafood restaurants.
Start your search here for the perfect vacation rental: Fort Walton Beach Vacation Rentals
Best Florida Beaches For Girl Trip In Key West and Key Largo for a Girl Trip
The Florida Keys, heaven on earth. Top three picks? Key Largo, Marathon and Key West.
The keys are just stunning and, and I have enjoyed quite a few vacations on these small islands. Our last girls trip was to Key Largo where we rented a condo.
When I peeked out my bedroom window in the morning, all I saw was ocean. And it was absolutely breathtaking. We did a lot of beach strolling, relaxing, and speaking, and we ate out every night.
Start your search here for the perfect vacation rental: Florida Keys Vacation Rentals
Weekend Escape to Captiva Island
Captiva Island near Fort Myers, is also a slice of heaven on earth. You really cannot go wrong picking any beach in this area of the Gulf of Mexico.
My favorites are the white sandy beaches of Sanibel Island, Fort Myers Beach and Bonita Springs.
This area of Florida is ideal for a girls' weekend because there are so many interesting things to do. The shelling is said to be greater on Sanibel, but the lovely beaches of Captiva will quickly entice you.
Whether your group is into nature or you're arranging a bachelorette party, this part of the Gulf Coast is one of the most beautiful in the country.
This is an excellent choice because of the fantastic vacation accommodations and convenient access from the airport.
During the day, there are stand-up paddle boards, kayaks, or canoes to rent, as well as biking and hiking routes to explore. Then go out for a wonderful dinner and perhaps some live music at a bar afterward.
Start your search here for the perfect hotel: Fort Myers Beach Area Gulf Front Hotels
Best Florida Beaches For Girl Trip to Amelia Island
Amelia Island holds a special place in my heart and is an excellent choice for a girls' weekend.
Amelia Island has luxury resorts if that's what you're looking for. There are also plenty of vacation rentals to choose from.
One of my favorite spots because of the beautiful coastal vistas, golf courses, and history to explore. While you're there, make sure to check out Fort Clinch.
Then, for dinner, head to Fernandina Beach's downtown district. One of the top Florida beaches for a girl's trip or a weekend retreat.
Start your search here for the perfect hotel: Best Amelia Island Hotels
Best Florida Beaches For Girl Trip to Miami South Beach
Of course Miami and South Beach! Is there another beach in the world as dynamic and vibrant as South Beach Miami?
Celebrities. Food and beverages that are out of this world. Entertainment. It's easy to see why South Beach is ideal for a weekend getaway.
Spend the day on the beach and among the palm trees. After that, take a shower and go out for the night.
Shopping and great eating are both enjoyable activities within walking distance of your accommodation or the beach. Find out where the best places to dance at night are by speaking with your server or bartender.
Start your search here for the perfect hotel: Best South Beach Hotels
Fort Lauderdale: The ultimate hotspot for sun, sand, and nightlife.
Fort Lauderdale is a must-visit destination for any girl trip to Florida. Known for its stunning beaches, vibrant nightlife, and amazing food and cocktails, this city truly has it all.
Spend your days lounging on the white sandy beaches, soaking up the sun, and taking a dip in the crystal-clear waters. In the evenings, explore the bustling nightlife scene, with numerous bars, clubs, and restaurants to choose from.
Whether you're looking for a relaxing beach day or a night of dancing and fun, Fort Lauderdale has something for everyone.
Best beachfront vacation rentals: Fort Lauderdale Vacation Rentals
Best Florida Beaches For Girl Trip To St. Petersburg or Clearwater Beach.
St. Petersburg and Clearwater Beach make for amazing girls trips destinations. Matter of fact, expand that to Tampa as well as Treasure Island. You really cannot wrong in the part of the Gulf.
Beautiful white sand beaches, turquoise waters and plenty of things to do and see to keep you busy.
Start your search here for the perfect hotel: Clearwater Area Hotels
Sarasota: Known for its pristine white sand and crystal-clear waters.
Sarasota is a hidden gem on the Gulf Coast of Florida, known for its pristine white sand beaches and crystal-clear waters.
This beach destination offers a more laid-back and relaxed atmosphere compared to some of the busier tourist spots in the state. Siesta Key is nearby as well if you'd like to visit this outstanding beach as well.
Spend your days sunbathing on the soft sand, swimming in the warm Gulf waters. Prefer a more active vacation? Explore the nearby nature reserves and parks.
Sarasota is also home to a vibrant arts and culture scene, with numerous galleries, theaters, and museums to explore.
Whether you're looking for a peaceful beach retreat or a cultural adventure, Sarasota has it all and more.
Start your search here for the perfect vacation rental: Sarasota Vacation Rentals
Siesta Key: Explore the beautiful beaches and enjoy the vibrant culture of this island paradise.
Speaking of Siesta Key? You can bet it is on the list!
Siesta Key is a must-visit destination for any girl trip to Florida. This barrier island off the coast of the Florida Southwestern Gulf, offers breathtaking white sand beaches as well as a picturesque setting for relaxation and fun in the sun.
Spend your days lounging on the beach, taking a dip in the crystal-clear waters, or trying out water sports like paddleboarding or snorkeling.
In addition to its natural beauty, Siesta Key also boasts a vibrant culture with a variety of shops, restaurants, and nightlife options.
Explore the charming village area, where you'll find unique boutiques, art galleries, and delicious dining options. Don't forget to catch a stunning sunset on Siesta Key Beach, known for its breathtaking views.
Start your search here for the perfect hotel: Siesta Key Hotels
St. Augustine Florida
Are you a history buff? You must see San Marco Fort and downtown St. Augustine. There is so much history. If you've never there, I highly recommend hopping on a trolley for a guided tour. Parking is easy to get by.
Winery, distillery, many craft breweries, and out-of-this-world food await you. We stayed in a VRBO the last time I went and loved every minute of it. The beach was simply a two-minute walk away.
Do you like to be scared? Ghost tours in the jail and surrounding St. Augustine are a must-do at night.
Start your search here for the perfect hotel: St. Augustine Hotels
Daytona Beach
Take a fast day excursion to Daytona Beach after touring historic downtown.
Daytona Beach has 26 miles of beach to explore and is well worth the short drive. One of the hottest party spots in Florida for people of all ages.
Start your search here for the perfect hotel: Top Daytona Beach Oceanfront Hotels
Other Girl Trip Ideas Away from Florida
Cedar Point, Ohio
We were in Ohio for a significant occasion, such as our 50th birthday and decided why not go to Cedar Point. And we had an absolute blast.
The first night, we checked into our motel and hit the bar for dinner and a few cocktails. The next day, we took the ferry over to Putin Bay which is one of the small islands in Lake Erie.
After spending the day on the island, we again had dinner and drinks near our hotel. After all, the next day would be spent at Cedar Point.
It rained all day, but that did not stop us for having a fantastic time. We were able to get on all the large rides, watch a few shows, and simply had fun acting like the kids we feel still are.
Vacation Packages: Top Cedar Point Vacation Packages
Savannah, Georgia
Savannah, Georgia. As you know, another of my absolute favorite spots that I have been numerous times with my pals and family. One of my first triathlons was held on nearby Skidaway Island.
Savannah is just stunning. We usually stay outside the historical district because it is less expensive and hotels are more eager to provide more incentives and better offers.
When we visit Savannah and St. Augustine, one of the first things we do is hop on the on/off trolley and take a full round around the city. Then, the second time, we jump off at the location where we wish to begin our sightseeing.
Make a point of having lunch or dinner along the river. Every restaurant I've eaten at in Savannah has been excellent, including Paula Deans.
Vacation Packages: Top Savannah Georgia Vacation Packages
Las Vegas, Nevada.
Of course, you already know that a girls' trip to Vegas will be a joy. Do I need to say more? To be honest, I don't think I've ever paid more than $100 per night for a beautiful hotel room in Vegas.
Take your time and shop around before committing to the first hotel you see. When you consider the cost of travel, hotel, and food, Vegas is actually a rather inexpensive girls vacation location.
Vacation Packages: Top Las Vegas Nevada Vacation Packages
New Orleans, Louisiana.
If you haven't gone to the Big Easy yet, add it to your list of girls' trips.
My friend and I decided we wanted to explore all New Orleans had to offer, from chicory coffee and beignets to Bourbon Street and above-ground graves, and we did.
If you enjoy history, New Orleans is without a doubt one of the best cities I've ever visited.
Vacation Packages: Best New Orleans Vacation Packages
Additional information to help you choose the best Florida beaches for girl trip:
Upcoming Trip?
I like to use Booking for booking not only my hotels, but my tickets and rental cars as well. Makes life so much easier with only having to log into one location for my information.
Be sure to grab my travel tips to save you time and money. You'll also be entered into the weekly drawings.
Register here: Get 100 Travel Tips EVERY traveler should know PLUS entered into the weekly drawing.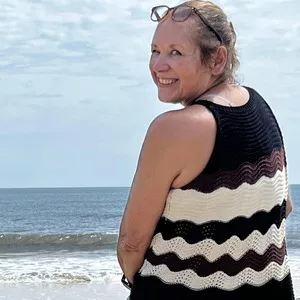 About Denise
Denise Sanger lives a life split between her love for fitness and her passion for travel particularly to the BEACH. Denise also has a love of marketing and lives in beautiful Suwannee County, Florida. You can find out more about Denise here: About Denise