Santa Fe River Paddling Trail SR 47 to US 129
This article may contain affiliate links. Whenever you buy something through one of these links, I may earn a small commission without any cost to you. I really appreciate it as it supports this site and my family. Thank you!
Sante Fe River Paddling Trail
The morning was on the cool side which had me thinking twice about kayaking the Lower Santa Fe River paddling trail. I'm glad it didn't stop me though. This portion of the Santa Fe River is magnificent!
Getting ready that morning, I only planned to be on the river three hours or so based on research I did before the trip. We put in at the bridge on SR 47 at Gilchrist County Santa Fe River Park in Gilchrist County.
Closest city I would say is the quant town of Fort White which is the home of the Itchetucknee Springs. This small but mighty city has gas stations and a few restaurants to choose from. Not many hotels but several B&B's along with beautiful camping available at several nearby campgrounds including Itchetucknee Springs Campground. Natural Florida at its best.
Gilchrist County Santa Fe River Park is a pretty little park and also has a shuttle/kayak rental service located in the park. There is a porta potty and a few pavilions with picnic tables. Also appears to be a hiking trail that runs along the river but unfortunately the sign at the trailhead is in pretty bad shape so I wasn't able to see for certain.
Thank you for reading this post. Don't forget to subscribe! This way you never miss an update, travel deals, discounts and more!! Subscribe to the right------>
I met my friend at the park and we offloaded our kayaks including my trusty Old Town Kayak. I love this kayak. It's comfortable for this close to 60 body and very stable.
Once offloading was complete, my friend headed over to the ramp where we had planned to take out prior to the convergence with the Suwannee River. While I waited for my paddling crew to return, I did a bit of exploring and a few yoga moves to stretch. The river view was so pretty, it quickly made me forget how sore I was from teaching fitness classes the day before!
My friends return and off we go. The river is smooth as glass. A bit of a swirling current due to a dock next to the boat ramp but once you're away, the current flows smoothly. Our first goal was to find a spring mentioned in the book I purchased last year – Canoeing & Kayaking Florida but we weren't successful. The first spring we did find was Wilson Spring.
On the right side of the river, roughly three miles downstream, there will be a little alcove. Houses will be on the left side of the bank as you paddle in. The current is strong so be prepared. Unfortunately, the flow was too shallow and the rocks made it too difficult to get all the way to the spring head but this little inlet is very pretty and definitely worth stopping at.
This lower portion of the Santa Fe River has many springs. Unfortunately, we did not see them. Not sure if the springs were located off the river or if our map was not up to date. If you are paddling the Santa Fe River after you read this, keep an eye out for Jamison Spring River and Sunbeam Spring River on the right river bank about six miles in to your trip. Then get over to the left bank to look for Oasis Spring about mile seven.
Ichetucknee Spring River
Roughly mile 9, the Ichetucknee Spring River will enter from the right. Be sure to pull over and check for manatees. We didn't see manatees this trip but I have found them on this river many times. The turquoise blues of this spring is stunning. When in this area, be sure to take the time to fully kayak this beautiful spring river starting at the Ichetucknee Spring State Park.
Three miles after the Ichetucknee Spring River, Betty Spring is on the right and Troop Spring will be on the left. They're close together so try to slow down so you won't miss them. The currents near the springs can spin and toss you a bit. It'll be okay. Use your paddle as a rudder to get back where you want to be in the river.
After the Itchetucknee Spring River, I noticed something go skimming across the river in front of me and dive down. I'm thinking to myself what kind of bird can stay under water that long? It wasn't a bird. It was an otter! We were beyond thrilled to see several pairs of river otters for about half a mile as we continued our paddle downstream. I tried to get a pic but the little buggers blend in with the water and river banks so they're hard to see. Plus they move FAST!
Before I knew it, I heard the traffic from the US 129 Bridge. We had arrived at Guy Lemmon Memorial Park and it was time to pull out. This is where the designated paddling trail ends. My body, however, definitely noticed we had been on the river for almost 13 miles and a good stretch was in order. Luckily we had packed lunches and there were several great spots to pull over along the way which is what we did about three hours into our trip.
Paddlers Notes:
Skill Level: Beginner but be aware of swirling currents and there is a little rapid. Always steer to the v. This portion of the river for the most part is obstacle free.
Boat traffic: We kayaked on a Thursday and there were only two small fishing boats on river. This portion of the river is wider and motor boat traffic will be heavier on the weekend.
Upcoming Trip?
I like to use Booking for booking not only my hotels, but my tickets and rental cars as well. Makes life so much easier with only having to log into one location for my information.
Be sure to grab my travel tips to save you time and money. You'll also be entered into the weekly drawings.
Register here: Get 100 Travel Tips EVERY traveler should know PLUS entered into the weekly drawing.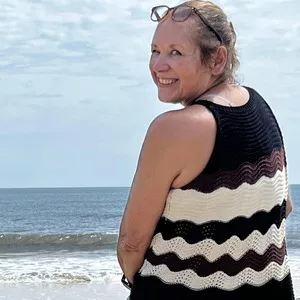 About Denise
Denise Sanger lives a life split between her love for fitness and her passion for travel particularly to the BEACH. Denise also has a love of marketing and lives in beautiful Suwannee County, Florida. You can find out more about Denise here: About Denise