Is Disney World only for kids or can adults enjoy it too?
This article may contain affiliate links. Whenever you buy something through one of these links, I may earn a small commission without any cost to you. I really appreciate it as it supports this site and my family. Thank you!
Since this is the year of the Staycation for this over 50 traveler, I was thinking about taking a trip to Disney World in Orlando. Since moving to Florida from Ohio, Disney World is one of the most visited locations for me and my family.
But now my family is grown and out on their own. No grandkids yet but lots of grandpups. Grandpups don't need to visit Disney. Is there anything at Disney for adults?
Having recently been there before Covid for the Flower & Garden Festival, I know first hand that Epcot is a blast for adults. The Flower & Garden Festival alone can keep you occupied for hours. Add in Around The World with tasting all the represented countries food and beverages, and you have a complete day.
But what else is there? I admit it. I went down the Google rabbit hole researching and was shocked to find a post on Daily Break titled Is Disney for Kids Only? This Furious Mom Thinks So. This mom's IG post wasn't very mom-like. I was literally shocked as I read it. She ends her rant with "I f….g hate childless women with a BURNING PASSION."
Thank you for reading this post. Don't forget to subscribe! This way you never miss an update, travel deals, discounts and more!! Subscribe to the right------>
Again speechless. My first thought is what is wrong with this woman that she has so much anger built up. No. It's not always fun traveling with kids of any age let alone babies and toddlers. But you know what you're getting into. Suck it up and deal with it. That's what my husband I did. We NEVER let a few mishaps stop us from traveling with our kids.
Now that I have THAT off my chest, back to what this article is about. Is Disney only for kids or can adults enjoy it too? YES DISNEY IS FOR ADULTS! (p.s. if you're traveling with kids and need to stay within a budget, read this next: Disney On A Budget)
As I mentioned there are many things for adults to do at Epcot, but what about the other parks? If like me you love to ride the rides, you're in luck. When you book a Walt Disney World Vacation (be sure to check for this year's MANY specials. p.s. lines aren't as long either) you won't regret getting the Park Hopper pass.
Whenever I go to Disney, whether it's for two days or a week, I snatch that Park Hopper pass right up. We'll start in a park such as Epcot then end up at a completely different park like Hollywood Studios for the end of the evening fireworks. I can never seem to get a good shot of the fireworks. This pic is from Disney Parks and STILL doesn't fully give you the amazing display they put on.
And shopping! If you like to shop, you'll definitely want to make time for Downtown Disney and hit the Disney shop located there and throughout the many parks. From shoes and sandals to jewelry including Pandora to dressing like a princess, whatever you love, you'll find it here.
And the restaurants! I have had the pleasure of eating at a quite a few and have never been disappointed. Be sure to save room for dessert because there is no way you'll be able to pass up Crazy Shake or Sprinkles. YUM!
Love to camp? So do I! I have a special place in my heart for Disney's campground resort: Disney Fort Wilderness Resort. I've done both camping in a pop-up camper and staying in a cabin and was very happy both ways so do what works for your budget.
Any resort you stay at including Fort Wilderness Campground gives you access to the buses, monorail and boats to get you around the parks. Park your camper or vehicle and go.
If that doesn't peak your interest into looking further into an adult trip to Disney, how about this. Disney has some of the best golf resorts, bars and four star restaurants in the country. If Disney only wanted adults, would they be serving mojitos? Just a thought. Go enjoy your Mickey Mouse vacation. I always do.
Upcoming Trip?
I like to use Booking for booking not only my hotels, but my tickets and rental cars as well. Makes life so much easier with only having to log into one location for my information.
Be sure to grab my travel tips to save you time and money. You'll also be entered into the weekly drawings.
Register here: Get 100 Travel Tips EVERY traveler should know PLUS entered into the weekly drawing.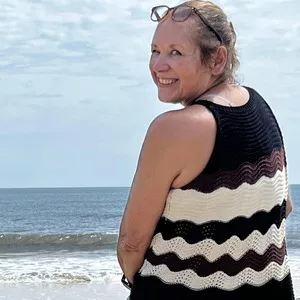 About Denise
Denise Sanger lives a life split between her love for fitness and her passion for travel particularly to the BEACH. Denise also has a love of marketing and lives in beautiful Suwannee County, Florida. You can find out more about Denise here: About Denise