Healthy Reasons To Exercise
This article may contain affiliate links. Whenever you buy something through one of these links, I may earn a small commission without any cost to you. I really appreciate it as it supports this site and my family. Thank you!
Exercise? WHY do we have to exercise? As it turns out, there are quite a few healthy reasons to exercise.
One of the most common reasons given and one I hear often for why people don't exercise is time. Or actually lack of time.  After all, we are busy.  VERY busy.  And with this busyness, our priorities get out of whack. You know you should be attending your daughter's dance recital but you have to finish a project at work. You want to be at your son's game, but waited too long to leave and are now in stuck in traffic.
With everything else we're trying to squeeze into our days, how can we possibly add exercise to the equation? Rather than look at it from that perspective, how about we talk about the ways exercise can actually HELP us deal with the to do list? Plus exercise improves our overall health and wellness.
Depression. Stress. Insomnia. Immune system.  These are only a few of the things that exercise can benefit.  When I have a gazillion things that need to get done in a day, I find that taking a break for exercise ensures it will happen.  Exercise refocuses my mind so that I can concentrate on the task at hand.
Thank you for reading this post. Don't forget to subscribe! This way you never miss an update, travel deals, discounts and more!! Subscribe to the right------>
Stress.  Stress takes its toll on many of us mentally and physically – me included. One of the best ways to get control of stress is with exercise.  Exercise actually reduces the levels of stress hormones in our bodies while increasing the release of endorphins which makes us feel good.  Next time you feel your chest tightening, your breathing increasing and a headache coming on from stress, take a deep calming breath and head outdoors for a walk.
Exercise also helps us fall asleep easier. Many folks report that on days they include moderate exercise, the amount of time it takes to fall asleep is much less than on days they do not exercise. In addition to being able to fall asleep easier, you may also sleep better. Who among us can't use a good night's sleep?
In addition, exercise is a mood enhancer and has been proven to ease symptoms of anxiety and depression. (Source Mayo Clinic, 10/14.)   As exercise helps those with stress by the release of those feel good hormones, the same happens for those battling depression and anxiety.  In addition, exercise helps us feel more confident along with helping you take your mind off your worries for a few minutes.
Don't let the word exercise scare you.  It doesn't mean you go to the track and run laps for an hour unless that's what you want to do.  When you think of exercise, think in broad terms.  It may be hiking in the woods.  It could be taking a fitness class that you have always wanted to try.  It could mean picking up your shovel and planting flowers in a spot in your yard that needs brightening up.
What exercise you do is completely up to you but whatever it is, you will feel 100% better after you finish. Have a wonderful week!
To your health,
Denise
Upcoming Trip?
I like to use Booking for booking not only my hotels, but my tickets and rental cars as well. Makes life so much easier with only having to log into one location for my information.
Be sure to grab my travel tips to save you time and money. You'll also be entered into the weekly drawings.
Register here: Get 100 Travel Tips EVERY traveler should know PLUS entered into the weekly drawing.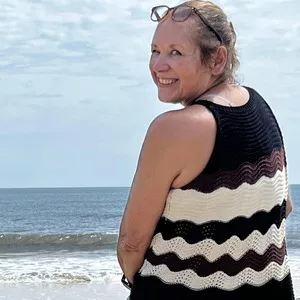 About Denise
Denise Sanger lives a life split between her love for fitness and her passion for travel particularly to the BEACH. Denise also has a love of marketing and lives in beautiful Suwannee County, Florida. You can find out more about Denise here: About Denise