Fascinating Facts About Museum of Illusions in Orlando Florida
This article may contain affiliate links. Whenever you buy something through one of these links, I may earn a small commission without any cost to you. I really appreciate it as it supports this site and my family. Thank you!
Step into a world of wonder and intrigue at the Museum of Illusions Orlando! This captivating museum of illusions is one you MUST put on your list. It will challenge your perception of reality while providing amusement and entertainment.
From thrilling activities to captivating exhibits, this is an experience you won't soon forget. Discover something new at the Museum of Illusions Orlando!
In this post, you will learn all the behind-the-scenes secrets while having an unforgettable experience filled with illusions, captivating exhibits, and thrilling activities!
Step into a world of wonder and intrigue at the Museum of Illusions Orlando! This captivating Museum of Illusions will challenge your perception of reality while providing amusement and entertainment.
Thank you for reading this post. Don't forget to subscribe! This way you never miss an update, travel deals, discounts and more!! Subscribe to the right------>
From thrilling activities to captivating exhibits, this is an experience you won't soon forget.
Where is the Museum of Illusions?
The Museum of Illusion is in Central Florida, Orlando. The address is ICON park at 8441 International Drive. There are so many interactive exhibits, that many folks refer to it as the Museums of Illusions in Orlando, Florida.
It is the perfect place not only for families, but really a great option an any vacation in this area. It is an edutainment destination for sure!
Unveil the Science Behind the Illusions.
At the Museum of Illusions Orlando you'll get a chance to discover the science behind illusions and observe firsthand all the fascinating experiments that are creating optical challenges.
Learn about diversion tactics, laws of gravity, mind games, perspective shifts amazing brain science, and more as you explore this intriguing museum.
Tricks of perception literally test your perception of reality. The eye-tricking fun is even more enchanting than you could EVER imagine and really plays a joke on the human brain. Nothing is as it seems.
Discover Unexpected Imaginary Worlds.
From walking through walls to exploring an upside-down fish tank, the Museum of Illusions Orlando will take you on a journey that blurs the line between reality and imagination.
There are over 70 exhibits to enjoy from virtual reality mirrors to infinity rooms. Each installation will have you question what is real and what is not. Truly a fascinating world of mental perception that is a great family adventure.
Along your interactive journey, use special effect mechanisms to make amazing images come to life and make sure to keep an eye out for secret passages you spot along the way.
Enjoy Immersive Experiences and Visual Games.
This museum offers a variety of immersive experiences and visual games that visitors can take part in. From Escher-inspired puzzles to Iya's Chamber, where your reflection appears completely distorted, you'll never know what fascinating trick is awaiting you.
As an added bonus, the museum also features augmented reality activities that use cutting-edge technology to bring illusions to life. This gives you a whole new appreciation of what you may think you see versus what you actually see. Great fun for all.
In the mind-blowing expanse of the infinity room, you can let your imagination go and run free. It creates an illusion of unlimited space.
The Ames Room, is an interactive illusion. In one side of the room, you are HUGE. Literally larger than life.
While on the other side of the room, you are shrunk down into miniature size. This fun experience is something you have to see because the room looks like any other room.
The Reversed Room is wild. It appears that you are laughing at the laws of gravity in the reverse room. Great photo ops in this room.
Imagine the pics you can get to post photos on social media. The whole family will want to get in on the act with these photo opportunities.
Other Amazing Exhibits And Unique Attractions in the Museum of Illusions Orlando
Head On The Plate illusion is like it sounds. Looks like your head on a plate. Your body is hidden from view.
The Beuchet Chair Illusion plays with laws of perception. Sitting in this chair makes you appear to be small. All determined by objects that surround you.
Clone Table. Every with you could clone yourself? You can with the Clone Table. Sit down at the table surround by five more of you.
Infinity Well is a unique experience that really puts the saying bottomless pit into perspective.
Swap Noses and find out what you would look like with the nose of your dreams!
The Kaleidoscope with it's constantly changing patterns is so much fun.
The Titled Room will have you questioning everything you take as fact. Watch water flow uphill and balls rolling upward.
Challenging to brains of all ages because this is not like something you have experienced before.
Remember walking into those spinning tubes on a bridge at the county fair or amusement park.
In your mind, you knew it wasn't moving, but your body thinks it is. The Vortex Tunnel recreates that experience.
Learn Interesting Facts about Optical Illusions.
In addition to all the interesting exhibits, the museum is educational as well. Did you know that optical illusions have been around since ancient times?
Even the Ancient Greeks used them as part of their storytelling. These days, we use optical illusions to create visual puzzles, stimulate sensory perception and challenge the idea of reality.
The entire staff at the Museum of Illusions Orlando focuses on providing you with a great time you will not soon forget.
Explore a world full of fascinating facts about optical illusions and see for yourself just how creative our minds truly are.
Cost And Other Information For The Museum
You do need to reserve your time slot in advance as there is limited capacity. Museum of Illusions Orlando Tickets start at $18.99 for groups of 15 or more.
Other options and you can share destination by including tickets with Wonderworks OR The Wheel at ICON Park® Book your Museum of Illusion visit first.
The other venues you can visit in the same day without issue. Recommended age ranges are 3 to adult.
There are also restaurants, bars, and shopping at ICON Park. Regular adult admission starts at $26.99, but there are discounts for military, teachers and Florida residents.
Free parking is available in the parking garage located at Icon Park: 8375 International Dr, Orlando, FL 32819 which is about one-minute walk away.
Information for international guests. Mandatory face masks that were in place with Covid-19 safety measures are no longer required.
Before you leave be sure to visit the Museum's Gift Shop that is called the Smart Shop. The gift shop for the brain. A great way to take your experience home with you.
Other nearby attractions include Fun Spot America, Madame Tussauds, Sea Life Aquarium, as well as the amazing theme parks Walt Disney World, Universal Studios and Sea World Orlando.
This area in Central Florida is designed to entertain not only the entire family for the whole day but is also fantastic for couples and adult getaways. I recommend visiting 100% and you can get some AMAZING deals through Hotwire here: Hotwire Orlando.
It is the perfect way to spend time in not only one of the Sunshine State's hot spots but a super fun place as well. Many awesome surprises await your visit to the Museums of Illusions Orlando Florida!
p.s. Beach? Here's where you should go: Best Beaches Of Cocoa Beach Near Orlando short drive from Orlando and the Museum of Illusions.
Upcoming Trip?
I like to use Booking for booking not only my hotels, but my tickets and rental cars as well. Makes life so much easier with only having to log into one location for my information.
Be sure to grab my travel tips to save you time and money. You'll also be entered into the weekly drawings.
Register here: Get 100 Travel Tips EVERY traveler should know PLUS entered into the weekly drawing.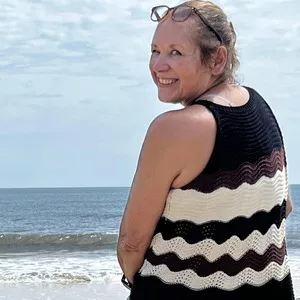 About Denise
Denise Sanger lives a life split between her love for fitness and her passion for travel particularly to the BEACH. Denise also has a love of marketing and lives in beautiful Suwannee County, Florida. You can find out more about Denise here: About Denise