Awesome Beaches Near Kissimmee Florida You Will Want To See
This article may contain affiliate links. Whenever you buy something through one of these links, I may earn a small commission without any cost to you. I really appreciate it as it supports this site and my family. Thank you!
Have you heard of Kissimmee Florida? You are probably thinking it's in the middle of the state, how can there be beaches near Kissimmee Florida?
At the end of this article, you will find links to both sides of the state. East Central Atlantic Beaches and West Central Gulf Beaches that will provide more information.
First though, let's talk about how to say this city name. When I first read the highway sign on the turnpike on our first trip to Walt Disney World in Orlando which is in Central Florida, I pronounced it Kiss-A-Me. The correct pronunciation is ki -SIM-ee.
Many Florida cities are named after Indian tribes and words. This is one. There are more than 12 Indian tribes in the Sunshine State.
Thank you for reading this post. Don't forget to subscribe! This way you never miss an update, travel deals, discounts and more!! Subscribe to the right------>
We now know how to pronounce Kissimmee, but where is it?
Where is Kissimmee?
Kissimmee is south of Orlando which is a short drive away. On our first Magic Kingdom trip, we actually stayed in a hotel in Kissimmee because it was much less expensive than Orlando near the parks.
The closest airport is Orlando International Airport. Driving to Kissimmee from the airport is roughly 30 minutes via I-4 and the Florida Turnpike.
From Southern Florida, you would take the turnpike north. And from Northern Florida, it would be I-75 South to the Florida Turnpike or I-95 South to I-4 to the Florida Turnpike.
All roads lead to the center of the Sunshine State.
What is in Kissimmee?
In addition to Walt Disney World, Universal Studios, Sea World, and the other theme parks in the happiest place in the United States, there are plenty of fun things to do in Kissimmee.
I have a few favorites that are a very close drive east from Kissimmee. One of our favorites is to walk around Old Town. Enjoy the rides including the Ferris wheel and then grab dinner.
If the weather is warm, Kissimmee Lakefront Splash Parks and let the kids play outdoors and burn off some energy.
Then before taking your day trip to one of Florida's beaches on either side of the state, take in a few museums and state parks in the area.
What are the best beaches in Kissimmee Florida?
As far as beach, beaches as in the Atlantic Ocean and Gulf of Mexico? There are none. You have to drive to either coast. The closest beaches only an hour away.
But don't worry. I will put the links for the best beaches within an hour below to make it easy for you to plan. It is definitely closer to the water on the Atlantic Side versus the Gulf side.
We will start with Atlantic Coast Beaches first then Gulf of Mexico Beaches will follow.
Atlantic Coast Beaches In Kissimmee Florida
I have a few favorites that are a very close drive east from Kissimmee. These are the top picks, but I have included an extensive list at the bottom of the article.
Daytona Beach.
Starting with the world's most famous beach, Daytona Beach. One of the most popular beaches for spring break but also a great choice for the whole family.
If you love racing, you will want to make time to visit the Daytona 500 International Race Track.
Even if there is not a race while you're visiting, be sure to take the time and enjoy a tour. It was so much larger than I thought.
After that, head over to the beautiful beaches where you can actually drive on the beach if you have a four-wheel drive vehicle. Do not attempt this is your vehicle is not 4WD. I have witnessed many cars stuck on the beach.
Wind down in the evening with some great food, beverages and even live music. Definitely a top pick and great place easy to get to.
New Smyrna Beach
After my last visit to New Smyrna Beach, it has moved way up on my favorite beach list. Miles of beaches to walk during the day and then within walking distance of your hotel or vacation rental, is dinner, drinks, shops and more.
Literally park your car and don't get back in until you're ready to leave. Love the small town vibe.
Cape Canaveral and the Canaveral National Seashore
This area is the perfect place for nature lovers. Enjoy nature trails, miles of amazing beaches, marine life including rays, dolphins and more. Watch for loggerhead turtles as they nest in this area of Florida.
This is a great family beach vacation destination. Enjoy a two-fer by hitting Port Canaveral and Kennedy Space Center Visitor Complex. So much to see and do on this barrier island literally less than an hour away from the theme parks in Orlando.
Flagler Beach
I love Flagler Beach and have made quite a few stops at Flagler Beach Municipal Pier. There are some great restaurants there.
This beach too offers miles of Atlantic Shoreline to explore while not being as crowded as the top beaches above. It is farther south, however, than Daytona and NSB.
Cocoa Beach
Also, farther south that the above beaches and one of the best Florida Beaches is Cocoa Beach and the fun Cocoa Beach Pier. This beach is a great pick for those that like a more active Florida vacation.
Enjoy water sports such as swimming, snorkeling and even try your luck at surfing. There are surf schools in the Cocoa Beach area to help you get started.
St. Augustine
One more to mention before switching to the West Central Gulf of Mexico side of the state is St. Augustine. I don't consider this one very close to Kissimmee, but I know folks will ask about it.
One of the nicest Atlantic Beaches with so much amazing history. It's worth a drive just to see the Fort. The drive, though, is two hours which is why I am listing it last.
Would I make the time? Absolutely. But if you are on a long weekend getaway, this destination may be a bit far.
Gulf Coast Beaches In Kissimmee Florida
Let's move over to the West Coast of Florida and the many wonderful miles of sandy white beaches. If you want white sand beaches, this is the side of the state you will want to visit.
The majority of the closest beaches will be in Pinellas County. These are the top picks for the Gulf, but I have included an extensive list at the bottom of the article for you.
Clearwater Beach
Beautiful Clearwater Beach is appropriately named. Palm trees, clear water and white sand beaches as far as the eye can see.
This beach though is also more than an hour drive from Kissimmee. But it's worth it.
A top holiday destination because of the great beaches. If you will be in Florida for more than a long weekend, definitely put this great spot on your list.
This is another great area for nature lovers. And you will want to watch for sea turtles.
Treasure Island.
Also, over two hours away by car is Treasure Island. But it's one of the best places with soft sand and plenty of things to do. I am listing it though because it is the perfect spot for a romantic getaway.
Sunset cruises. Vacation rental home with hot tub or swimming pool. And plenty of fantastic restaurants, bars, and entertainment. You will enjoy an adult only vacation jam-packed with fun things to do in Treasure Island.
St. Petersburg
St. Petersburg is a bit under 2.5 hours drive from Kissimmee, but I feel it is a better place than others in the area for a beach getaway.
Plenty of sand, sun, and clear water to enjoy. It is also nearby Tampa and Tampa Bay which means you could fly out of Tampa/St. Pete Airport versus driving back to the center of the state. A little planning can get you a great vacation.
A few more Gulf Coast Beaches to mention nearby are:
Caladesi Island and Caladesi Beach. Roughly 10 minutes from Clearwater Beach. Enjoy a day in the State Park. Pack your lunch as there are plenty of picnic areas.
Anna Maria Island. In Manatee County south of the above beaches you will find Anna Maria Island. The only reason I am mentioning it is that it is one of the most beautiful beaches on the Gulf Coast and a perfect vacation destination.
Quick links to the Best Beaches Close to Kissimmee On The Atlantic Coast

Quick links to the Best Beaches Close to Kissimmee On The Gulf Coast
Upcoming Trip?
I like to use Booking for booking not only my hotels, but my tickets and rental cars as well. Makes life so much easier with only having to log into one location for my information.
Be sure to grab my travel tips to save you time and money. You'll also be entered into the weekly drawings.
Register here: Get 100 Travel Tips EVERY traveler should know PLUS entered into the weekly drawing.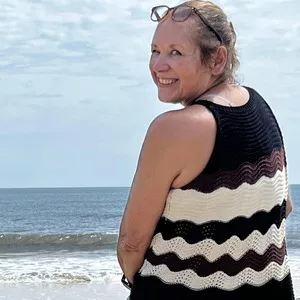 About Denise
Denise Sanger lives a life split between her love for fitness and her passion for travel particularly to the BEACH. Denise also has a love of marketing and lives in beautiful Suwannee County, Florida. You can find out more about Denise here: About Denise