BEST Florida East Coast Beaches
This article may contain affiliate links. Whenever you buy something through one of these links, I may earn a small commission without any cost to you. I really appreciate it as it supports this site and my family. Thank you!
If you're looking for the best beaches on the east coast of Florida, look no further! By far one of the best things about living in Florida is that you can generally be on either coast in less than two hours with great beaches on either side of the state.
From the Gulf Coast on the west side of the state to the Atlantic Ocean side, there are more than 1100 miles of beautiful coastline to explore. Many feel Florida's east coast beaches are the best while others choose the Gulf Coast beaches as the white-sand beaches call you to explore.
From calm waters to surfing waves, you are sure to find the perfect beach for you to enjoy in the Sunshine State.
In this post, we'll explore some of the best beaches on Florida's East Coast starting first with the Florida Keys. From there we will move up the Atlantic coast to South Florida followed by the beautiful white sand beaches of East Central Florida, and finishing with the hard-packed sand of the North East Florida beaches.
Thank you for reading this post. Don't forget to subscribe! This way you never miss an update, travel deals, discounts and more!! Subscribe to the right------>
The Florida Keys Beaches
It is so hard to pick only a few beaches in the Florida Keys. Again you have both the Gulf side and the Atlantic side to choose from. The beaches below are my top picks:
Starting all the way at the bottom of the state in Key West gives you plenty of options as well as a great place to vacation. It truly is one of the most fun places I have ever visited.
Smathers Beach. From the Southernmost Point to Duval Street, there is something for everyone. Be sure to visit the beaches including Smathers Beach. Sidenote. During summer, the sargassum, sea weed, smell is strong.
Bahia Honda State Park is another top pick for beautiful beaches and warm waters. This island getaway includes a beach that will take your breath away with its beauty. The 500-acre park is home to some of the best water sports including snorkeling and beachcombing in all of Florida!
Dry Tortugas National Park is one of the most breathtaking parks in the world. The Dry Tortugas National Park is a photographer's dream. With its secluded islands and breathtaking views, you will never want to leave.
And the history! Renovations have restored some old cells where tourists can now explore what life was like inside the walls of the fort during America's Civil War era.
South East Florida
Miami Beach. Of course, we must start with Miami Beach including South Beach. Swaying palm trees, live music, art galleries and miles of beaches makes this one of the hot spots in Florida. What else could you want?
Miami Beach is a destination for people from all over the world. The nine-mile long barrier island offers beautiful beaches and seaside towns that have become iconic due to their photogenic qualities and art deco style.
Before we leave the Miami area, we have to chat about Key Biscayne. Key Biscayne is a place where you can escape from the hustle and bustles of life. You will find yourself surrounded by beautiful nature, perfect for taking pictures or just relaxing on the beautiful beach.
Fort Lauderdale Beach is next on the list. I spent many days on the beaches in Fort Lauderdale. Easy access to the sandy beach from the parking lot, this popular spot is in the top 10 beaches in Florida.
Hollywood Beach is my number one beach in South Florida. Love the boardwalk and easy access to restaurants and bars. Rent a bike, play beach volleyball, or simply relax on one of the most beautiful beaches in Florida.
Deerfield Beach is a bit up the road heading north on I-95 in Broward County. For those that love spending time in nature, Deerfield Beach is the perfect place with easy access to Loxahatchee National Wildlife Preserve which offers plenty of nature trails to explore. Nearby Pompano Beach is a popular scuba diving area.
Delray Beach offers plenty of beaches to relax and enjoy. The best place I found is Delray Municipal Beach. It is one of the best public beaches. Very clean and well maintained and offers miles of coastline in either direction to explore.
West Palm Beach in Palm Beach County often rings of exclusivity but do not let that deter from visiting one of the best Florida beaches. This is another fantastic option for those that love to snorkel or scuba dive.
Kemp's Ridley sea turtle is one of the sea turtles found in West Palm Beach, Florida. Critically endangered, these sea turtles have just recently been sighted more frequently on our reefs in West Palm Beach.
East Central Florida
We now find ourselves moving farther north up the State of Florida east coast with many popular beaches to explore. Here are a few of my favorites:
Cocoa Beach is one of the most fun beaches and cities to explore in this part of the continental United States. The main attraction is often surfing, but there are over six miles of beaches to explore including some nude beaches.
Daytona Beach is of course on the list. It's the world's most famous beach after all. And for good reason. This popular place is often thought of as the beach you can drive on.
Yes you can still drive on some beaches but not all. You may think driving on the beach is a piece of cake, but you might be wrong. I have watched car after car, stuck in the sand on the beach. Pay attention to the signs where you can drive on and be sure you have 4-wheel drive on your vehicle.
New Smyrna Beach is often thought of as the shark bite capital of the world. Near the jetty, sharks do congregate as it is easy pickings for their fish meals. Often surfboards are mistaken for shark prey, so it's extremely important to be aware when in the water.
Also in New Smyrna Beach is Smyrna Dunes Park. As you walk along the boardwalk, you can enjoy two miles of easy walking and magnificent sand dunes.
Canaveral National Seashore and Kennedy Space Center. Space Coast anyone? Such a cool place to vacation. In the heart of Florida on the East Coast, you will find the Canaveral National Seashore in the city of Titusville.
Beautiful beaches to explore with Cape Canaveral as the backdrop. Be aware though that there are several nude beaches in this area if you are traveling with young ones.
Playalinda Beach. Before you leave the Titusville area, be sure to stop at Playalinda Beach. Not only is this beach popular among beach lovers, it is also great for viewing wildlife and rocket launches.
Plenty of free parking areas, picnic tables, and soft sand to walk. Blue skies above and beautiful coastline as far as the eye can see awaits you in Playalinda Beach.
Ormond Beach is just a bit north of Daytona Beach. One of this area's earliest settlers was millionaire John D. Rockefeller and is packed with rich history. If you love water sports and outdoor activities, this is the spot for you.
Vero Beach is also in East Central Florida north of Fort Pierce and one of the most beautiful beaches on Florida's Treasure Coast. In the summer months enjoy the beautiful beaches and wildlife. The natural beauty to explore is perfect for nature lovers while the nearby golf course entertains those that want to sneak in an 18 hole golf game.
One more to mention is Vero Beach. Vero Beach, Florida is the perfect vacation spot for both beach goers, folks that love water sports and outdoor adventurers too. It is actually one of the first beaches I visited when I first moved to Florida. MILES of beaches to explore!
Northeast Florida
This brings up all the way up the state to Northeast Florida. The main beach in this area is Jacksonville Beach, but you will not want to overlook the others in the area.
Jacksonville Beach is gorgeous and often overlooked. Nearby Neptune Beach is included in the beaches of Jacksonville. Beautiful, peaceful and relaxing at one of the lesser crowded beaches in the state. Fun fact? During hurricane season, the beaches in this area usually are spared a direct hit, but often deal with flooding off the St. John River.
St. Augustine Beach leads off the list. Nearby historic St. Augustine entertains during the day with historic views like the fort and fun shopping and restaurants off George Street. When you have had enough, head over to St. Augustine Beach and explore the clear waters of the Atlantic.
Amelia Island State Park and Fernandina Beach both are located on Amelia Island. Amelia Island is also on my list of favorite beaches to camp on with Fort Clinch. Amelia Island is also one of the state parks in Florida with horseback riding on the beach.
Huguenot Memorial Park is a hidden gem in Jacksonville. A portion of Huguenot Memorial Park is roped off as a critical wildlife area for the protection of shorebirds.
Rounding out our list is Big Talbot Island State Park. This beautiful barrier island is roughly 20 miles east of Jacksonville and also home to Boneyard Beach I previously wrote about. Read about it here: Boneyard Beach
Undeveloped beauty with driftwood trees unlike anything you may have seen before. Definitely a beach you want to explore again and again.
So there you have it, some of the best beaches on the east coast of Florida! Whether you're looking for a relaxing day by the water or an adventurous one, there's sure to be a beach on this list for you.
So what are you waiting for? Head on down to one of these amazing beaches today!
To follow soon, will be a post about the best Florida Gulf Coast beaches including Clearwater Beach which is central. Panama City Beach which is on the Florida Panhandle. And Siesta Key Beach which is in the southwest portion of the state.
Upcoming Trip?
I like to use Booking for booking not only my hotels, but my tickets and rental cars as well. Makes life so much easier with only having to log into one location for my information.
Be sure to grab my travel tips to save you time and money. You'll also be entered into the weekly drawings.
Register here: Get 100 Travel Tips EVERY traveler should know PLUS entered into the weekly drawing.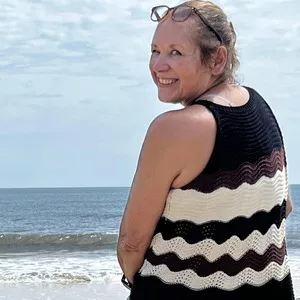 About Denise
Denise Sanger lives a life split between her love for fitness and her passion for travel particularly to the BEACH. Denise also has a love of marketing and lives in beautiful Suwannee County, Florida. You can find out more about Denise here: About Denise