Your Guide to Vero Beach, Florida: Fun Things You Need To See and Do
This article may contain affiliate links. Whenever you buy something through one of these links, I may earn a small commission without any cost to you. I really appreciate it as it supports this site and my family. Thank you!
Discover Vero Beach Florida! Whether you're looking for a relaxing beach getaway or an exciting adventure, this guide has everything you need to know about the small beach town of Vero Beach.
Vero Beach, Florida is the perfect vacation spot for both beach goers, folks that love water sports and outdoor adventurers too. It is actually one of the first beaches I visited when I first moved to Florida, and I've been back many times.
Miles of sun-kissed beaches to lush nature trails a nature lover will enjoy exploring. There's something for everyone in this coastal city on the Atlantic Ocean.
Vero Beach and nearby Fort Pierce are part of the Treasure Coast Beaches located on Florida's Atlantic Coast.
Thank you for reading this post. Don't forget to subscribe! This way you never miss an update, travel deals, discounts and more!! Subscribe to the right------>
It is a small city that packs a punch and offers a variety of activities for everyone from families with kids to a romantic getaway destination for couples.
How To Get To Vero Beach
Flying is the quickest way to get to Vero Beach, Florida. You can fly into Orlando Melbourne International Airport or West Palm Beach Airport. Smaller planes can fly directly into Vero Beach Municipal Airport.
If you fly into Melbourne International or West Palm Beach, you will need to rent a car for the remaining distance. Make sure you check for flight deals and discounts before you book your tickets.
Experience Art, Music, and Culture at Vero Beach Museums
Vero Beach has amazing museums and is a great place for culture lovers of all ages. Experience beautiful fine art exhibitions, attend exciting concerts at Riverside Park as well as other fun events including the film festival.
Explore a world of art, music, and culture. Make your next trip unforgettable with a visit to Vero Beach Museums.
Before planning your visit to Vero Beach Museums, make sure to check out the calendar of upcoming exhibitions and events.
From art shows and concerts to artist talks and family days, there are plenty of exciting things to do.
Vero Beach Museum of Art
Vero Beach Museum of Art is a vibrant cultural destination located in the heart of downtown Vero Beach, Florida.
Founded in 1971 by local philanthropists and dedicated to furthering visual arts education and appreciation.
The museum houses an impressive permanent collection featuring art from around the world as well as special exhibitions throughout the year.
Educational programs are also offered at the museum for all ages including lectures, classes, art camps and workshops, community outreach initiatives and more that encourage engagement with the arts.
Visitors can explore its art galleries filled with artwork from a variety of cultures ranging from African to European to American through thoughtful rotating exhibitions.
Vero Beach Museum of Art also maintains an outdoor sculpture garden where visitors can appreciate works created by acclaimed artists spread out over two acres that overlooks Indian River Lagoon.
McLarty Treasure Museum
Mclarty Treasure Museum is a coastal museum located in Vero Beach, Florida.
It is dedicated to preserving and displaying the artifacts found by local divers in the late 1800s who discovered the shipwrecked Spanish galleons lost off the coast of what is now known as Vero Beach.
The museum houses an impressive collection of coins, jewelry, weaponry and other items recovered from the ships.
Visitors can explore permanent exhibitions like the "Treasures of Vero Beach" exhibit, which showcases over 100 artifacts found in the wreckage, as well as rotating special exhibits.
The museum also offers educational programs and workshops for all ages that teach about maritime history, treasure hunting and more.
Indian River Citrus Museum
The Indian River Citrus Museum, located in Vero Beach, Florida, is a unique cultural institution dedicated to preserving and sharing the history of the citrus industry in Indian River County.
The museum offers visitors a chance to explore the rich heritage of citrus farming and production in the area through its permanent exhibits.
These exhibits include displays about early harvesting techniques, tools used for growing and harvesting citrus, historic photographs and a variety of interactive exhibits.
The museum also features rotating special exhibitions that explore different aspects of the county's citrus industry as well as an outdoor garden area filled with citrus trees, which visitors can explore.
Additionally, the museum offers educational programs and workshops to encourage engagement with this important aspect of the region's history and culture.
Vero Beach Heritage Center & Citrus Museum
The Heritage Center was originally a Serviceman's Center for those involved in the war effort. After the war, the center became a Community Center hosting dances for teens and adults.
After falling into disrepair, the Indian River County Historical Society and Millie Bunnell fought to save it. In 1993, the Heritage Center was restored and placed on the National Register of Historic Places.
Fast-forward to today where it hosts weddings and other events while also featuring artifacts, gifts, and information dedicated to Indian River's citrus industry
The Great Outdoors
San Sebastian Inlet State Park
San Sebastian Inlet State Park is a picturesque state park located in southern Indian River County. This park offers over 825 acres of natural beauty, pristine shorelines, marshes and native wildlife.
Fun activities include swimming, kayaking, fishing and bird watching. The inlet provides excellent surf fishing and visitors can also explore the Nature Center, which offers interpretive and educational programs.
The park is also home to several archaeological sites like Turtle Mound National Historic Landmark and a variety of other historical remnants that details the lives of early settlers to the area.
Environmental Learning Center
The Environmental Learning Center (ELC) in Vero Beach is a nonprofit organization that provides education and awareness of the environment, conservation, ecology and sustainability.
Located near the Indian River Lagoon on 62 acres of pristine coastal habitat, it offers visitors an up-close view of nature as well as educational hikes and guided kayak tours through its unique estuary system.
The ELC also serves to protect local habitats from development by working with government agencies such as the US Fish & Wildlife Service, National Oceanic Atmospheric Administration (NOAA), Audubon Society and others.
Additionally, they host events to raise money for preservation efforts such as their annual Lobster Fest fundraiser.
A visit to The Environmental Learning Center allows guests to experience firsthand one of Florida's most precious natural resources while helping promote conservationism within our community.
Pelican Island National Wildlife Refuge
Pelican Island National Wildlife Refuge is a 5,200-acre refuge located in the Indian River Lagoon on the east coast of Florida.
Established in 1903 by President Theodore Roosevelt, it was the first national wildlife refuge in the United States. Today it continues to be an important habitat for more than 160 species of birds, including brown pelicans, roseate spoonbills, manatees, and bobcats.
Explore McKee Botanical Garden
Meander through the lush gardens of McKee Botanical Gardens, often called McKee Jungle Gardens, is a beautiful 18-acre tropical oasis located in Vero Beach.
This picturesque garden features trails, a nature center and butterfly house, as well as access to the Indian River Lagoon.
Take advantage of the garden's guided tours and programs every month to learn more about its unique environment.
Riverside Theatre
Get immersed in a one-of-a-kind theatrical experience at Riverside Theatre. Located in Vero Beach's historic downtown district, Riverside Theatre is an acclaimed live performance venue.
Enjoy everything from hit Broadway shows to concerts and outdoor theater events showcasing some of the area's up-and-coming talent. Unique blend of art, music and culture for an unforgettable night out during your Vero Beach adventure!
Hit the Links
Tee off at Vista Plantation Golf Club and challenge your skills. This club also offers a 9 hole executive course.
My friends golfed at Quail Valley which a reader just told me was a private club. I didn't realize this as the folks I traveled with did golf there during our visit.
With wide open spaces and the Atlantic Ocean serving as the backdrop, you will be immersed in a memorable setting while enjoying an unforgettable round of golf
Either way enjoy gorgeous views of the ocean and get an extra dose of Florida's natural beauty during your outing.
Shopping
Love to shop? There are great options for you in Vero Beach.
Main Street Vero Beach located in historic downtown Vero Beach, offers galleries, shops and events.
Indian River Mall is a nice walking mall with your favorite stores, movie theater and several restaurants for lunch or dinner.
Explore the Gorgeous Beaches of Vero Beach.
Vero Beach, in Indian River County, is one of the most beautiful beaches on a barrier island on Florida's Treasure Coast.
This town is very different from other coastal beach towns in this area or in the United States.
One of the most popular attractions in Vero Beach is definitely its coastline. 8 miles of soft white sand beaches and breathtaking views.
Whether you're looking to soak up some sun or go for a swim, there's something for everyone on these beaches.
From the iconic South Beach Park to quieter stretches of sand, Vero Beach's beaches are simply unforgettable.
Romantic getaway? If you're looking for a romantic stroll along the shore or a day full of swimming and surfing, these are the beaches to stroll.
South Beach Park offers 1.5 miles of perfect white sand beaches and is the perfect spot for a day of swimming and surfing.
There are several public access points, and you'll also find picnicking areas, restrooms, changing rooms, and showers. On the northern end of South Beach Park, you could even give kayaking a try in the gentle waters off the coast.
Indian River Lagoon is another great destination for snorkeling and wildlife viewing. Watch for stingrays, barracudas, sea turtles, and more.
Vero Beach also features a variety of outdoor activities off the beach, such as hiking, camping, horseback riding, and golfing.
For those looking to take things at a slower pace, Vero Beach is filled with parks offering biking and walking trails, playgrounds for children, fishing piers, tennis courts and picnic areas.
Water Sports
If you're looking for an active beach getaway, look no further than Vero Beach. Along its 16 miles of protected beaches, you'll find some of the most beautiful stretches of untouched coastline in all of Florida.
For those looking to soak up some sun with the kids, the powdery white sand and crystal-clear waters here are perfect for swimming and splashing around in.
Surfing? The waves are just big enough but not too strong that they can't be enjoyed by even beginner surfers.
But probably the most preferable activity in Vero Beach is a beach stroll. Long stretches of sand provide the perfect place for sun lovers, kite flyers, joggers, and dog walkers alike.
Where to stay
Plenty of options for accommodations in Vero Beach including Disney's Vero Beach Resort. Situated on the shores of Florida's pristine Treasure Coast, this charming beachfront resort is a picturesque spot for a seaside getaway.
Other hotels include boutique hotels as well as chains like the Hampton Inn. Check availability for your dates here: Vero Beach Hotels.
My choice is always a vacation home and there are plenty available in Vero Beach. See options for the dates you are looking here: Vero Beach Vacation Rentals
Tip: Cocoa Beach and Cape Canaveral are about an hour north of Vero Beach and is a great day trip to include in your vacation.
Upcoming Trip?
I like to use Booking for booking not only my hotels, but my tickets and rental cars as well. Makes life so much easier with only having to log into one location for my information.
Be sure to grab my travel tips to save you time and money. You'll also be entered into the weekly drawings.
Register here: Get 100 Travel Tips EVERY traveler should know PLUS entered into the weekly drawing.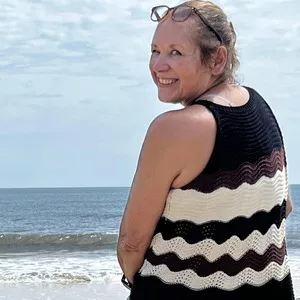 About Denise
Denise Sanger lives a life split between her love for fitness and her passion for travel particularly to the BEACH. Denise also has a love of marketing and lives in beautiful Suwannee County, Florida. You can find out more about Denise here: About Denise