The Top 17 Best Places to Elope in Florida
This article may contain affiliate links. Whenever you buy something through one of these links, I may earn a small commission without any cost to you. I really appreciate it as it supports this site and my family. Thank you!
Are you searching for the best places to elope in Florida? From beautiful white sandy beaches to enchanting botanical gardens, this list has got you covered as you search for the perfect place for your intimate wedding day.
Why couples choose to elope
Weddings are expensive. From wedding venues to professional photographers. Hiring a wedding planner, catering company, music, and more, you can literally see the dollars adding up.
Many couples opt out of these costs as they continue to skyrocket in the United States. They choose to put the money they would pay for a traditional wedding towards a down payment on a house or something equally important instead of starting their married life in debt.
If this is your point of view, the Sunshine State is the perfect location not only for beach weddings but other options as well including a botanical garden or one of the beautiful national parks the state offers. Palm trees and beautiful sunsets make the perfect backdrop for photos.
Thank you for reading this post. Don't forget to subscribe! This way you never miss an update, travel deals, discounts and more!! Subscribe to the right------>
What you need to know about planning an intimate elopement and wedding ceremony in Florida
Florida Marriage License
You will need your Florida marriage license before you can get married in Florida. You can get this at any county clerk's office in the state.
The fee is approximately $100, but you can reduce this if you opt to take a premarital course before you apply. The marriage license is valid for 60 days.
What is the least expensive month to get married in Florida?
Florida is known for its beautiful beaches and fall and winter which are the coolest months as well as spring break can be quite crowded. The least expensive months are June through September.
These are also the same months as hurricane season. For that reason, you will want to have backup plans in place for your elopement ceremony.
Can you get married immediately in Florida?
As of this writing, Florida residents have a three-day waiting period before they can get married. A Florida couple claiming hardship can petition a judge to waive the three-day waiting period.
Non-residents? Good news. There is no waiting period.
Can you elope on the beach in Florida?
Yes, you can elope on the beach, but the state of Florida does require having a marriage certificate and beaches may require a permit.
Can a notary marry you in Florida?
Yes. Florida is one of three states that allow a notary to marry couples. The other two states are also on the East Coast. They are South Carolina and Maine.
Can you get married on Florida beaches for free?
Some beaches yes but others do require a permit. The fees range from about $60 to over $300 depending on the beach.
Where are the best places to elope in Florida?
Honestly? There are so many beautiful places to get married whether you are having a surprise elopement, destination wedding, or private ceremony.
Below are a few great options for you to consider. From white-sand beaches to lush gardens, there is a good option for you.
Florida Keys
The Florida Keys are popular for many reasons including the many fun things to do like water activities like snorkeling where you may catch a glimpse of a sea turtle or dolphin. There are also fantastic outdoor venues to enjoy which makes it a popular destination for elopements.
With its crystal-clear turquoise waters, white sandy beaches, and magnificent sunsets, the Florida Keys gives your special day the perfect backdrop for a romantic and intimate ceremony.
Top Florida Keys Picks For A Wedding
Key Largo, Key West including Key West Tropical Forest, Bahia Honda State Park, and the remote location of Dry Tortugas National Park are all fantastic choices.
The first three provide easy access to the beach but to get to Dry Tortugas you will need to either take the ferry or fly to the islands.
Dry Tortugas is truly a hidden gem while Bahia Honda State Park is a favorite spot for small weddings.  The Atlantic Ocean side of the state is perfect for a sunrise elopement ceremony.
Southeast Florida
The first choice in South Florida for the big day would be Miami Beach. Yes, Miami Beach is known for its vibrant nightlife, stunning beaches, and luxurious resorts, but it is also a great destination for couples looking to elope.
Art Deco architecture, crystal-clear waters, and white sandy beaches, Miami Beach offers a glamorous setting for your elopement. 
Nature lovers may prefer Everglades National Park in Southern Florida. The Everglades is truly a unique location.
Known as the "River of Grass," this national park is home to diverse wildlife, including alligators, manatees, and a variety of bird species. Imagine saying your vows surrounded by the beauty of the Everglades.
From wetlands, mangrove forests, and saw grass prairies this location provides you with options for a small ceremony performed by one of the park's scenic trails and other public spaces, or you can take a boat tour to a more secluded spot.
Southwest And Gulf of Mexico Beaches
There are several fantastic options for eloping on Florida's west coast. Siesta Key is a top choice for many. This beautiful place with crystal clear water is located on a barrier island located on the Gulf Coast of Florida.
Known for its powdery white sand beaches and blue waters, Siesta Key is definitely a popular choice for couples. It also tends to be a bit crowded.
If you prefer a more private place, I would recommend one of the lesser-known beaches on the Southwest coast such as Bonita Beach or possibly Anna Maria Island.
Tampa Bay is also a popular destination for elopements in Florida. This town offers a mix of beach town charm and natural beauty.
With stunning beaches, a fun downtown area, and fantastic waterfront views, Tampa Bay provides a romantic setting for couples looking to exchange their vows. 
Clearwater Beach is the next pick for top choices for couples looking to elope in Florida. This beach is also well known for its crystal-clear waters and soft white sand.
For sunset ceremonies, Clearwater Beach offers a picturesque backdrop as the sun sets over the Gulf.  Continue celebrating after the ceremony with a romantic stroll along the beach or a sunset cruise to celebrate your special day.
And the final pick for this side of the state is St. Petersburg. Known for its vibrant arts scene and beautiful waterfront, St. Petersburg offers a unique and romantic setting for your special day.
You can exchange vows on one of the beautiful beaches, in one of the charming tropical gardens, or at a historic private venue. 
East Central Florida and Northeast Florida
Amelia Island is such a charming destination for anyone but especially for couples looking to elope in Florida. It is located just off the coast of northeast Florida near Jacksonville.
Amelia Island offers a unique blend of natural beauty and historic charm. With its pristine beaches, lush forests, and charming downtown area, it's no wonder why so many couples choose to say "I do" on this enchanting island. 
St. Augustine is a historic and picturesque city that is often considered one of the best places to elope in Florida.
It's cobblestone streets, charming architecture, and beautiful waterfront and history, it provides a romantic backdrop for your ceremony.
You can exchange vows in one of the city's historic churches, such as the Cathedral Basilica of St. Augustine, or choose a scenic outdoor location like the Castillo de San Marcos.
Vero Beach is more east-central than the other two picks, but it is also a great option and not as crowded. Not enough time to plan your ceremony?
Vero Beach offers inclusive elopement packages to take care of it for you so you just focus on what's important. It is a great place not as busy as other beaches for a Florida beach elopement ceremony.
Other elopement locations to consider are
Honeymoon Island State Park is a beautiful Florida State park that is located west of Tampa. You will need to plan your wedding date in advance to ensure your ceremony.
Sanibel Island and Captiva Island both located in Southwest Florida are fantastic destinations. I did not mention those above as they are still recovering from a direct hurricane hit a few years ago. 
Florida Panhandle beaches and islands such as St. George Island, Cape San Blas and Santa Rosa Beach are all breathtakingly beautiful. The best time of year for this area is spring or fall. Winter can be quite cool.
And there you have it. The Top 17 Best Places to Elope in Florida. The information below will help you plan the best day you will remember the rest of your lives. Congratulations!
Upcoming Trip?
I like to use Booking for booking not only my hotels, but my tickets and rental cars as well. Makes life so much easier with only having to log into one location for my information.
Be sure to grab my travel tips to save you time and money. You'll also be entered into the weekly drawings.
Register here: Get 100 Travel Tips EVERY traveler should know PLUS entered into the weekly drawing.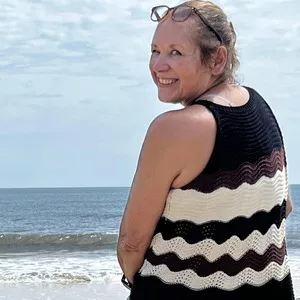 About Denise
Denise Sanger lives a life split between her love for fitness and her passion for travel particularly to the BEACH. Denise also has a love of marketing and lives in beautiful Suwannee County, Florida. You can find out more about Denise here: About Denise