Mexico Beach Florida Best Things To Do
This article may contain affiliate links. Whenever you buy something through one of these links, I may earn a small commission without any cost to you. I really appreciate it as it supports this site and my family. Thank you!
UPDATED: August 2023. The timing for me originally writing this article about Mexico Beach Florida is a little crazy. I started it right before Hurricane Ian slammed into the Gulf Coast of Florida and finished as the storm was heading to South Carolina.
I am located in North Central Florida, and we were lucky. We only felt the outer bands with the wind.
But what's even more crazy is that Hurricane Michael slammed into Mexico Beach early October 2018 – about the same times as Ian hitting the southwest Gulf.
Hurricane Michael destroyed much of the city of Mexico Beach. But they have built back. My heart goes out to those in Southwest Florida reeling from this latest hurricane.
Thank you for reading this post. Don't forget to subscribe! This way you never miss an update, travel deals, discounts and more!! Subscribe to the right------>
Mexico Beach is the perfect spot for a vacation on the Florida Panhandle. This part of the coastline is also called the Forgotten Coast.
In my humble opinion, there is nothing as beautiful as the beaches that line this part of the United States. It's the perfect Florida vacation destination.
From white sand beaches to emerald waters, this beach town has it all.
To follow are answers to the most often asked questions about Mexico Beach. At the bottom of the article I have place links to help you plan the perfect Mexico Beach vacation.
You can use this table of contents to jump to any section:
Is Mexico Beach Florida Expensive?
As far as vacationing in Florida, the Panhandle is one of the most affordable destinations in the Sunshine State. Mexico Beach is not only less expensive, it's much quieter than other nearby beaches.
Is The Water Pretty At Mexico Beach?
It is absolutely beautiful! The Florida Panhandle has some of the most clear water and beautiful white and beaches.
Where is Mexico Beach Florida?
Beautiful Mexico Beach is on Florida's Panhandle. It is a city in Bay County, Florida, United States. It is located 25 miles southeast of Panama City.
Has Mexico Beach rebuilt since the hurricane?
It is coming back stronger than ever according to the city of Mexico Beach.
How to get to Mexico Beach
The closest airport to Mexico Beach would be Panama City Airport about 36 miles away. A bit farther away are Tallahassee Airport at 71 miles away then Pensacola Airport at roughly 112 miles away.
Tip: Check Scott's Cheap Flights before you book. I have booked some really cheap flights through this site.
Driving? You would reach Mexico Beach off I-10.
Best Beaches at Mexico Beach
I am going to have to limit myself on best beaches. Why? There are so many in this area it's hard to pick the top ones!
In Mexico Beach, you will find some of the world's most gorgeous beaches. This city has over five miles of pristine beaches.
First we will start with Mexico Beach itself. This is the perfect place to see the emerald green waters of the Florida Gulf Coast.
The town of Mexico Beach is a nature lover's paradise. Bald eagles, osprey, pelicans, and many species of herons and egrets.
Five species of sea turtles also inhabit this area. They are loggerhead, green, leatherback, Kemp's Ridley, and hawksbill. Dolphins also call this part of the Gulf home.
Whether you love to swim, fish, paddle or boating, this is where you'll find the action.
Mexico Beach Sunset Park
Mexico Beach Sunset Park is a spectacular family-oriented vacation destination. Off the beaten path and less crowded than other nearby beaches.
Close parking, bathrooms, picnic tables and outdoor showers are all available in this park.
St. Joe Beach
To the south of Mexico Beach, you will find St. Joe Beach. This beach is also less crowded than other beaches nearby in Panama City Beach.
Love to collect shells? You will be able to do that here. Port St. Joe is a fun little beach town to explore while vacationing in Mexico Beach.
Panama City Beach
For those that like a bit more action, Panama City Beach is north of Mexico Beach. You probably already know this is my favorite destination for beautiful beaches.
From Pier Park for shopping to Shell Island for snorkeling to killer seafood, PCB has it going on. Check local events for the time you're visiting. You may be able to catch a music festival while you are there.
Cape San Blas
Also, nearby is beautiful Cape San Blas. Cape San Blas Florida is a popular destination for its white sand beaches, sunny weather and clear emerald waters.
A fun little beach town with plenty of personality. This hidden gem of a beach is quiet and has the most beautiful sunsets.
Things To Do In Mexico Beach Florida
The list is long for fun things to do in this part of the United States on the Gulf of Mexico. First is to visit the beaches listed above then hit the following fun spots:
Canal Park. This area is coming back strong since Hurricane Michael. Beautiful beach near Mexico Beach and Crooked Island Beach.
Fishing Charters. Love to fish? You'll find plenty of boat charters to choose from. Prefer to trailer your own boat? Mexico Beach provides a public boat ramp located at 109 44th St, Mexico Beach, FL 32410
Shopping. Plenty of gift shops, resort wear and an art gallery. Make time to stop at the Left Bank Art Gallery and browse the beautiful artwork.
Dining. From a local food truck to morning coffee to kick butt seafood, you will find it here. Top picks that were open last time I visited are Mango Marley's, Killer Seafood, and Crazy Beach Pizza are all conveniently located on US 98.
Where to Stay In Mexico Beach Florida
There are plenty of vacation rentals with amazing gulf views to choose from in this beautiful beach town. VRBO is my go to for rentals. Whether you are searching for a stand alone rental home or a Mexico Beach Condo, VRBO has many options to choose from. You can search here: Mexico Beach Vacation Homes
There are also a few options for hotels located right on the beach. As of this writing, roughly 60% of this beautiful beach town has been rebuilt. Right now Tripadvisor shows several available properties. You can check those out here: Mexico Beach Hotels
This is truly one of the most special vacation destinations with small-town charm. Below is information to help you plan the perfect Mexico Beach vacation:
Upcoming Trip?
I like to use Booking for booking not only my hotels, but my tickets and rental cars as well. Makes life so much easier with only having to log into one location for my information.
Be sure to grab my travel tips to save you time and money. You'll also be entered into the weekly drawings.
Register here: Get 100 Travel Tips EVERY traveler should know PLUS entered into the weekly drawing.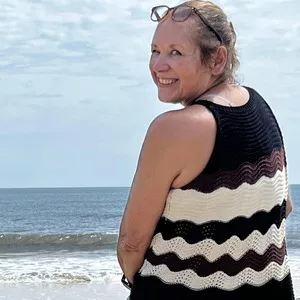 About Denise
Denise Sanger lives a life split between her love for fitness and her passion for travel particularly to the BEACH. Denise also has a love of marketing and lives in beautiful Suwannee County, Florida. You can find out more about Denise here: About Denise