Where To Find The Best Sunset In Key West
This article may contain affiliate links. Whenever you buy something through one of these links, I may earn a small commission without any cost to you. I really appreciate it as it supports this site and my family. Thank you!
Sunsets. There is never a bad one just like there is never a bad sunrise. You just have to know where to look. Below you will find the best sunset in Key West.
Key West is not only one of the best places for a vacation, but it is also a great place to watch the sunset. On my last visit, we watched the sun dip into the water from quite a few places.
Catching the sunrise and sunset on the same day is pretty amazing. Key West and the Southernmost Point Buoy are the farthest south locations in the continental United States.
In the Florida Keys, the sunrises on the Atlantic Ocean side and sets on the Gulf of Mexico side. In addition to Key West, you can catch amazing sunsets on most of the Keys including Key Largo.
Thank you for reading this post. Don't forget to subscribe! This way you never miss an update, travel deals, discounts and more!! Subscribe to the right------>
No time to read the article now? Bookmark it, then click here for the best way to see the beautiful sunset: Top Key West Sunset Tours
There are many locations where you can see the beautiful views of the sunset. Below are my top picks where you can see the best sunsets in Key West.
Mallory Square Sunset Celebration
A happy hour watching the sunset in one of the best sunset spots.  Mallory Square is one of my top two recommendations for the iconic Sunset Celebration.
A daily event and Key West tradition, enjoy watching the street performers, sword swallowers, live music, artisans, and food vendors. 
As you enjoy the nightly sunset celebration, make sure to keep an eye on the horizon. The sunsets here are legendary, and the atmosphere is absolutely electric, and you might just catch the green flash.
Tip: As you look out over the water, the island you will see is Sunset Key. This is a private island, though, and the only way to get to it is by boat.
Smathers Beach
For a more tranquil sunset experience away from the crowds, head to Smathers Beach. With its long stretch of sandy shoreline, it's a great spot to relax with a beach towel and watch the sun go down.
Sunset Pier
Sunset Pier is located on Duval Street at Ocean Key Resort. Here you can enjoy the beautiful sunset as well as a cocktail or two.
Located just minutes away from Mallory Square, this is a favorite spot for many folks to enjoy a beautiful Key West sunset.
Key West Historic Seaport
Another fantastic spot not only to watch the sunset but enjoy dinner as well. Back in the day, there was a turtle processing plant in what is now Turtle Kraals Restaurant.
I won't go into details of the past but can tell you today, that the open air tower bar is a great place to see a spectacular sunset! Be sure to walk all along the boardwalk overlooking Key West Harbor.
Fort Zachary Taylor State Park
Kick off your sunset adventure at Fort Zachary Taylor Park, where history and nature combine. This state park offers a historic fort to explore as well as a beach for sunbathing and clear waters for snorkeling during the day.
As the sun descends, it is the perfect place to watch the gorgeous sunset. Find a cozy spot on the beach to watch the sky explode in colors of red, orange, and pink. 
Click here for the best ways to see the beautiful sunset: Top Key West Sunset Tours
Sunset Tiki Bar
Sunset Tiki Bar is one of the best spots to see the sunset. Enjoy a cocktail or two away from the crowds.
Southernmost Beach Cafe
After a photo at the Southernmost Buoy, stop in for a cocktail and maybe dinner and watch the sunset at Southernmost Beach Cafe. Great food right on the beach with a spectacular view all day long.
Truman Waterfront Park
Enjoy a stroll along the water while you wait for what is sure to be an incredible sunset. Great place to let the kids burn off energy.
White Street Pier
I really enjoyed walking down this pier to the water. Even saw a sea turtle halfway to the end.
There are beaches on either side to enjoy during the day as well as playgrounds for the kids and a nearby dog park. This is a great option to watch the sunset without crowds.
Higgs Beach Pier
Higgs Beach Pier is another stop on the best Key West sunsets list, although it is not at the top of my list. I did not want to leave it off the list though, because it's a great option for folks staying in this part of town.
Sunset Cruises
You know I listed Mallory Square above as one of the top two places to watch the setting sun. A Key West sunset sail cruise is my top pick. The view was insane!
Think about it. What better way to see the sunset than from the water? There are several Key West sunset cruise options with both dinner, a full bar, and more.
The best sunset cruises range from a Tiki Bar to a sailboat. We took the sailboat and had a wonderful time. One of the best things was the views!
Leave the bustle of Duval Street behind as you relax tooling around on a boat. Tops pics are:
Key West Sunset Dinner Cruise with Tropical Buffet Dinner
Tropical-themed full buffet dinner includes cocktails with sunset views. Check rates and availability here: Sunset Dinner Cruise
Tiki Bars Cruise
BYOB and enjoy a great view. This is a really fun way and a perfect spot to enjoy the magical sunsets in Key West. Check rates and availability here: Tiki Bar Sunset Cruise
Sailing Cruise
Bringing up the end of the list is a sunset sailing cruise. I enjoyed watching the sunset from a sailboat the last time I was in Key West.
It will also be my top pick for the next time I am in Key West. Check rates and availability here: Best Sunset Sailing Cruise
Below Are Additional Links To Help You Plan Your Key West Vacation:
​
Upcoming Trip?
I like to use Booking for booking not only my hotels, but my tickets and rental cars as well. Makes life so much easier with only having to log into one location for my information.
Be sure to grab my travel tips to save you time and money. You'll also be entered into the weekly drawings.
Register here: Get 100 Travel Tips EVERY traveler should know PLUS entered into the weekly drawing.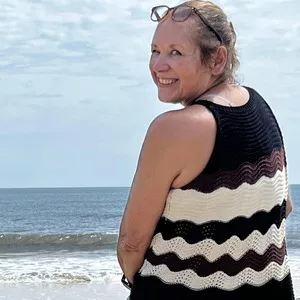 About Denise
Denise Sanger lives a life split between her love for fitness and her passion for travel particularly to the BEACH. Denise also has a love of marketing and lives in beautiful Suwannee County, Florida. You can find out more about Denise here: About Denise