The Ultimate Panama City Beach Checklist: Experience the Best of Florida's Beachside Paradise!
This article may contain affiliate links. Whenever you buy something through one of these links, I may earn a small commission without any cost to you. I really appreciate it as it supports this site and my family. Thank you!
Unlocking the Secrets of Panama City Beach: Top Tips for an Unforgettable Vacation.
Panama City Beach. Just the thought of it makes me go "ahhhhhhhh." It is my absolute favorite beach of all the beaches I have been to. Soft white sand. Turquoise waters. Sunrise and sunset paintings are made from.
If you're seeking out the perfect beachside getaway, then look no further than Panama City Beach. Whether you are looking to relax or an adventure, you will find experiences both on land and in the water. This is one of the reasons folks like me, and you return year after year.
No time to read the article now? Check rates and availability at top hotels here: Panama City Beach Hotels
My family, friends and I have stayed both as a family and as a couple for our anniversary in hotels and condos both of which are equally nice. (Check here: My top budget friendly hotels in PCB with a pool)
Thank you for reading this post. Don't forget to subscribe! This way you never miss an update, travel deals, discounts and more!! Subscribe to the right------>
The most important thing for me is to have a room with a balcony to sit on for watching the sunrise, people watch or having a glass of wine watching the sun go down.
When we were there a few months ago, we were able to watch a Jeep crawl right from our balcony while enjoying a cocktail watching the sunset over the Gulf of Mexico.
There had to be hundreds of Jeeps that slowly rolled by our hotel. Definitely something to see.
Whether you are going for a family vacay, a romantic getaway with your significant other or simply a quick weekend escape with your girlfriends, there is something for everyone.
Below is your ultimate checklist of must-dos things in Panama City Beach. From popular restaurants and bars to thrilling water sports to nature hikes and kayak trips to museums and zoos, this guide will ensure that you have the most enjoyable time on your vacation.
Get ready to enjoy all that Florida's beautiful coast has to offer in Panama City Beach. In addition to my number one favorite thing to do which is sitting on the beach, there are several other fun places to be sure to see when you are in PCB.
What makes Panama City Beach so special?
First what makes PCB so special? Panama City Beach is a beautiful and unique city located in the Florida Panhandle that offers something for everyone.
From its pristine white sand beaches to its diverse array of activities, there's something for every traveler to enjoy. Whether you're looking for a relaxing getaway or an exciting adventure, Panama City Beach is the perfect destination.
Ultimate Panama City Beach Checklist
The beautiful beaches of Panama City Beach.
Yes. That's right. Number one has to be the beaches for this beach loving gal.
Panama City Beach has stunning white sand beaches with beautiful turquoise waters. As soon as you step onto the powdery sand beach, you fill your body instantly begin to relax.
Check rates and availability at top hotels here: Panama City Beach Hotels
The white sand beach stretches on for miles with gentle waves crashing up against the shoreline. During the summer, the water is a nice mid-80's degrees at the surf.
Temps will be cool during the winter months, but the beauty is there all year long.
Shopping
Pier Park is an always visit for us when we are on vacation in PCB. We always stay within walking distance of the pier which makes it easy to enjoy Pier Park at least once during our stay.
Fantastic restaurants to funky little boutiques. Huge surf shop, Ron Jons as well as traditional mall stores in the back end of the parking lot.
Literally everything you could need or want as far as restaurant choices. My favorite? Kilwins. Oh my gosh the aroma of fudge, the ice cream and all the chocolates has your mouth watering as soon as you walk in the door.
In addition to Pier Park, you will find the normal Walmart and Target. If shopping is your passion, take a short ride up the road to Destin and the outlet mall.
Water Sports To Enjoy At Panama City Beach
Pontoon Boat to Shell Island. If you love beachcombing and snorkeling, you will definitely want to make time to visit Shell Island.
We have rented a pontoon boat a few times. Quick and easy to rent your boat and away you go.
Off the beaten path, there is nothing better than visiting an island. When you get close to the island, you will be able to hop into the shallow water and make your way onto the island.
Check rates and availability at top hotels here: Panama City Beach Hotels
Fishing is popular here as you can cast your line out into the beautiful turquoise waters as you fish for bass, trout, redfish, and more. Other water sports such as charter boat fishing trips, water-skiing, kayaking, and parasailing are available for those looking for an even bigger adventure.
Attractions in Panama City Beach: Local restaurants, shops, and other nearby hotspots for entertainment and relaxation.
Gulf World Marine Park.
Very close to Pier Park, you will find Gulf World Marine Park. Definitely a must-visit if you have kids with you.
Shows, interaction with the animals including dolphins and sea lions, there is also a gorgeous outdoor garden to stroll though. 
Check rates and availability at top hotels here: Panama City Beach Hotels
I'll be honest, I prefer to see dolphins in the ocean, but can say the animals appear well taken care of and that's what's important to me.  Kids really enjoy all the interactive activities.
For those looking to get out and explore the beautiful surroundings, Panama City Beach offers plenty of options. Enjoy swimming and kayaking in St. Andrews Bay.
In addition to activities on the water, visitors can head up into the hills of North Florida and enjoy mountain biking trails or zip lining over deep ravines at Adventures at St. Andrews State Park. Or take a hike along a Florida Birding Trail.
Check rates and availability at top hotels here: Panama City Beach Hotels
Planning your trip to this paradise shouldn't be a headache; here are some helpful tips to ensure that you make the most of your stay in Panama City Beach:
Plan ahead. PCB can get quite crowded at certain times of the year. For me, as a Florida resident, I am usually in that area mid-May or earlier. Summer is a busy time of year. Check into booking a vacation package deals. Tip: Check into an owner rental. I use VRBO now every time I visit PCB. You can check the current deals here: Panama City Beach Vacation Rentals.
Activities. Before you head on vacation, decide what type of vacation you want to have. If you want an active vacation that include kayaking, parasailing, and other sports, booking in advance can save you money.
Always be aware of your surroundings. PCB has the nicest, friendliest people. But it's important to know where you are and how to get back to your hotel or condo. Awareness is safety
Upcoming Trip?
I like to use Booking for booking not only my hotels, but my tickets and rental cars as well. Makes life so much easier with only having to log into one location for my information.
Be sure to grab my travel tips to save you time and money. You'll also be entered into the weekly drawings.
Register here: Get 100 Travel Tips EVERY traveler should know PLUS entered into the weekly drawing.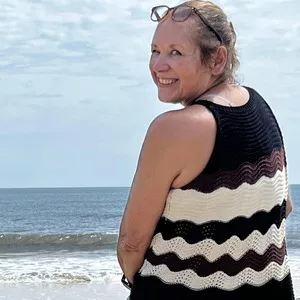 About Denise
Denise Sanger lives a life split between her love for fitness and her passion for travel particularly to the BEACH. Denise also has a love of marketing and lives in beautiful Suwannee County, Florida. You can find out more about Denise here: About Denise