How To Make A Strawberry Daiquiri Beach Cocktail
This article may contain affiliate links. Whenever you buy something through one of these links, I may earn a small commission without any cost to you. I really appreciate it as it supports this site and my family. Thank you!
Is there anything better than enjoying a nice, cold cocktail on a hot day on a beach vacation? I love enjoying a nice frozen cocktail while relaxing and watching the waves. One of my favorites is a Strawberry Daiquiri beach cocktail frozen.
Even better? A Miami Vice beach cocktail, but I will save that for the next beach cocktail recipe.
I actually love strawberries in any shape or way you want to give them to me. Even though where I live, strawberries actually come into season when it is still winter, strawberries as well as watermelon symbolizes summer to me.
Frozen daiquiris are so refreshing but strawberry daiquiris just seem to hit the spot.
Thank you for reading this post. Don't forget to subscribe! This way you never miss an update, travel deals, discounts and more!! Subscribe to the right------>
Even though it may be a bit chilly outside right now (this Florida girl is actually in snow as I write this), they simply transport us to a warmer, sunnier place. Like the beach!
What is a Strawberry Daiquiri?
Easy! A daiquiri of any type is rum, citrus or fruit juice and sugar. A strawberry daiquiri is the same with rum but with strawberries. Fresh strawberries are the best I believe but if it is the time of year they are not in season, you can easily swap in frozen berries.
Ingredients for a Strawberry Daiquiri
So here you go. No matter what time of year it is, take a trip to a hot sunny day with this Frozen Strawberry Daiquiri beach cocktail.
Four ingredients are all you will need. Say goodbye to those drink mixers because you will never want to use them again after making your cocktail with fresh strawberries.
4 cups fresh strawberries (frozen okay in a pinch)
4 shots white rum (cut back or increase for YOUR taste.)
2 ounces fresh lime juice plus 1 tablespoon or lime zest
Sugar to taste. See note below.
Note: Sugar. I personally do not use a lot of white sugar in any food or beverage. Only if the cocktail is not as sweet as I'd like. If you prefer a sweeter daiquiri, start with 1/8 to 1/4 cup until you reach your desired sweetness.
The easiest method is to put the 4 ingredients above into a blender with 2 cups of ice. Blend, pour and enjoy. If you prefer a sweeter daiquiri, muddle the sugar with the lime zest.
My recommendation is you start with 1/4 cup sugar and adjust to your taste level.
And that's it! I promised you it would be easy. After you master this delicious frozen Strawberry Daiquiri beach cocktail, try different fruits like mango, pineapple or my other favorite banana. Yum!
Be sure to bookmark this page, so you will get notification when the Miami Vice Beach Cocktail recipe is uploaded. Get ALL the delicious beach cocktail recipes here: Beach Cocktails
Upcoming Trip?
I like to use Booking for booking not only my hotels, but my tickets and rental cars as well. Makes life so much easier with only having to log into one location for my information.
Be sure to grab my travel tips to save you time and money. You'll also be entered into the weekly drawings.
Register here: Get 100 Travel Tips EVERY traveler should know PLUS entered into the weekly drawing.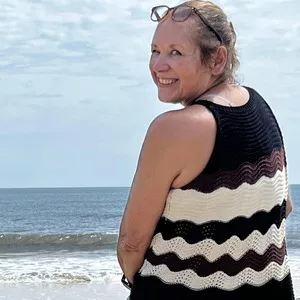 About Denise
Denise Sanger lives a life split between her love for fitness and her passion for travel particularly to the BEACH. Denise also has a love of marketing and lives in beautiful Suwannee County, Florida. You can find out more about Denise here: About Denise