Bob Marley Beach Cocktail Is Perfect For The Weekend And Easy To Make
This article may contain affiliate links. Whenever you buy something through one of these links, I may earn a small commission without any cost to you. I really appreciate it as it supports this site and my family. Thank you!
"Don't worry about a thing. 'Cause every little thing gonna be alright. Singing' "Don't worry about a thing
'Cause every little thing gonna be alright!" Bob Marley, Three Little Birds
Does anything sound more like the weekend than Bob Marley singing a reggae tune? Yes, A Bob Marley Beach Cocktail!
I love to end the week by posting a new favorite beach cocktail and this week, it's Bob Marley. This is one cocktail that you will want to enjoy every weekend.
It is so much fun to drive to your vacation destination with Bob Marley tunes playing. Every one singing and looking forward to a good time especially at the beach.
Thank you for reading this post. Don't forget to subscribe! This way you never miss an update, travel deals, discounts and more!! Subscribe to the right------>
This beach cocktail pulls all those wonderful beach vacation feelings together in a green, yellow and red cocktail. Delicious. Refreshing. And oh so yummy.
Below are the ingredients and directions for making this soon to be your favorite beach cocktail.
There are other versions, but this is the one I enjoyed during my last trip to PCB.
Also below are other beach cocktail links you will want to experiment with also.
Let's get started!
Ingredients For A Bob Marley Beach Cocktail
Bottom layer.
There are three layers but don't let that stop you from making this cocktail. The bottom layer is Strawberry Daiquiri. The recipe for that is below.
Middle layer Ingredients
1 ounce rum (I prefer coconut rum))
1/2 ounce Pineapple Juice
You can also add 3 ounce fresh mango. Think a nice slice.
Blend together with ice and gently pour over the bottom Strawberry Daiquiri layer. Reserve a portion to be used in the top layer.
Top Layer Ingredients
And that brings us to the top layer. How do we get it green?
Easy! The reserved portion from your middle layer will be the base.
1/2 ounce Blue Curaçao
Add the Blue Curaçao to the reserved mixture and blend. Gently pour into the glass on top of the middle layer.
Voilà! You now have a delicious Bob Marley Beach Cocktail. Salute!
Below are a few more beach cocktail recipes including the one for the Strawberry Daiquiri you will use in the Bob Marley Beach Cocktail.
Helpful Links
Upcoming Trip?
I like to use Booking for booking not only my hotels, but my tickets and rental cars as well. Makes life so much easier with only having to log into one location for my information.
Be sure to grab my travel tips to save you time and money. You'll also be entered into the weekly drawings.
Register here: Get 100 Travel Tips EVERY traveler should know PLUS entered into the weekly drawing.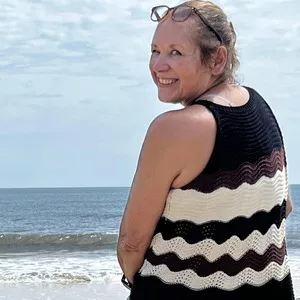 About Denise
Denise Sanger lives a life split between her love for fitness and her passion for travel particularly to the BEACH. Denise also has a love of marketing and lives in beautiful Suwannee County, Florida. You can find out more about Denise here: About Denise